Amsterdam & the Keukenhof Gardens (incl. City Canal Cruise)
Just try to imagine this: 70 brightly hued acres bursting with seven million flowers in bloom, from daffodils to hyacinths to Amsterdam's national export: the tulip. For nearly 60 years, Keukenhof Gardens (translating to "kitchen garden") has been a playground-meets-showplace for Dutch florists.
Let us handle the details
Experienced Trip Leader

Breakfast Buffet

Private Transportation

Entrance Fee
Your trip includes
• Round-trip direct bus transportation
• Own parking lot in Graf for your exclusive use
• Breakfast buffet
• Amsterdam city canal cruise
• Entrance to the tulip park
• Explore Europe Trip Leader
• Service charges
• Guaranteed departure
Your trip highlights
• You'll see flowers you never knew existed
• Amsterdam's iconic canals and bridges
• Quaint windmills in Amsterdam's outskirts
• Stroopwafels, frites and flavorful brews
• Vibrant locals and a bright art scene
• Plenty of time to explore the Dutch capital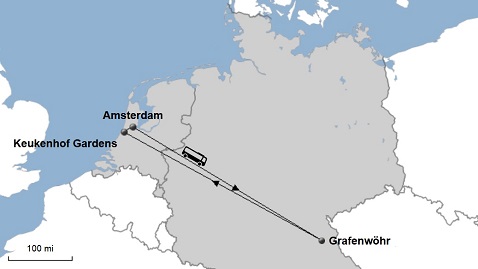 Day 1 (Friday April 12, 2019)
Your trip begins with an overnight drive by bus to Keukenhof in Netherlands.
Day 2 (Saturday April 13, 2019)
After an included rich breakfast buffet, arrive at Keukenhof, home of the largest flower garden on Earth, where you'll have time to explore the grounds. Each spring, more than 7 million flowers burst into bloom, including yellow daffodils, crocus, narcissi and hyacinths, as well as over 1,000 colorful and original varieties of tulips. Later, continue on to Amsterdam where we'll be joining an Amsterdam canal cruise! Watch the city drift past as you sail by, and listen out for interesting insights into the city with a personal recorded commentary available in 15 languages. The afternoon and evening are yours – explore the canals some more, or head to Dam Square, one of the most important parts of the city. In the evening (at 10:00pm), travel back overnight Saturday to arrive Sunday morning in Grafenwoehr.
Day 3 (Sunday April 14, 2019)
Arrive in Grafenwoehr around 8:00 am
IMPORTANT NOTE REGARDING PASSPORTS: A valid tourist passport is required for this trip. Please make sure that you are traveling with the appropriate passport.
How's the weather?
Amsterdam, the Netherlands
Passport & Visa
A tourist passport is required for all trips outside of Germany.
Important passport rules are as follows:
If you have a passport with a SOFA stamp on any page (a "No-Fee" passport), you are provided permission to reside in Germany, NOT to travel outside of Germany. You have to have a tourist passport in addition to the SOFA/"No-Fee" passport to travel outside of Germany. You cannot travel with a RED Official passport as that is used only for the purpose of a mission or deployment. If you have a passport with a detachable SOFA card clipped inside, it is acceptable to travel with as that was issued originally as a tourist passport. If you are not sure: a tourist passport will be BLUE and will be valid for 10 years for adults. It cannot contain a SOFA stamp on any page or it is not acceptable. A child's tourist passport (under 15 years of age) is valid for 5 years, but will not have a SOFA stamp in it anywhere. All of this information has been verified to be correct with the Grafenwoehr Passport Office.
Meeting point for the start of the trip
Your trip starts and finishes in Grafenwoehr, Germany.
Address: Dießfurter Str, 92655 Grafenwoehr (parking lot)
Instructions: if you are exiting McDonald's parking lot in Grafenwoehr you will turn right on to B299 as if you are going towards Netzaberg. You will then take your very first right (as if you are going towards MegaPlay) and as soon as you cross the small bridge there is a driveway on the right side which you can enter into a parking lot. You should see several cars and the bus there. The parking lot is available during the duration of the trip for our passengers.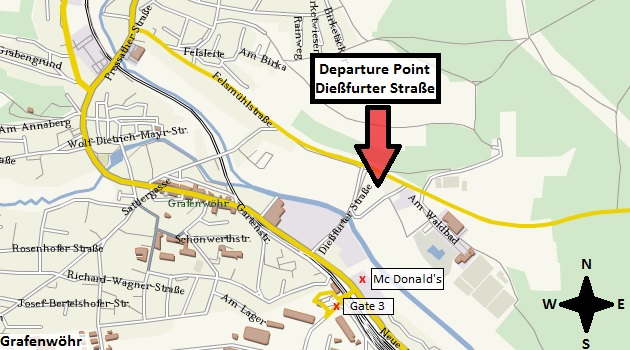 Health
There are no major health risks when traveling to Amsterdam. However, it is always advisable to check with your doctor or health-care provider for the latest updates.
Transportation / Walking on tour
Included transportation on your tour is by motor coach. In your free time, most locations are best accessed on foot. Amsterdam has a user friendly bus and tram system, if needed.
Cuisine
In the Netherlands, the universal staples of beef, chicken and fish are prepared in a simple fashion, and substantial soups and stews are also very popular. Snack food might be less familiar, where the emphasis is on fish. You might try maatje, raw green herrings served with onions. Also popular are pancakes, french fries, doughnuts and waffles served from street stands.
Clothing & Packing Tips
The Netherlands tends to be cool and often damp at certain times of year. Loose-fitting, layered clothing that can accommodate varying temperatures will probably be most comfortable. A sun hat, sunglasses and a sturdy pair of walking shoes or sneakers are recommended for sightseeing. It's always a good idea to be prepared for any eventuality—a lightweight sports jacket and rainwear are advised. If you plan to visit an elegant restaurant or attend the opera or theater, you will probably feel more comfortable with something formal to wear. Also, remember that it is preferable not to visit churches or other religious sites with bare legs and shoulders (and entrance may be denied on this basis).
Baggage Allowance
Each adult is entitled to one luggage and one personal item. Luggage should be able to be stored below the bus and the personal item should contain whatever you might need on the bus. Pillows and blankets do not count for the personal item. If you have additional items such as strollers, carseats, etc. please send us a message to make those arrangements.
Currency
The euro is the currency you will be using on your tour. Better rates of exchange are usually available in Amsterdam, although it is worth ordering some currency from your local bank to use when you first arrive. We strongly advise that you take debit/ bank cards and credit cards, which can be used to withdraw cash at local banks, as needed. You can use most debit/credit cards at ATMs on the international networks Cirrus and Plus, but make sure to check with your home bank about withdrawal fees. We suggest that you inform your bank and credit card company of your travel plans, so that they won't confuse your international purchases for fraudulent charges.
Tipping
At the conclusion of your trip, it's customary to offer your Trip Leader a gratuity. We recommend tipping €1-2 per person per day for your Trip Leader. Tips can only be paid in cash.
Here you can see what our travelers say about this trip!
Have you been on a trip with us? We appreciate each of you and would love to have your comments and experiences posted for the consideration of future and prospective travelers.
We recommend you get travel insurance to reimburse you for unforeseen trip cancellation. Please follow this link to get a quote through our partner SevenCorners.
Comments
Comments