Departure Graf: Austrian Wonderland – Hallstatt & Salzburg
Get to know beautiful Lower Austria and explore two historic cities on a full day trip to Hallstatt and Salzburg. Austrian winter wonderland, picturesque villages, Mozart's birth place and mountain-lined Lake Hallstatt — this tantalizing duo of Austrian cities has something for everyone!
Let us handle the details
Experienced Trip Leader

Local Tour Guides

Private Transportation
Your trip includes
• Round-trip direct bus transportation
• Free time to explore Hallstatt
• Guided tour in Salzburg with local tour guide
• Explore Europe Trip Leader
• Hotel city tax
Your trip highlights
• Explore the historic village of Hallstatt, a UNESCO World Heritage Site
• Keep cool while wandering around the Hallstatt Bone House, home to some 1,200 skulls
• Learn about Salzburg's rich history and culture from a knowledgeable guide
• See popular Salzburg sights from the movie The Sound of Music such as Mirabell Palace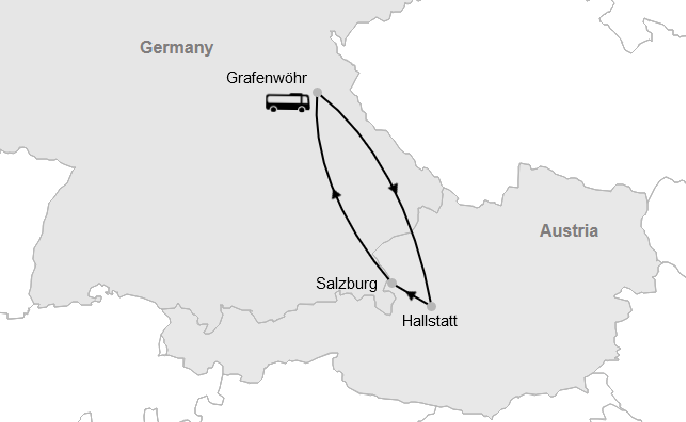 Depart at 5:00am from Grafenwoehr and travel along the highway by bus to Hallstatt in Austria. On arrival in Hallstatt, we will have ample free time to take a walk along a lake in a historic village, see the Muhlbach Waterfall, visit the museums and the famous "Bone House," and more. You can also opt to take a ride cable car to the Hallstatt World Heritage Skywalk. In the afternoon, we will be setting off for Salzburg (dubbed the "Rome of the North"), where a local guide leads you on a walking tour of the Old Town:
• View the University of Salzburg and the churchyard of St. Peter
• See the Kapitelplatz, Residenzplatz and age Market, in the city's Old Town
• Enter the 17th-century Salzburg Cathedral, built in the Baroque style
• Pass through scenery from the beloved film "The Sound of Music"
• Take the funicular to the hilltop Hohensalzburg Fortress, one of Europe's Largest Medieval Castles
The remaining afternoon is free to allow you to shop, wander or relax as you wish in Salzburg. Continue on to Grafenwoehr in the evening.
Estimated time of return in Grafenwoehr: around 10:30pm
BOOK IN ADVANCE AND SAVE
Early Bird Offer: Book this trip by December 15 for only €89 and save €10!
Regular price after December 15 is €99 per adult
Covid-19 On-Trip Requirements & Safety Measures: Explore Europe requires our guests to be fully vaccinated, recovered or receive a negative PCR or antigen test within 48 hours of trip start*. Your Trip Leaders will check for proof on the first day of your trip.
*We would keep you informed of any changes that would apply to your trip, as we follow the COVID-19 requirements from each country/region.
IMPORTANT NOTE REGARDING PASSPORTS: A valid tourist passport is required for this trip. Please make sure that you are traveling with the appropriate passport.
How's the weather?
Meeting point for the start of the trip
Your trip starts and finishes in Grafenwoehr, Germany.
Address: Dießfurter Str, 92655 Grafenwoehr (parking lot)
Instructions: if you are exiting McDonald's parking lot in Grafenwoehr you will turn right on to B299 as if you are going towards Netzaberg. You will then take your very first right (as if you are going towards MegaPlay) and as soon as you cross the small bridge there is a driveway on the right side which you can enter into a parking lot. You should see several cars and the bus there. The parking lot is available during the duration of the trip for our passenger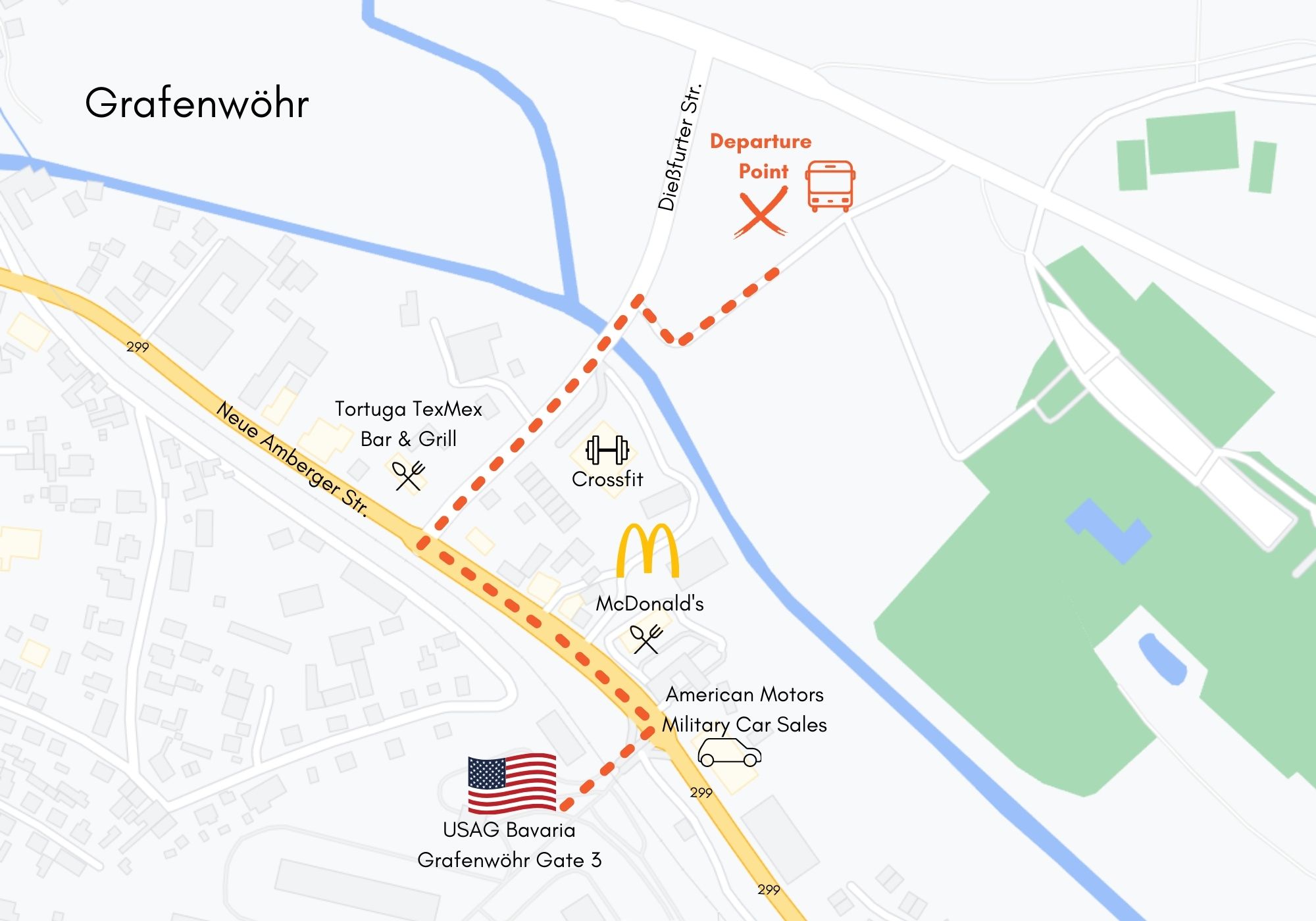 Passport & Visa
A tourist passport is required for all trips outside of Germany.
Important passport rules are as follows:
If you have a passport with a SOFA stamp on any page (a "No-Fee" passport), you are provided permission to reside in Germany, NOT to travel outside of Germany. You have to have a tourist passport in addition to the SOFA/"No-Fee" passport to travel outside of Germany. You cannot travel with a RED Official passport as that is used only for the purpose of a mission or deployment. If you have a passport with a detachable SOFA card clipped inside, it is acceptable to travel with as that was issued originally as a tourist passport. If you are not sure: a tourist passport will be BLUE and will be valid for 10 years for adults. It cannot contain a SOFA stamp on any page or it is not acceptable. A child's tourist passport (under 15 years of age) is valid for 5 years, but will not have a SOFA stamp in it anywhere. All of this information has been verified to be correct with the Grafenwoehr Passport Office.
Health
There are no major health risks at your destinations. It is always advisable to check with your doctor or health-care provider for the latest updates and overseas travel requirements. More information on vaccinations and other health precautions can be found via the CDC website (www.cdc.gov)
Cuisine 
It is perhaps desserts for which Austrian cuisine is most famous: From strudels made with all kinds of fruit and nuts to soufflés and elegant chocolate cakes such as the world-famous Sachertorte. Thick soups of veal, beef and venison flavored with cranberries, onion and paprika are popular, as is the renowned Wiener Schnitzel. Fish-lovers will find abundant options of wild trout, roast carp and crayfish.
Transportation / Walking on tour
Included transportation is by private bus. In your free time, you may wish to explore the cities by public transportation. Vienna has a top-notch transportation system. You can purchase tickets in singles or in bulk for Sbahn (above ground), U-bahn (underground), tram and bus lines. The waiting time for trains and subways is usually no more than five to 10 minutes. Salzburg is best explored on foot, but if you need to access the suburbs, trams and local buses are readily available.
Baggage Allowance
Each adult is entitled to one luggage and one personal item. Luggage should be able to be stored below the bus and the personal item should contain whatever you might need on the bus. Pillows and blankets do not count for the personal item. If you have additional items such as strollers, carseats, etc. please send us a message to make those arrangements.
Clothing & Packing Tips
To ensure you're comfortable while out exploring, we recommend packing lightweight, loose-fitting clothing that can be easily layered. For sightseeing, we suggest bringing a sturdy pair of walking shoes or sneakers, as well as a lightweight sports jacket or rainwear. If you're planning a visit to a high-end restaurant or performance, you may also want to bring dressier attire. Also, please remember that it's preferable to avoid showing bare legs or shoulders during visits to churches or other religious sites (entrance may be denied on this basis).
Currency
The euro is the currency you will be using on your trip. We strongly advise that you take debit/bank cards and credit cards, which can be used to withdraw cash at local banks, as needed. You can use most debit/credit cards at ATMs on the international networks Cirrus and Plus, but make sure to check with your home bank about withdrawal fees. We suggest that you inform your bank and credit card company of your travel plans, so that they won't confuse your international purchases for fraudulent charges.
Travel Insurance
We recommend you get travel insurance to reimburse you for unforeseen trip cancellation. Please follow this link to get a quote through our partner SevenCorners.
Here you can see what our travelers say about this trip!
Have you been on a trip with us? We appreciate each of you and would love to have your comments and experiences posted for the consideration of future and prospective travelers.
We recommend you get travel insurance to reimburse you for unforeseen trip cancellation. Please follow this link to get a quote through SevenCorners.