10 Reasons to Book with a Travel Tour Company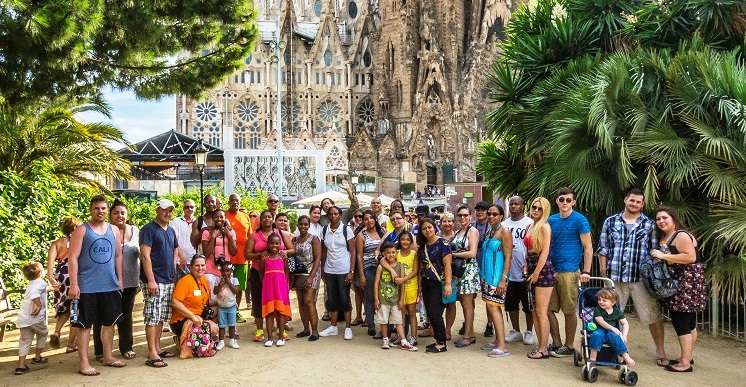 by Tina Louise
So you are planning to visit a city you have wanted to see. Maybe it is on your bucket list or maybe it is one you just heard about but sounds amazing. Maybe it is a place where your grandfather stood during World War II or where your ancestors came from. Where do you start? What does the city offer? Are there historical places that are off the beaten track? Oh, the choices!!! Google here I come!
**Three hours later*** You are overwhelmed and underwhelmed at the same time. How did that happen? You found 1,734,987 sites that have what you are searching for? You found a few with great ideas but the rest were leaving you with feelings of * bleh* ? I see the problem. You had great ideas but are having a hard time finding what you want. Discouraged? Disheartened? Have no fear! I have an idea.
Have you thought of a travel tour company? One that handles all or most of the travel arrangements for you. You know, the kind you thought only senior citizens use? Let me educate to the pros and cons, do's anddon'ts, and benefits you didn't even know existed. First let's talk about what to look for.
Mostly Inclusive.
Yes, I said mostly. Remember those family vacations you went on where Mom or Dad chose everything you did and you had no say in the plans? Did you want to do everything on the list? Would you have liked to pick some of the places to see? Did you want to go to see the giant dinosaur egg that no one else thought was cool? How about the Hard Rock Cafe across town that Dad said was too expensive but you had saved up enough money to buy a t-shirt? Yes, that is why I recommend the Mostly Inclusive trips. Travel and lodging, as the big items, with a tour or two are handled but you have time to wander and explore on your own.
Professional Help.
Friends are great but sometimes their advice is a little like sketchy. It is like getting relationship advice from your high school pals. It may be spot on but may also get you in a sticky situation. You get what you pay for. When looking for a group to work with, find one that offers an itinerary with good details. You will want to be able to talk to live bodies when you phone but offers the tech savvy buyer options that include email with quick responses.
You will also be kept in the loop about the specific COVID rules & regulations relevant for your trip. From negative COVID tests (PCR & antigen), proof of vaccination and/or recovery and possible passenger locator forms to fill out, no research is needed on your end. An email will be sent directly to your inbox with all the information you need to know.  An extensive list of test centers near you can also be provided if needed.
On-sight Tour Guide.
Wallet friendly vacations that are "mostly inclusive" usually involve several parties. This entails gathering in centrally located spots to get the group together for the next leg of the tour. With an on-sight guide from the travel company you have someone there to discuss options and to verify the itinerary so as not to miss the bus: literally and figuratively.
Wallet Friendly.
As mentioned before, economically sound vacations usually involve large groups. This can be a pro or con depending on your view of crowds. A benefit of large groups is the travel company can book in bulk. They pass this savings on to you so there is bang for your buck. You may receive a wine tasting or group tour through the city as part of your package. This is something you would normally have to book and pay for on your own. This entails transportation to and from the tour as well as the cost of the tour itself.
Free Time Options.
You have already seen the city once or twice and you don't want the city tour? No problem! Skip the tour and gather with the tour posse at an appointed meeting place. This amount of choice should be built into the plans. You need time to see things on your own. This is the time you want to explore that funky museum and marketplace that is not on the day's plans. Private time is allowed. Just don't miss the bus!
Now you have a good understanding of what to look for in a travel tour company but you are still not sure if this is the option you really want to invest in. Let's discuss the things you need to ponder over. These are the items you need to decide if you fit into before you sign up and spend your hard earned money.
Groups of…PEOPLE!!!
Are you social? Do you like to share experiences? Do you want to make friends with strangers? Bus tours and other types of tour travel with more than you and your family will require at least passable social skills. You will share space and oxygen with people who you have never seen before. Make sure you are prepared for making nice with those around you. This does not mean you will be lifelong buddies at the end or that you will be standing in someone's wedding from the experience but you may find that you like some of the folks on the ride and decide to expand your friendship circle.
Traveling Alone?
If you are a single traveler who wants the safety of a group, this type of travel is a great option. You will have a lot of opportunity for tagging along with some very friendly people. You will also likely have to share a hotel room. What? I don't get my own room? Probably not. For the price same sex double occupancy is expected. This means sharing a room with double beds and one bath. Some folks are OK with shared spaces while others.
Fine Print.
Read the contract before signing up. If you have purchased a trip for two that you and your significant other are planning but suddenly one of you has to work, do you want to travel alone? Do you have a travel buddy that can take over the ticket? Is this allowed in the contract? Are you able to be fully or partially reimbursed? Check it out before a problem arises. This sets up realistic expectations and those are always appreciated: by both seller and purchaser.
Itinerary.
There is one. The trip is planned with specific pick up and drop off times. This means you cannot get lost in an alley of Venice or a back street in Amsterdam without worrying about consequences. The bus will leave you. They will put the group's needs ahead of you, the individual. The needs of the few will not outweigh the needs of the many.
Make sure your watch works or your phone is charged.
Acts of God.
Stuff happens. Busses are late. Hotels make mistakes. Restaurants do not serve Vegan Cuisine. Things go wrong. This may or may not be in the control of the tour company. You have to be flexible within reason. This could mean you have to wait 30 minutes to one hour for the bus to arrive to take you to your destination even though the tour company scheduled with the bus company months ahead of time. It is not always the fault of one person or the group you are using. Again, be flexible.
Working with tour groups can be rewarding as many travelers make friends with those they have met on the bus. You may find this type of travel is your preferred method of exploration as it takes most of the planning off your plate. All you have to do is pay, show up and fill in some down time. This allows for shopping, eating, and sightseeing. You may even find the hidden gem everyone seeks. Look online and see where the next Explore Europe tour is heading. Review the pros and cons above. Sign up and enjoy.
Comments
Comments