A day on tour in Verona, Italy
Have you ever had a moment when you stopped and realized the moment is real? No pinching needed but you still think about doing it just to make sure. Sitting on a stone wall looking at a courtyard within the city of Romeo and Juliet, it hit me, "I am really HERE." When I first landed in Europe it was enough to be here and soak up the ambiance of Germany but I'm now seeking other places that inspire me and give me memories to take home. How about Northern Italy? Hmmm…
My first view of Verona, Italy was upon a hill top overlooking the town. The tour guide was telling us about the history of the fortification on the hill that is now a church: describing what we will be seeing over the course of the day. My mind was not fully on her though as I was soaking up the view. The river wound in undulating asymmetry to form a rough S with stone and brick bridges crossing here and there, buildings clustered with colorful paint, clay tile roofs, and steeples peering down upon their domain.
Did she just say that bridge is from the Roman Times? I really should pay attention. There are new buildings in the distance but everyone is entranced with the history and timelessness of the area. Ok, time to pay better attention. Much of what is talked about today has to do with three parts of history, the Roman Empire, Venetian rule and World War II. Each era can be seen on the city and how it functions today. The church that we started our tour in front of on the hilltop was once a military fortification but is now where religious services are held. The Virgin Mother, a statue that escaped the bombing of her church unscathed, sits in the garden flanked by olive trees and sculpted lawn. Peaceful serenity.
We drove down the hill into town to walk the streets and feel the local atmosphere while passing Roman Ruins. Enter the old city center. Cobblestone streets lead the way through roads and alleys that hold views of beautiful villas, tightly packed former Jewish Slums, Juliet's Balcony, souvenir shops and hidden restaurants. A church that was decommissioned is now serving pizza. Alley ways skirt off to all kinds of hidden treasures. Private courtyards are glimpsed here and there when you find a door left ajar. Standing on the road today you know that six feet below the surface was once a lively Roman City. In places there are windows into that world. Literally. Excavations covered with glass tops give a peek below the surface to show burial chambers and mosaic floors, streets and walls.
Churches abound with sarcophagi viewable with former rulers and their heirs: Each a work of art larger than the last. We passed through the overly crowded Juliet's courtyard with her balcony and bronze statue where she is patinaed beautifully except for her breasts as tourists believe touching her breast brings luck in love. She looks like she is wearing a bright bra and people vie for a turn to stand for their picture taken with the tragic teen.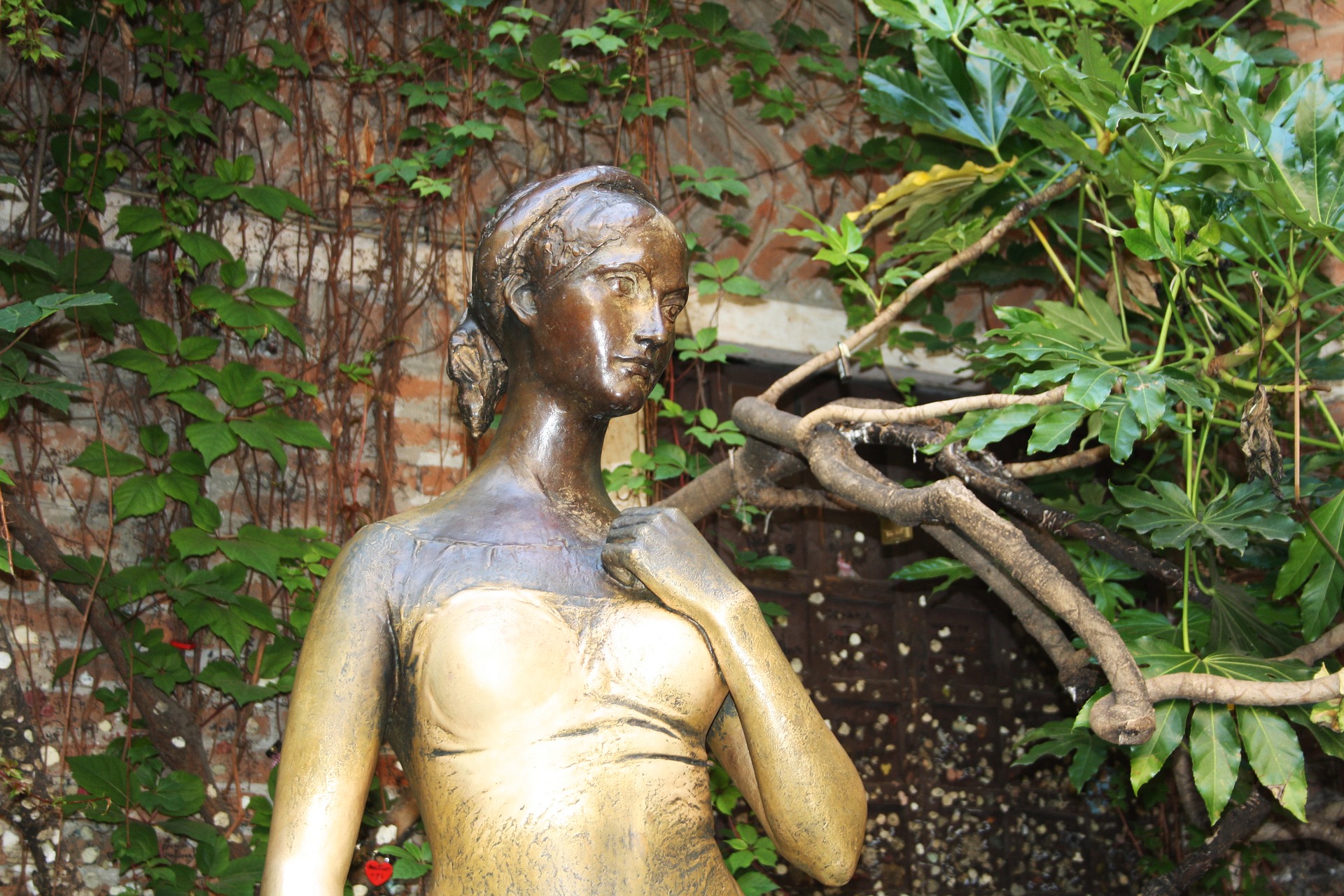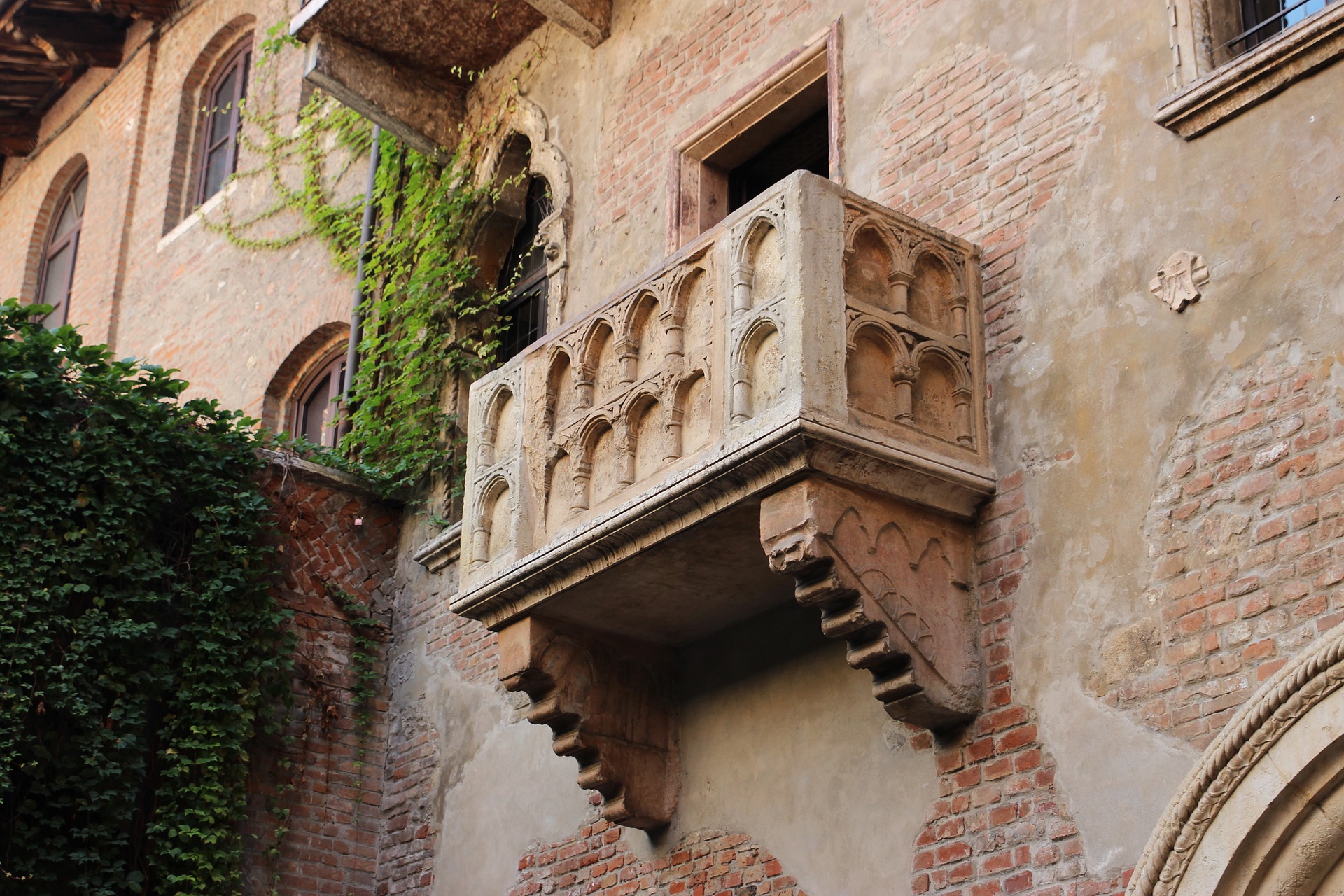 The tour ended with a walk through Piazza Erbe where Venetian influences cannot be hidden. Frescos dull with time look down upon the open air market and must have once been a kaleidoscope of color when the paint was new. We walked to our final destination before wandering off on our own to explore individually at the Arena. Do not call it the Colosseum as that is in Rome but it is the Verona Arena. It is a working venue for concerts and other open air events.
I left with memories of cobblestone and marble walkways, cathedrals, food, wine, culture, color and history. The tour taught me to see beyond the building facade to the stories that tie this city together. It is complex and beautiful. I look forward to visiting again.
Take Away's:
1.       Make sure to have your vitamin C. The air is damp, there is a lot of wind and getting sick is easy if not properly prepared.
d
2.       Make sure to pack water/wind proof attire and comfortable shoes.
d
3.       Make sure you have a clear picture of the places you want to attend to, you want to make sure you do as much as you can with the timeframe you have. Do your research, so you are not overwhelmed when you attend.
d
4.       Pre-book all your tours, you do not want to be standing in line! They can really go on for a long time.
s
5.       Enjoy!
g
Comments
Comments