Alexis Travels: Mother's Day in Lake Garda & Verona
by Alexis TUCKER on May
If you haven't experienced Lake Garda or Verona yet you are missing out on killer views and romantic experiences. Lake Garda is a popular destination for German tourists looking to get away in the summer in search of water sports. My husband and I joined Explore Europe on their trip to Lake Garda & Verona and although I originally booked the trip with the intention primarily being to experience Verona, I soon unexpectedly also fell in love with Lake Garda.
We started the day off at a breakfast buffet with a scenic view on the lake front, overlooking the mountains of Riva Del Garda. The breakfast was included in our ticket price along with a tour of every city we explored and our hotel booking. At breakfast, I drank a cappuccino and a glass of red wine. The group was very excited about unlimited wine! I ate a variety of breads and cheeses with salami and prosciutto while overlooking the lake from the wide open windows. Afterwards we joined our tour guide, a local to the area. The guide took us to the city center and to a quiet church named Chiasa di Santa Barbara. The ceilings and walls wore elaborately decorated in a baroque manner, adorned with hand painted scenes of cherubs outlined in gilded filigree.
After the tour our bus headed off to Malcesine. I had not known when I booked the trip that we would be stopping in this city. This stop was an emotional one for me, never dreaming that I would be able to go to the city where my great grandparents resided prior to arriving on Ellis Island. Relatives of mine, the Chincarini family, still own a hotel and reside in the city today. We spent an hour with our tour guide touring the city, with a special focus on the lake front castle. While there, over half of the group grabbed gelato from the shop right outside of the castle while we listened. I had a delicious scoop of amaretto. After the tour we were given an hour and half to dine for lunch. Since we were not yet that hungry, we stopped for a quick snack and some Coca-Cola before heading off to the market and the little shops that lined the streets. I found a wonderful shop that housed hand painted pottery of every kind. My husband bought me a cooking spoon rest with lavender hand painted on it along with a Malcesine castle magnet to add to our collection.
Once back on the bus we headed to our last city of the day, Sirmione. We didn't know what to expect because we hadn't heard of the city. Upon our arrival our group's eyes were drawn to a castle where we found our tour guide for the boat trip. I am not a huge fan of boat tours so I feared I would be put to sleep, but I was in for a surprise! We circled around the island and I instantly perked up when he pointed to a house and told us about a famous opera singer named Maria Calls that had lived there. He proceeded to tell us about the love triangle that she and Jackie Kennedy had with Onassis. I had been reading a biography on Jackie Kennedy so I found this to be very interesting and instantly became a tour guide to my husband on the story behind this love triangle. Just as I finished the story we started to pass castle ruins. With the water glistening and other boats floating by the view was mesmerizing. The guide then told others that were standing to take a seat as he cranked up his music and begin speeding very quickly. The group laughed as the water splashed, the boat speeding toward the original castle of which we had seen on arrival. We went through the moat around the castle and under the foot bridges, getting a view unlike any other. It was hands down the best boat tour I've ever experienced.
Once the boat tour was over, my husband and I paid for entrance to the castle. If you don't do anything else, you must grab a ticket for the castle. The views from the top of the castle were very unique and there are many angles in which you can take Instagram worthy shots. Later that night, we checked into our hotel near Verona and grabbed a seat at the hotel's restaurant. I ordered fish and a side dish to share with my husband. The meal was bursting with flavor and was a fancy treat to end our day with. The following day we woke fully rested and had a wonderful buffet breakfast prior to our bus tour of Verona.
After we arrived in Verona, we let our trip leader know that we were going to skip the guided walking tour so that we could beat some of the crowds. We went to Juliette's House and were very lucky that only 4 people were taking photographs with the famous statue of Juliet and the balcony in the courtyard. We grabbed tickets afterwards. Since we were the first people inside for the day, we were able to spend about 15 minutes admiring the view from the well-known balcony and taking photographs and videos on it. We strolled through the house admiring the inside of the museum. It housed prints & artwork from various Romeo & Juliet films along with a bed, pottery, and costumes.
Next, we headed to the Verona Arena. The outside view of the building was lovely, but the inside was undergoing renovation. Having been to the Coliseum, we felt we could have passed on our visit inside. However, we would have loved seeing a show at this arena. If you can grab tickets to a concert, I highly recommend it because as a venue it is very unique.
Our last destination was to Castelvecchio where we spent 2 hours wondering the old stone walls and admiring the views of Verona. This is another place that we were very glad we chose to visit.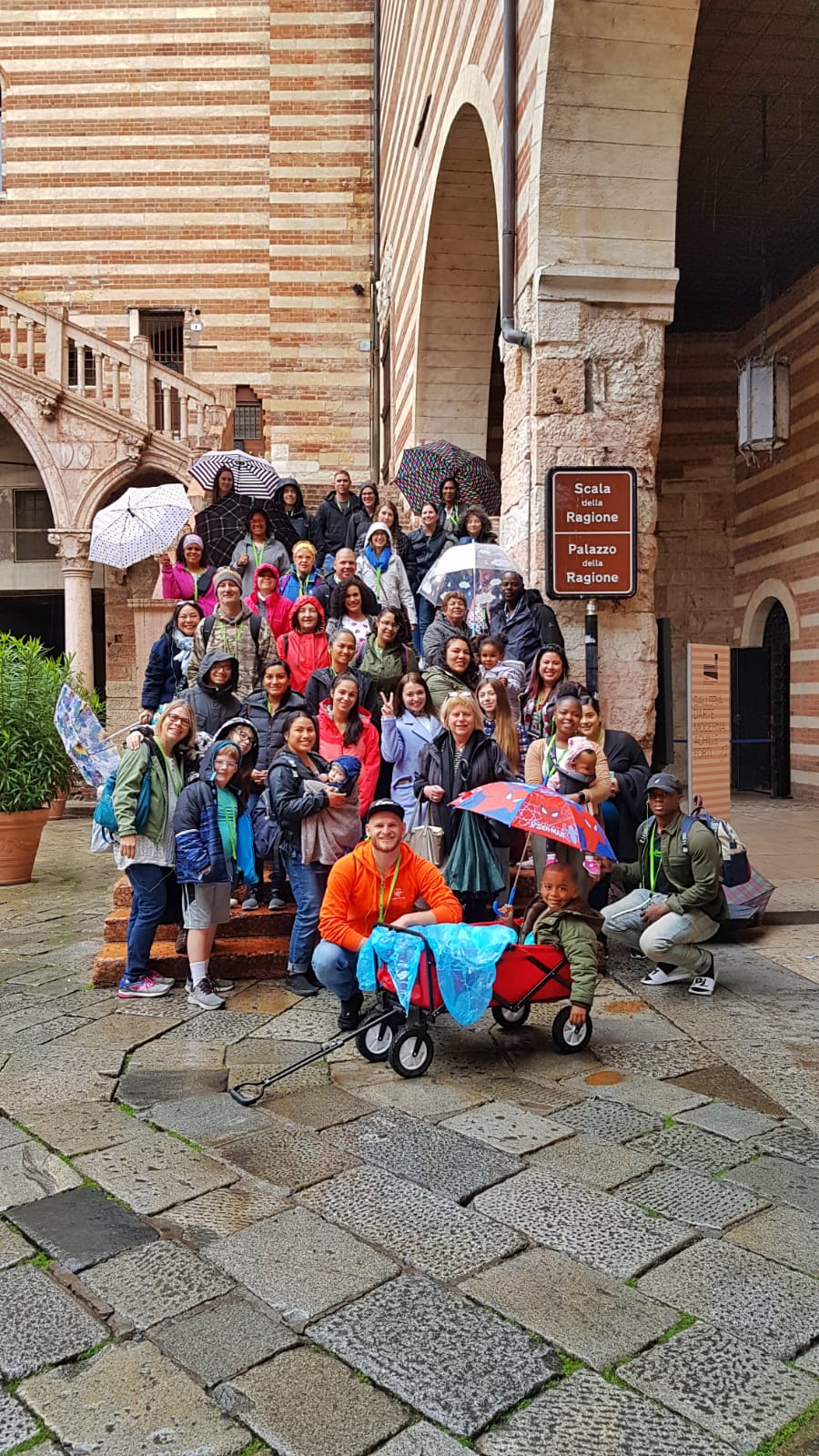 We worked up an appetite after walking the castle grounds so we ended the day people watching at a restaurant overlooking the arena. It was sprinkling as people bustled by with a rainbow of umbrellas in hand on the cobblestone streets. Here, we ordered drinks and a late lunch before we embarked on our journey home.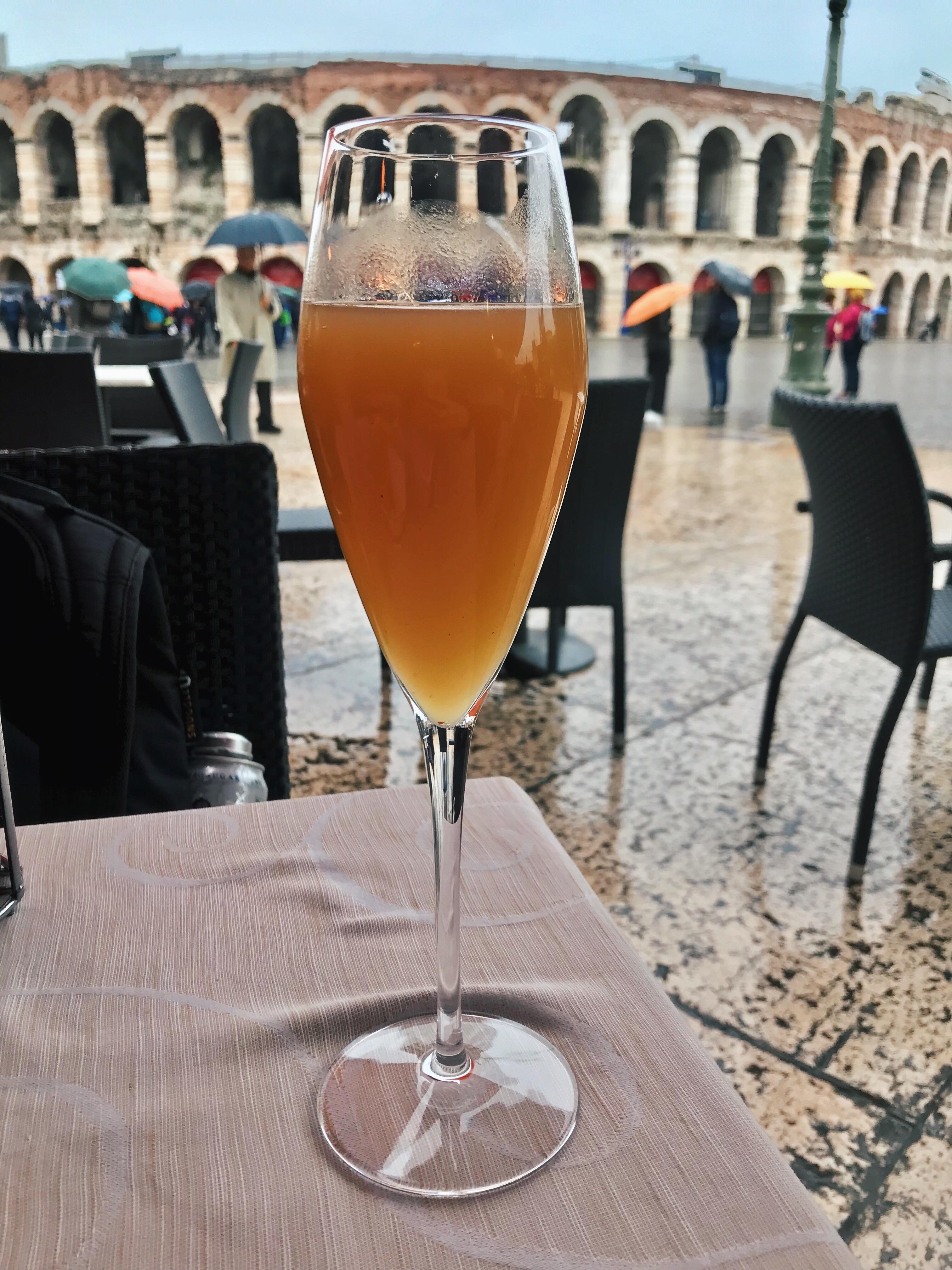 Have you ever visited Lake Garda & Verona? Tell us about it in the comments below!

Follow Alexis — A Southern Belle's Fairytale on Instagram & Facebook
Comments
Comments