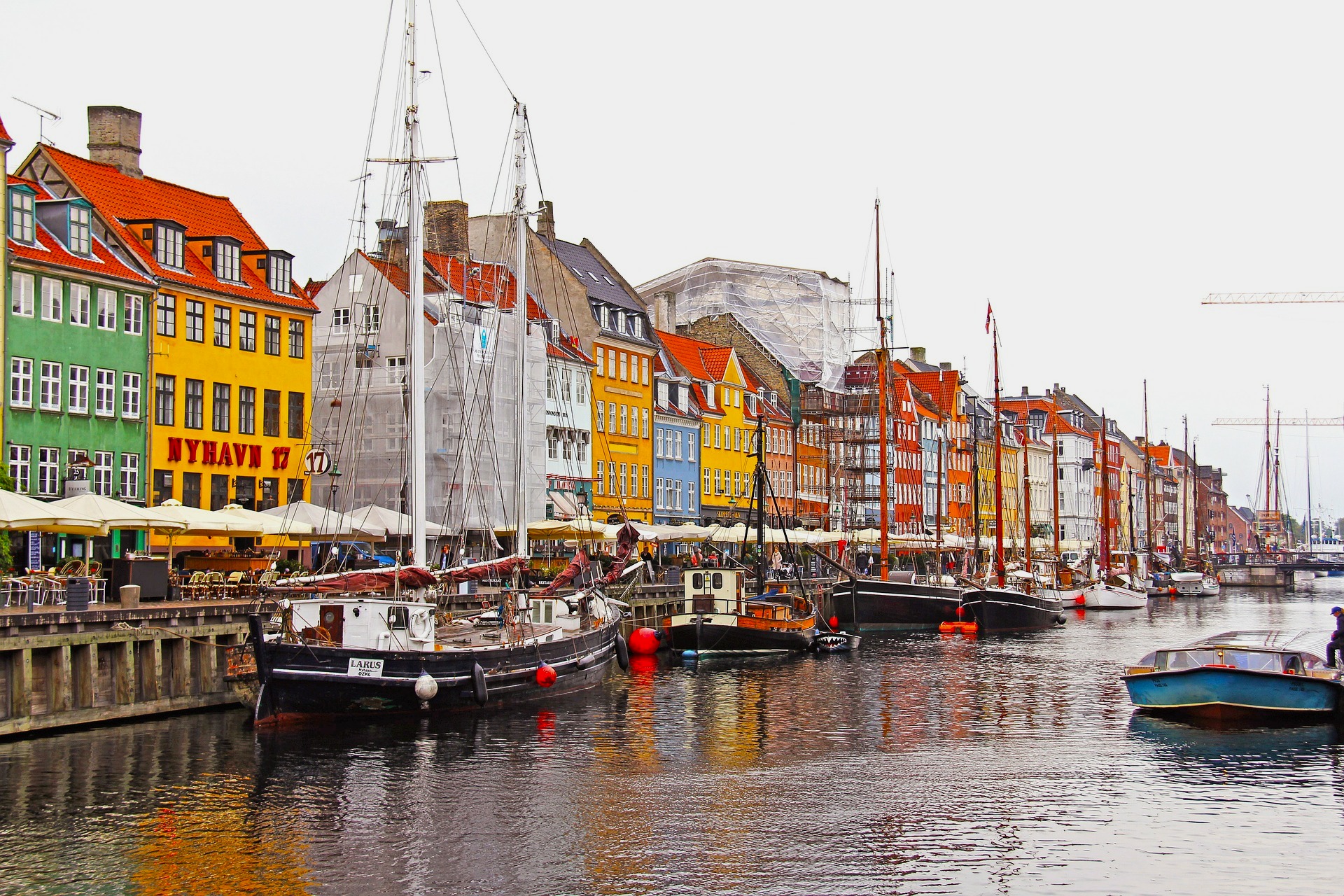 by Tina Louise on
Colorful houses lined in a row along the seaside: red, blue, yellow and orange. Terracotta tiled roofs with windows looking down on the harbor. The smell of salt water and fish linger in the air. Fishermen work the nets and monarchs reign. Is this your view of Copenhagen? Some would argue that there is nothing new to see in the capital of Denmark but those that visit and live there tell a different story. They tell of a cultured city of over half a million living amongst history and progress. They will tell you about the number of Michelin Starred restaurants, parks, and museums of modern and French art, theater and architecture. It is cosmopolitan and inclusive.
Traveling can be overwhelming for the expert and make novice adventurers want to stay home. Copenhagen says, "Come visit us and we will welcome you." The city is navigable by bus, train and bicycle. You can rent a smart bicycle with GPS in depots across the city. These bikes are electric and pedal powered for a minimal cost that allows you to see the city like a local; from the saddle. If bicycling is not your mode of choice to move around, the Copenhagen Card is available and covers the use of bus, train and metro at no additional cost and admission to 74 museums and attractions. The card is available in 24, 48, 72 and 120 hour increments. Did I mention the card allows you to bring two children under 10 at no additional cost?
Food…
Now, let's talk food. As a foodie, I love to find new places to try the local and not so local flavors. Copenhagen has it all. If you are looking for reasonably priced meals you may choose to try the Restaurants by Madklubben or the Restaurants of Cofoco. These two groups have seventeen different locations across downtown and offer classic Danish cuisine along with Italian, Eastern, French and South American. For an upscale flavor you may want to try one of the Michelin starred locations like Noma which has been listed as the Best Restaurant in the World four times by British Restaurant Magazine or Kiin Kiin the only restaurant outside of Thailand to garner a Michelin Star for Thai gourmet cuisine. All of this talk of food makes my mouth water but we must discuss street food. For authentic street food that encompasses the global flavor, go to Papirøen (Paper Island). There are food trucks and bars tucked inside a building that resembles the meatpacking district with the ability to sit inside or along the waterfront outside. The goal of Papirøen is to offer locally sourced, sustainable, scrumptious food. 
Shopping…
Now that we have eaten, let's talk shopping. What are you looking for? High-end fashion? Design for the closet or home? Vintage? There are several shopping centers with shops but if you want to feel the city and shop at the same time, try Strøget, Strædet, Pilestræde and Larsbjørnsstræde Streets. Each offers a different experience. Strædet is all about design, Pilestræde is young, hip and funky, and Larsbjørnsstræde is the Latin Quarter. Strøget covers it all and is over a kilometer of pedestrian shopping experience from high fashion to budget friendly purchases. Each area offers small cafes and eateries to rest and relax with a drink while your feet and pocketbook take a break. Don't forget to look down the side streets while you shop as you may see some of the attractions the city is famous for.
Oh, you want something vintage? Something previously loved that now needs a new home? Try the vintage clothing stores of Carmen and Fantasio, FN92 Vintage or Butik second Ivelina. Each of these offers luxury goods for today's fashionista. Not into clothing? Each weekend there are flea markets such as Frederiksberg Flea Market, Østerbro Flea Market, along with Esrum Abbey's Medieval Market.
What to See…
All this sounds good so far but what to do with the children? Take them to Experimentarium City where the whole family will experience science in a hands on environment. You can visitFrilandsmuseet, the Open Air Museum allowing you to see life in Denmark from 1650 through 1940 with over 50 farms, mills and houses. Don't forget to take everyone to Dyrehavsbakken, aka Bakken, the world's oldest amusement park (431 years old!). You are interested in all of these but will have no children with you? No worries! Adults are always welcome.
There is so much to see and do in Copenhagen that it would take a book or two to cover it all but let me leave you with some of the highlights and sights you should take time to see while visiting. The Little Mermaid: She turned 100 in 2013. Nyhavn: The waterfront where you can end your day with a meal or a beer sitting on the wharf. Tivoli Gardens: Amusement park, national landmark, and favorite site for Hans Christian Anderson and Walt Disney. The Round Tower (Rundetaarn): 17th century tower and oldest functioning observatory in Europe. Kronborg Castle: Renaissance Castle built in the last 16th century offers Hamlet performed in the open air stage.
Copenhagen has something to offer all who visit and welcomes visitors from around the globe. Take in the beauty of Copenhagen on our new trip, Copenhagen & Hamburg, and enjoy two cities that have much for everyone to experience.
Comments
Comments