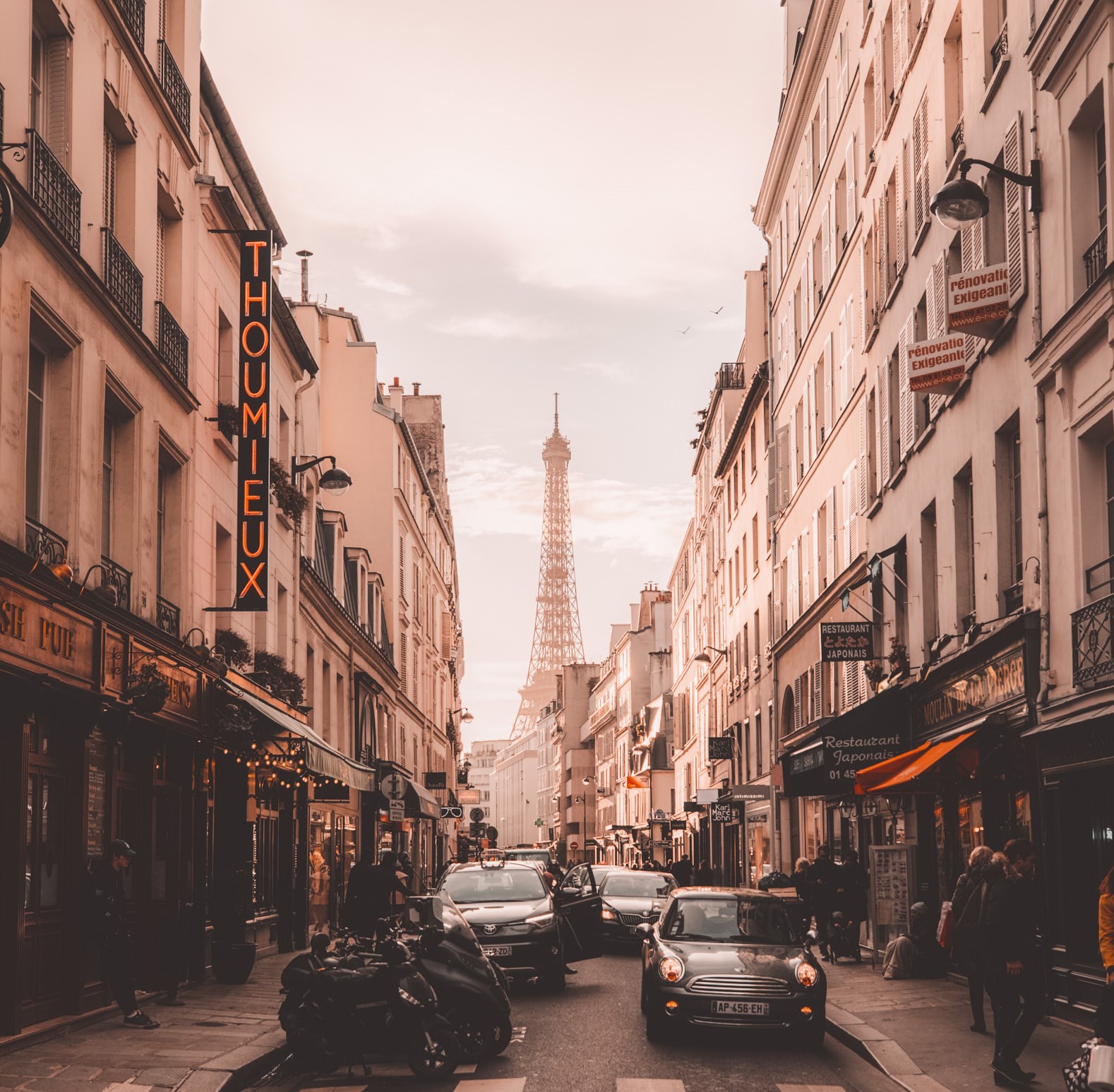 by Kim English on November 17, 2020
Paris is for wanderers. Paris is for history buffs. Paris is for art enthusiasts. Paris is for wine drinkers. Paris is for food lovers. Paris is for those who enjoy life to the fullest. You've watched her in films. You've read about her in books. You've seen her painted from every angle. You think you know her, but let us show a side of her you haven't experienced yet.
The Eiffel Tower, the Louvres, the Sacré-Cœur Basilica, and the Seine have become so familiar that they almost feel like home. What about speakeasies, covered passages, and exotic greenhouses? Read on to spice up your next trip to Paris.
A covered Passage: Galerie Vivienne
The 19th century saw the rise of the French bourgeoisie who were eager to show their newly-acquired wealth, and spend lavishly for all to see. They would historically shop in privately-owned covered passages, like Galerie Vivienne. With a glass ceiling and mosaic floor, you will be transported back to 1823. Luxury perfume houses, quaint tea rooms, gourmet food boutiques & quirky old bookshops will line your stroll along the passage. You won't be able to resist the urge to look up to the sky as the sun illuminates your steps. Stop for a moment though, and admire the intricate details of Parisian architecture frozen in time. In a peaceful location, behind the Bibliothèque Richelieu and near the Palais-Royal, enter between a charming Bistrot right here: 4 rue des Petits-Champs, 75002 Paris.
A perfect portrait with the Eiffel Tower: Square Rapp
Traveling is about making memories. Traveling is also about capture those memories on film. You want to take the best picture of the Eiffel Tower, but everyone else is trying to do the same. So how to you get that coveted picture AND avoid the crowds? You head over to a secret location. Square Rapp is a hidden spot for those who want to capture that perfect shot. The Eiffel Tower will be perfectly framed by flamboyant Art Nouveau facades and the iconic Parisian architecture will makes your portraits pop! No crowds also means that you can have your own private photo-shoot without any interruptions and for an unlimited amount of time. Make your way to Square Rapp, 75007 Paris, and start posing!
An exotic Greenhouse: Grandes Serres du Jardin des Plantes
The Parisian hustle and bustle can be overwhelming. So why not escape to an atypical oasis for a while? The Grandes Serres du Jardin des Plantes offers you a moment of respite from the loudness of the city. Catch a breath of fresh air as you gaze upon this wilderness under glass. Each greenhouse has its own climate. So you can wander around the world from deserts and arid habitats – typically found in the United States, Mexico, the Sahara, Australia – to tropical rainforests – from Africa, America and South-East Asia – that come together to form the perfect jungle. The plants thrive across all four greenhouses and remind us that there is no human life without plants. There are also exterior gardens for those who would like put their feet up for some time. Head over to  57 rue de Cuvier, 75005 Paris.
A colorful Instagram spot: Rue Crémieux
Paris might seem like a big old city, yet in parts it still holds the charm and beauty of a dainty little town from the French countryside. If you're looking to contrast the tall Haussmannian buildings, discover ideal quaint painted house fronts at Rue Crémieux. They will surely brighten up your day and your feed. Capture a candied Paris for your eyes only, and maybe your Instagram followers too! Amid the colorful façades, trompes l'œil paintings, and shuttered windows, are window boxes and terracotta pots filled with lush plants that add to the feeling you have somehow escaped Paris for a moment. Keep in mind, this is a residential street, so be respectful of the occupants' privacy at Rue Crémieux, 75012 Paris.
A vestige from the past: Les Arènes de Lutèce
Have you ever wished you had a time machine? Your wish has been granted! Les Arènes de Lutèce is an arena built in 1st century AD. Gladiator fights were held here for decades and echoed with the roars of the crowd. It survived pillages and raids from foreign invaders before it was forgotten and buried in silence for centuries. Once lost to the world, it was rediscovered during the 19th century. Historians and artists fought for its restoration as the the city attempted to build a Metro line in its place. Today, it stands proudly in the heart of the Latin quarter. Suit up to fight some invaders at 4 rue des Arènes, 75005 Paris.
An unmentionable Speakeasy: Serpent à Plume
Rebellion and revolution go hand-in-hand for Parisians as they thrive on secrecy. Serpent à Plume is an exclusive restaurant and cocktail bar hidden in the Paris' lower grounds. Discover cocktails with a scandalous twist, from "Très Chic Gin & Tonic" to "Edgar Ne Me Trompe Pas". They are no rules when you show up here, as decadence prevails and secrets are whispered in every corner. Freedom is at the heart of the speakeasy: freedom to be exuberant and wild, freedom to enjoy luxurious moments, and above all freedom to be. To access the bar, you need to wander through the clothing store, and head down a stone staircase to basement, where a 1970s atmosphere with velvet & vinyl furniture will take over. If you want to be in the know, here is the address : 24, place des Vosges, 75003 Paris.
Can't wait to check out all of these places?
Comments
Comments