Krizia´s Travels: New Years Eve in London
by Krizia NAU on January
We were quite interested in London since we arrived in Germany about a year ago, and just didn't find the right moment to go, so this trip was Godsent. I loved the idea of experiencing Stonehenge, it is such a mysterious piece of human history, and all the controversy and out of this world ideas about its creation has always captivated my attention, maybe we were actually touched by star people, hey, it can happen.
We took a bus from Grafenwoehr to a ferry crossing between Dunkirk and Dover, we boarded the Ferry and then made the drive towards Stonehenge. The ferry ride was smooth and there were refreshments, food, comfortable seats and a duty free shop on board, I took the opportunity to brush my teeth, change, stretch and have some tea, before arriving in Stonehenge.
When we arrived at Stonehenge there were a lot of people visiting, and we weren't able to get the audio guides, but there is a wonderful app that can provide the same narrative with your mobile phone, you can download it for free. We were lucky enough to see the sun make a small appearance, which gave a completely different tone to the stones. They were impressive to say the least. I will let you see them for yourself. The fields around, had sheep roaming around, which was a beautiful side entertainment, showing that we were indeed in the countryside.
We arrived at the hotel around 2-3pm, I loved how it was decorated, there were old books everywhere and living room-like spaces that made you feel right at home in the lobby area. Our rooms were amazing, nicely lit, with a view, comfortable beds, a delicious shower.
We went out to eat at a fantastic Caribbean restaurant that was walking distance from the hotel, I loved how they practice Eco friendliness in their foods and business, the tastes in each dish was incredibly delicious, I loved every plate, they were rich and very well-seasoned, the place is called Las Iguanas, and if that is your thing you may want to keep that in mind for your visit.
We were 6 in my happy group including our 80 year old grandma and 2 minors, so after putting them to sleep, the rest of us made our way on an uber towards Soho. Soho was beautiful! The Christmas decorations were mystical, giant sculptures of angels with immense wings were over our heads as we walked the main street.
The next day we hopped on our bus after consuming a perfect English breakfast. Our local tour guide John was delightful, he had a great sense of humor and between jokes and history we discovered the main sights of London. Buckingham Palace, of course, was a must and it was quite impressive. We saw the splendid contemporary architecture that has been developing in London in the past years and learned the funny names that have been given to various buildings. We enjoyed sights like Tower Bridge, House of Parliament, Big Ben, Piccadilly Circus, Westminster Abbey and much more.
For New Year's Eve we headed to Soho and found a wonderful Italian restaurant, Piccolino (yes we had the famous chips and fish from Poppies, yes it was great and fresh, but I am an over seasoning advocate, so I made sure I put some extra salt, pepper and lemon on that baby!) and walked our way to Buckingham Palace to watch the fireworks from the Victoria Memorial.
Now this, was my favorite moment, why? We were with hundreds, if not thousands of people from different backgrounds and home countries, we heard so many different languages, and we were all one, screaming our lungs out, celebrating a new beginning, a new year filled with hope and the wonderful feeling of renewal, together. That for me is priceless. London is so diverse and filled with life from everywhere around the world, it is indeed a big oyster. I fell head over heals with this sense of unity that is seen every corner you turn in London, there are all different kinds of businesses from all over the world, same as culinary experiences, Indian, Lebanese, Caribbean cuisines  etc..
On the 1st of January we attended the London New Year's Eve parade that was super fun and culturally diverse. The bands, floats and procession of people were from all over our humble planet: California, Florida, Colombia, Dominican Republic, India, UK, Africa, etc..
We attended a small Christmas Market around the area, that had live performances of dance and music, on the surrounding streets. You had handmade products, tarot readers, artists more than willing to paint you image for a few pounds. It was terrific!
I loved the ambiance of London, it felt like a place where you can go, be yourself and be accepted and that feeling is worth money in the bank. There is a certain degree of freedom that is felt in the air, that is intoxicating!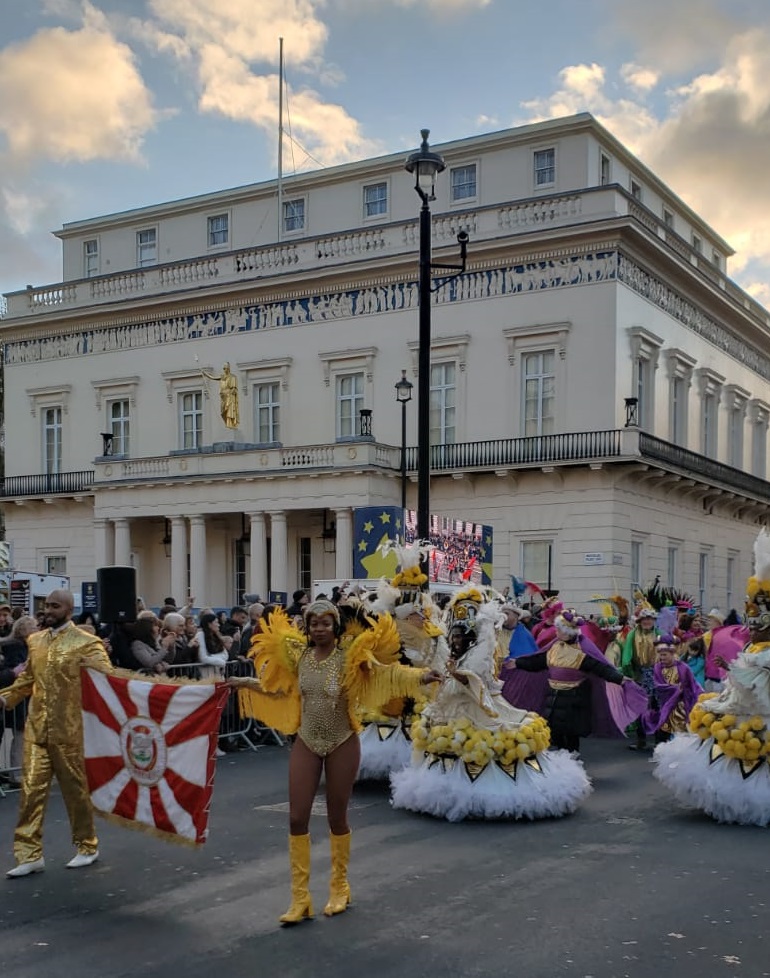 Take Away's:
1. If you want to take the metro, make sure you get an oyster card the first day you arrive, since you can't turn them in till you have more than 48 hours with them, this way you can get the money you didn't use and plus 2 pounds that is the worth of the card itself. Keep in mind that buses are cheaper than trains.
2. Make sure to have medicine if you tend to get motion sickness, for the ferry ride.
3. Wear comfortable shoes, you must be prepared to walk long distances specially on New Years Eve if you go out to the center of town, there will be a lot of streets that will be closed.
4. If you are very interested about Stonehenge, make sure to download the app narrating its history on your phone, this way you can listen to the information, before or after your visit.
5. UK appliances are fitted with a three-pin plug, they also have the ones we use in Germany, yet if you have a lot of people you might want to invest in the three-pin plug converter, since there will be more outlets for those in most places.
6. Make sure to charge and have your batteries ready.
7. Stay hydrated, take vitamins C and D to keep your immune system in optimal performance.
8. Use comfortable clothes, have pillows and blankets, sleeping masks, for the bus anything you need to have the best sleep you can on the bus.
Comments
Comments