Krizia´s Travels: St. Patricks day in Ireland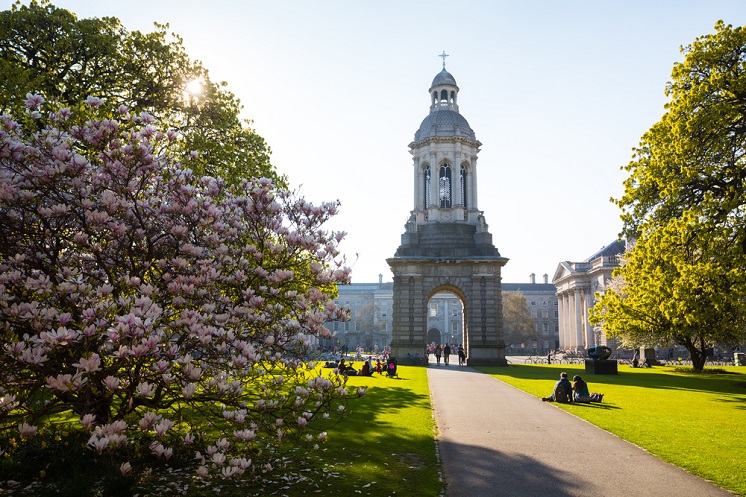 by Krizia NAU on April
My husband and me had decided we needed to go to Ireland, how could we not? Ireland has it all! Beautiful architecture, strong culture, history, museums, libraries, amazing natural landscapes showcased in many of our favorite movies and TV shows. Then, as though sent from heaven Explore Europe offers a Saint Patty's 4 Day trip to Ireland by air, leaving from Frankfurt Airport.
The fist day we drove around the city of Dublin with the group, we drove around sites like: Dublin's Castle, which is a historic site, dating since 1204, currently it has 2 museums, cafes and gardens, governmental rooms and library. Christ Church Cathedral, Saint Patrick's Cathedral, Ha'penny Bridge, Trinity College, Temple Bar and many others.
For our free time, we had already set up a guided tour at the Jameson Distillery online, we had Guinness on tap at a very Irish pub and headed towards our tour. The Jameson tour was great! We learned so much about the history behind Jameson and Whiskey in Ireland, our tour guide made us feel like part of the legacy of Ireland and its whisky history. After this we walked to the world famous O'Connell Street for dinner, I had a delicious Lamb in Guinness sauce with mashed potatoes, other dishes we ordered were Fish and Chips, sausage and potatoes and more. We then headed to another pub with a more local feel to it, on the side streets around O'Connell. One thing that stood out in all these places apart from the friendliness and attentiveness of the people, was the great service, at-home-like embrace and amazing musical choices!
The next day we took a bus and headed towards the Cliffs of Moher, a very famous sea cliff located in the southwestern edge of the Burren region in County Clare, sitting at 120m to 214m, at their highest point, over the Atlantic Sea.  The Cliffs of Moher together with the Burren form a UNESCO Global Geopark. They are one of the most popular destinations in Ireland and have been in many films and documentaries, because of its impressive beauty and grandiose natural landscape. The wind was incredibly strong in this area, to the point where walking had to be done mindfully, to avoid slips and falls! It was such a wonderful adventure!
Disclaimer, we did not attend the Saint Patrick's Day Parade,  we decided to take advantage of the opportunity to explore a different country: Northern Ireland. The island of Ireland is divided into two separate jurisdictions: the Republic of Ireland and Northern Ireland. The Republic of Ireland, which makes up the southern portion of the country, is independent from the United Kingdom, while Northern Ireland is part of the UK. Because my husband and I and our friends were the only 4 people that preferred to skip the parade, we took a tour of this part of the island on our own with the assistance of Explore Europe and enjoyed a very private tour, thanks to everyone enjoying the parade! Northern Ireland did not let us down and we were very happy with our decision! Ireland is so much more than Saint Patrick's Day!
We drove sea side from Dublin early morning, we said "See you later" to Ireland as we crossed the O'Connell St. Bridge at sunrise, and marveled with all the wonderful  green Northern Ireland has to exhibit. We made our way to the Carrick-a-Rede Rope Bridge. It is a tiny bridge connecting mainland Northern Ireland to a small island, built by fishermen in 1755 to reach a better fishing spot. The rope bridge dangles over the rocks, sways in the wind, and looks and feels pretty intimidating to cross, but is very safe to experience. It spans 20m and is 30m above the rocks and sea below.
Then we headed to The Giant's Causeway which is an area of about 40,000 interlocking basalt columns, the result of an ancient volcanic fissure eruption. It is located in County Antrim on the north coast of Northern Ireland. We used the audio guide to learn more about the legends and facts surrounding this amazing natural site, some of Mother Earth's most inspired work.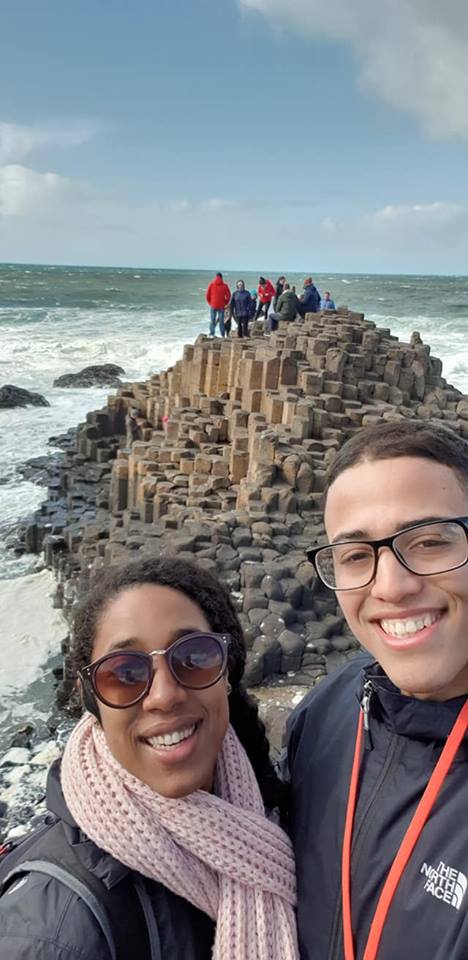 We stopped in various castles, and resting areas with incredible views of the Irish Sea. One of such castle was Dunluce Castle, which is now-ruined medieval castle in Northern Ireland. It was built sometime between the 1400s and 1600s and was one of the finest castles on the Causeway Coast. Fun fact: It was used as the blue print for a the Greyjoy's castle, for those of you GoT fans! We had a lot of fun discovering the castle and learning about what has been discovered in this site about the lives of the people that inhabited in it. From here we headed back to the main streets of Ireland and walked back to our hotel as we observed what was left of Saint Patrick's Day, green was in everyone's clothing and in various lights in buildings around the city.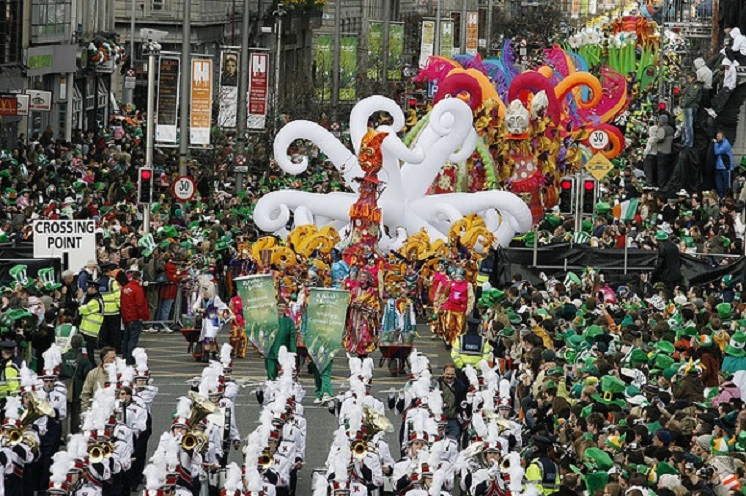 Our last day in Dublin, Ireland we were lucky enough to be able to participate of the Guinness tour in the Guinness Storehouse, it is another important cultural piece of Ireland, we had purchased our tickets in advanced and went at 9.30am. It was a self-guided tour, very easy to follow and you were amazed every step of the way, the history of Guinness in Ireland was displayed everywhere from decoration, screens, old posters, artwork, pieces of the first factory were all around the building. It was easy to admire the steps this company has taken through its journey in Ireland and to the rest of the World. One of my favorite parts is the 360 glass walled bar on the top floor, that provides a unique experience of the skyline of Dublin. So we enjoyed our Guinness, amazed by the view and then headed to our last destination which was the Book of Kells, an illuminated manuscript Gospel book in Latin, containing the four Gospels of the New Testament together with various prefatory texts and tables from the 9th century.
I have to say that when my friends suggested going to Trinity College and taking a tour of The book of Kells ending with The Long Room Of The Old Library, I wasn't quite sold, I really wanted to see the Little Museum of Dublin (another must see), but the significance of a text written such long time ago and still being able to be shown with clarity, labored art and the degree of astonishing methods in its creation and conservation, won me over! And as if that wasn't enough we ended in The Long Room library which is surrounded by marble busts of famed philosophers and writers. It was built between 1712 and 1732. Fun fact: this is a famous library of Hogwarts, in Harry Potter.
There is so much to see in Ireland! We tried to pack our days with as much of it as possible and we still would go back and get lost in its streets, learn more about its history, talk to its wonderful sweet people, stroll through its museums and galleries for days! We love Ireland!!! This trip is a must!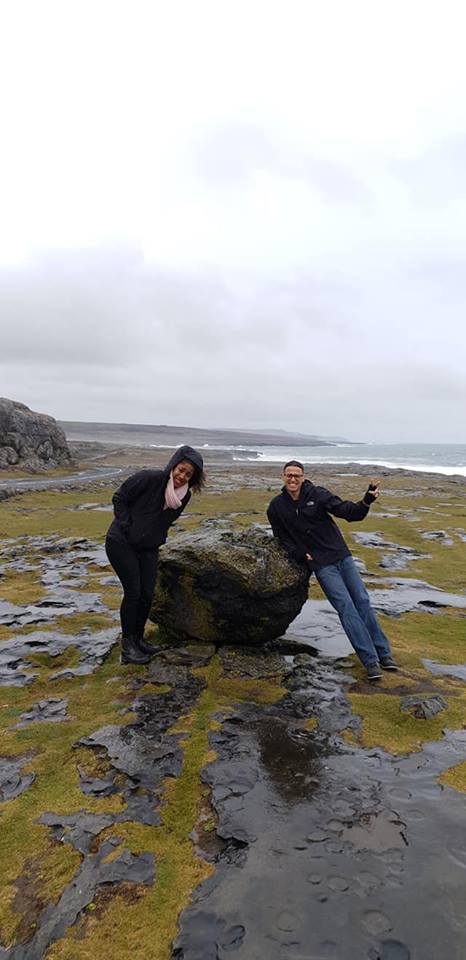 Take Away's:
1.       Make sure to have your vitamin C. The air is damp, there is a lot of wind and getting sick is easy if not properly prepared.
2.       Make sure to pack water/wind proof attire and comfortable shoes.
3.       Make sure you have a clear picture of the places you want to attend to, you want to make sure you do as much as you can with the timeframe you have. Do your research, so you are not overwhelmed when you attend.
4.       Pre-book all your tours, you do not want to be standing in line! They can really go on for a long time.
5.       Enjoy!
Comments
Comments