Most magical lakes around Germany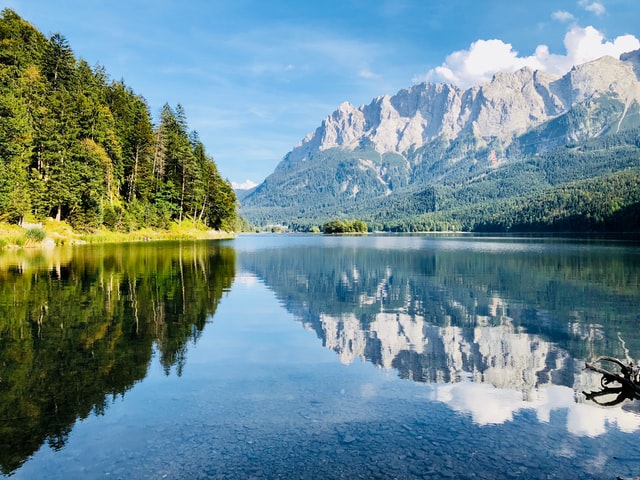 Germany offers endless possibilities to experience the quiet tranquility of lakes with their mesmerizing clear waters, abundant green landscapes and surprising waterfalls. These beautiful and magical lakes also have stories to tell, and their legends definitely add to the mystic of each place. Keep reading to discover your perfect destination for a day by a German lake!
1. Lake Eibsee
If you want to capture the picture-perfect shot of a German lake, Eibsee is the place for you. With its dazzling emerald water, it is truly the hidden jewel of the Bavarian Alps. Located  just under the highest mountain peak in Germany, Zugspitze, you'll marvel at the rugged mountains and colorful trees that surround the peaceful lake. You can discover the lake by boat or hike along the trails. In winter, the lake freezes over and transforms into a magical wonderland, idyllic for skiers.
2. Lake Königsee
Literally named the "king's lake", Köningsee will amaze you with its crystal clear water as it is known as one of the cleanest and deepest lakes in Germany. Located on the territory of Berchtesgaden National Park, the alpine lake is similar to a fjord with rising mountains up to 2,700 m tall surrounding it. You can take in even more of its beauty by hoping onto a panorama boat tour that will take you across the lake in an electric boat so you can admire the magnificent scenery.
3. Lake Bodensee
Lake Bodensee, also know as Lake Constance, is the largest lake in Germany –  a total of 536km2! It is even more impressive as it is surrounded by three different countries – Germany, Switzerland and Austria. On its shores are the beautiful cute towns of Bregenz, Meersburg, Lindau, and the Flower Island of Mainau that blossoms even spring and attracts curious visitors from all over Europe. A wide variety of activities are available around the lake, such as river cruises, cable car rides and even mountain top excursions.
4. Lake Schrecksee
If you're feeling more adventurous, we would recommend checking out Lake Schrecksee, which translates to "fright lake". Located in the Bad Hindelang area and sitting at 1813m high in the German Alps, it is more difficult to access than others lakes, as the hiking route can take up to 8 hours for a round trip. The frightening lake is worth a visit since it is often covered in fog, which gives it a beautiful eerie and  and mystical feel.
5. Lake Rakotzsee
Lake Rakotzsee is home to the famous "Devil's Bridge", the Rakotzbrücke. This mesmerizing 19th-century bridge reflects off the lake and forms a perfect circle. Roughly built out of varied local stone, it is considered a miracle bridge since such bridges were so dangerous or miraculous that they must have been built by Satan. It was in fact commissioned in 1860 by the knight of the local town, and the thin arch still stretching today over the waters of the Rakotzsee. Be sure to visit on a bright sunny day to experience the full beauty of the lake and its bridge!
6. Lake Titisee
If you are looking for a place to unwind and relax in the middle of а scenic mountain, Lake Titisee is meant for you. Despite its funny sounding name, it has lots to offer for those in search of a peaceful getaway. It is ideally located in the Black Forest near the town of Neustadt, which is best known as a spa town and center for hydrotherapy treatments. The lake has surprising white waterfalls at one end and is perfect for windsurfing, sailing, and swimming at the other end.
Eager to travel and explore now? We'll take you to the best destinations in Europe! See all trips available on our website.
Comments
Comments