So many reasons to visit the 'Paris of the East' this summer! With our tour, you could be enjoying all the attractions this wonderful city has to offer at a great price! Budapest has something for everyone from the Buda Castle district with its picturesque old town to the spectacular views of the Danube embankment. Find out more about Roman Budapest at the Aquincum Museum or relax in one of the many thermal spas in this wonderful capital city.
Let us handle the details
Experienced Trip Leader

Private Transportation

Breakfast Buffet

Local Tour Guide
Your trip includes
• Round-trip bus transportation
• Breakfast in Budapest
• Guided sightseeing tour with local tour guide
• Explore Europe Trip Leader
• Service charges
Your trip highlights
• Relax with comfortable, air-conditioned transport
• Budapest Parliament, home of the Holy Hungarian Crown
• The breathtaking views from Fisherman's Bastion
• See the impressive Buda Castle
• Hungarian goulash and dumplings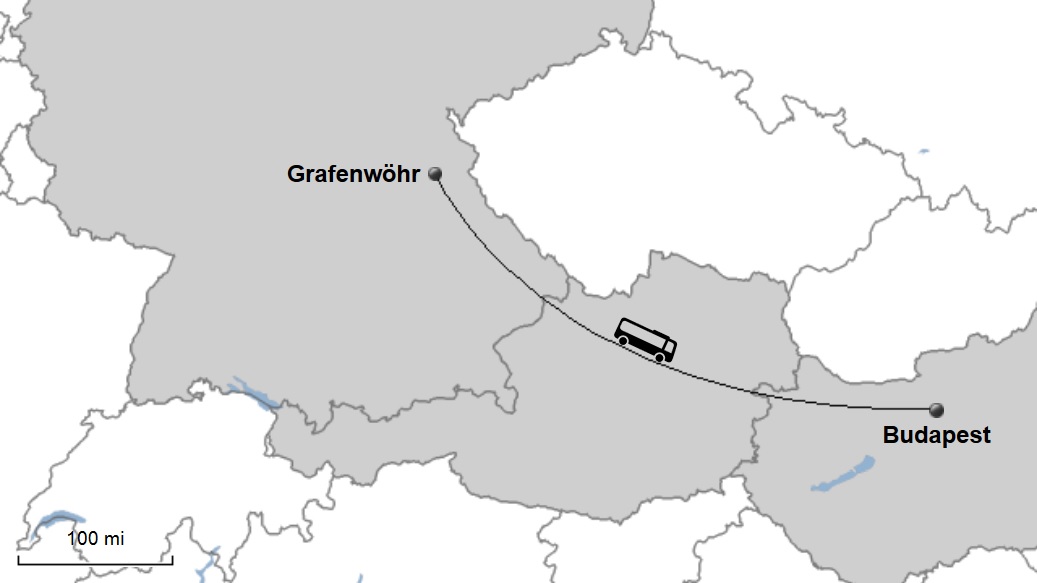 Day 1 (Friday, July 27)
Your trip begins with an overnight drive by bus to Budapest.
Day 2 (Saturday, July 28)
Welcome to Budapest, a city divided by the Danube River into its old and new sections, Buda and Pest. After an included breakfast buffet, spend the morning discovering the most important sights on a 4-hour included bus tour with a local tour guide, before spending the lunch time and evening at your leisure, or add optional excursion.
Guided Optional Excursion – Budapest Danube Evening River Cruise 15€ pp
Cruise the Danube River in the evening on a 1-hour cruise through Budapest. As the riverbanks become illuminated and the sun dips below the horizon, set off from the harbor and enjoy the famous sights of Budapest with a drink in hand. You'll see famous landmarks such as the Chain Bridge, which connects the eastern and western sides of the city, as well as Buda Castle and much more. Please note: Optional excursion cannot be booked online; you can sign up for this activity on the bus.
In the evening (at 10:00 pm), travel back overnight Saturday to arrive Sunday morning in Grafenwoehr.
Day 3 (Sunday, July 29)
Arrive in Grafenwoehr around 8:00 am.
IMPORTANT NOTE REGARDING PASSPORTS: A valid tourist passport is required for this trip. Please make sure that you are traveling with the appropriate passport.
How's the weather?
Budapest, Hungary
Meeting point for the start of the trip
Your trip starts and finishes in Grafenwoehr, Germany.
Address: Dießfurter Str, 92655 Grafenwoehr (parking lot)
Instructions: if you are exiting McDonald's parking lot in Grafenwoehr you will turn right on to B299 as if you are going towards Netzaberg. You will then take your very first right (as if you are going towards MegaPlay) and as soon as you cross the small bridge there is a driveway on the right side which you can enter into a parking lot. You should see several cars and the bus there. The parking lot is available during the duration of the trip for our passengers.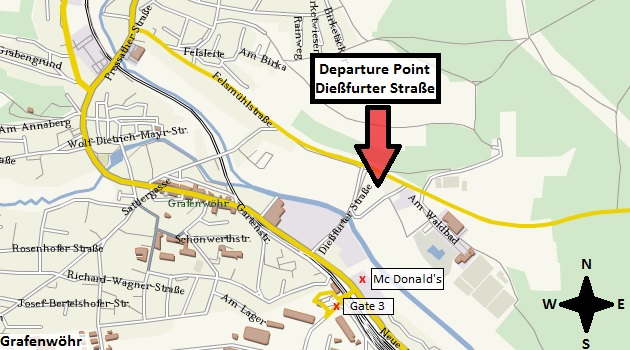 Transportation
Included transportation on this tour is by motor coach.
Passport and Visa Requirements
A tourist passport is required for all trips outside of Germany.
Important passport rules are as follows:
If you have a passport with a SOFA stamp on any page (a "No-Fee" passport), you are provided permission to reside in Germany, NOT to travel outside of Germany. You have to have a tourist passport in addition to the SOFA/"No-Fee" passport to travel outside of Germany. You cannot travel with a RED Official passport as that is used only for the purpose of a mission or deployment. If you have a passport with a detachable SOFA card clipped inside, it is acceptable to travel with as that was issued originally as a tourist passport. If you are not sure: a tourist passport will be BLUE and will be valid for 10 years for adults. It cannot contain a SOFA stamp on any page or it is not acceptable. A child's tourist passport (under 15 years of age) is valid for 5 years, but will not have a SOFA stamp in it anywhere. All of this information has been verified to be correct with the Grafenwoehr Passport Office.
Baggage Allowance
Each adult is entitled to one luggage and one personal item. Luggage should be able to be stored below the bus and the personal item should contain whatever you might need on the bus. Pillows and blankets do not count for the personal item. If you have additional items such as strollers, carseats, etc. please send us a message to make those arrangements.
Currency
Hungarian forint is the currency you will be using on your tour. We strongly advise that you take debit/bank cards and credit cards, which can be used to withdraw cash at local banks, as needed. You can use most debit/credit cards at ATMs, but make sure to check with your home bank about withdrawal fees. We suggest that you inform your bank and credit card company of your travel plans, so that they won't confuse your international purchases for fraudulent charges.
Time Zones
Budapest has the same time zone as Germany, Central European Time (CET)
Cuisine
The popularity of Hungarian wine dates back to the Roman times, with a white dessert wine called Tokaji the most popular varietal. Hungary's national dish is hearty goulash, but also is known for its excellent salamis, cheeses, nut-flavored pancakes, fresh-water fish and preserved fruits.
Health
There are no major health risks when traveling to Hungary. It is always advisable to check with your doctor or health-care provider for the latest updates.
Tipping
At the conclusion of your trip, it's customary to offer your Trip Leader a gratuity. We recommend tipping €1-2 per person per day for your Trip Leader. Tips can only be paid in cash.
Travel Insurance
We recommend you get travel insurance to reimburse you for unforeseen trip cancellation. Please follow this link to get a quote through our partner SevenCorners.
Here you can see what our travelers say about this trip!
Have you been on a trip with us? We appreciate each of you and would love to have your comments and experiences posted for the consideration of future and prospective travelers.
We recommend you get travel insurance to reimburse you for unforeseen trip cancellation. Please follow this link to get a quote through our partner SevenCorners.
Comments
Comments