Departure Frankfurt Airport: Christmas in Greece (by air)
Between the Mediterranean beaches bathed in sunlight, ancient ruins teeming with legends, and villas bursting with local charm, falling in love with Greece is a sure thing. Explore the heart of Europe's oldest city, from the Acropolis to the Plaka during Christmas! Then, make your way along the Saronic Gulf to shorelines steeped in beauty and mythology.
Let us handle the details
Round Trip Flight

Private Transportation

Experienced Trip Leader

Daily Breakfast

Handpicked Hotel

Local Tour Guide
Your trip includes
Round-trip airfare & transportations in Greece
6 nights' hand-picked hotel accommodation in Athens, Greece
6 x breakfast buffet
Guided sightseeing tour in Athens with local tour guide
Acropolis entrance ticket
Full day trip to Island Aegina
Full day tour to Delphi
Explore Europe Trip Leader
All taxes, fees and handling charges
Your trip highlights
Athens' festive Christmas market offers a unique look into local culture
Ancient Athens' world-famous Acropolis
Hadrian's Arch and the 1896 Olympic Stadium in Athens
Cruising the shimmering waters of the Aegean
Island Aegina and its colorful little capital, full of quaint, narrow alleys and charming houses
Explore the picturesque town of Nafplio
The warm and welcoming Greeks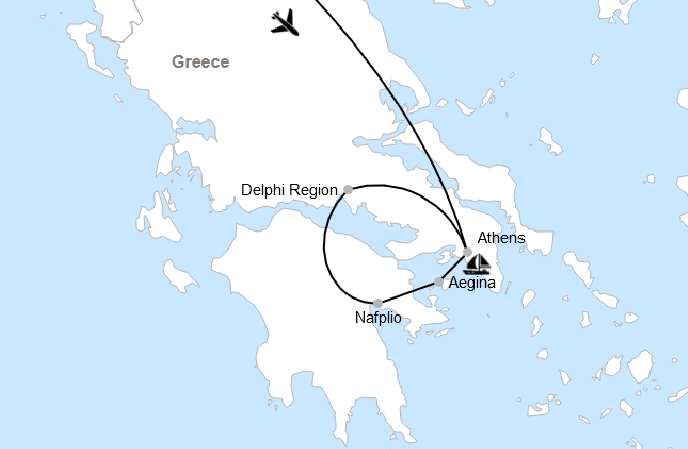 Day 1: Travel Day  (Monday, December 21)
Your trip begins with a regularly scheduled flight from Frankfurt International airport to Athens:
Flight times:
Departure from FRANKFURT AIRPORT at 11:00 AM
Arrival in ATHENS AIRPORT at 15:00
Welcome to mythical Greece! Transfer to central Athens to settle in to your hotel, then enjoy a free afternoon and evening in Athens.
Day 2: Sightseeing tour of Athens (Tuesday, December 22)
After an included breakfast buffet, enjoy an included guided sightseeing tour of the city by bus, covering the most important sights and attractions with an expert local tour guide:
See the ancient Acropolis, site of the Parthenon and the Temple of Athena Nike
Visit the 6th-century Temple of Zeus
View the classically inspired Old Royal Palace, home of the Greek Parliament
Pass through Syntagma Square to see the Tomb of the Unknown Soldier
Then, take the afternoon and evening to explore the city on your own.
Day 3: Full day trip to the Island of Aegina (Wednesday, December 23)
After breakfast, we will experience Greek island life on a sailing trip from Athens! Leave the bustle of the city behind as you sail into the Saronic Gulf, stopping at one of the most picturesque islands. Aegina is famous for its white stone houses, flowery backyards, pistachios, the red volcanic landscape, delicious food, the temple of Apollo and the temple of Aphaia; in fewer words an earthly paradise for those who want to escape modern life.
Day 4: Delphi region (Thursday, December 24)
After breakfast, explore a different side of ancient Greece on a private full day tour to Delphi. Relax as our air-conditioned transportation whisks us away from our hotel and takes us to what was once thought to be the center of the world. After a visit to the UNESCO listed archaeological site, enjoy free time to explore the mountain town of Arachova. We'll also visit the Temple of Apollo where, according to legend, the god once communicated with mortals. The adventure concludes with a visit to the Byzantine era monastery of Hosios Loukas.
Day 5: Free Day (Friday, December 25)
After an included breakfast buffet, spend the day at your leisure in Athens or add optional excursion.
Full Day Guided Optional Excursion – Ancient Corinth Canal & Nafplion 49€ pp
Explore the historic region that has been occupied by the Turks, Venetians, Franks, and Byzantines. Walk through picturesque Nafplio, the town that was the first capital of independent Greece.
Day 6: Free Day (Saturday, December 26)
Continue on to visit Athens or add optional excursion for your afternoon.

Half Day Guided Optional Excursion – Cape Sounion and Temple of Poseidon 39€ pp
Journey to the southern tip of the Attic Peninsula to take in the sights of the Poseidon Coast, including sandy beaches, natural and manmade harbors, and, of course, the Aegean Sea itself. High above the sparkling shoreline, the Temple of Poseidon dominates the landscape. Of the original structure, 16 elegant Doric pillars remain. Afterward, decide how you'd like to spend your free time. Take a moment to look out from the lofty cliffside vantage point, where you can see five Aegean islands on a clear day. You may also choose to enjoy a coffee, stop in the souvenir shop, or stroll through the area. Please note: This excursion involves some walking on uneven terrain.
Day 6: Flight home (Sunday, December 27)
Today, transfer to the airport for your flight home.
Flight times:
Departure from ATHENS AIRPORT at 10:50 AM
Arrival in FRANKFURT AIRPORT at 12:55 PM
BOOK IN ADVANCE AND SAVE
Early Bird Offer: Book this trip by November 15 for only €579 and save €20!
Regular price after November 15 is €599 per adult
*Price is based on 2 persons sharing a room, price for single room €270 extra (€45 per night).
IMPORTANT NOTE REGARDING PASSPORTS: A valid tourist passport is required for this trip. Please make sure that you are traveling with the appropriate passport.
How's the weather?
Athens, Greece
Meeting point for the start of the trip
Your trip starts and finishes at Terminal 1 in Frankfurt Main International Airport.
Passport & Visa
A tourist passport is required for all trips outside of Germany.
Important passport rules are as follows:
If you have a passport with a SOFA stamp on any page (a "No-Fee" passport), you are provided permission to reside in Germany, NOT to travel outside of Germany. You have to have a tourist passport in addition to the SOFA/"No-Fee" passport to travel outside of Germany. You cannot travel with a RED Official passport as that is used only for the purpose of a mission or deployment. If you have a passport with a detachable SOFA card clipped inside, it is acceptable to travel with as that was issued originally as a tourist passport. If you are not sure: a tourist passport will be BLUE and will be valid for 10 years for adults. It cannot contain a SOFA stamp on any page or it is not acceptable. A child's tourist passport (under 15 years of age) is valid for 5 years, but will not have a SOFA stamp in it anywhere. All of this information has been verified to be correct with the Grafenwoehr Passport Office.
Health
There are no major health risks when traveling to Greece. During the summer months, take proper care for sun exposure. Also, codeine (commonly found in headache medications) is banned in Greece, and you may face prosecution if you bring it into the country. While no vaccinations are required for entry into Turkey (on extension), it is always advisable to check with your doctor or health-care provider for the latest updates and overseas travel recommendations.
Transportation
Round-trip flights from Frankfurt to Athens are included. Ferry transfers are also included. All other included transportation in Greece is by private bus. In your free time, you may wish to explore the cities by public transportation. Despite the famed hustle and bustle of Athens, the city's main attractions are easily accessed on foot. If you do need to use public transportation, however, there's a brand-new metro system that was conveniently completed in time for the 2004 Olympics.
Baggage Allowance
• One check-in bag: max weight up to 10kg (22lb). Max size 55cm H (21.5") x 40cm W (15.5") x 20cm D (7.8")
• One personal item such as a purse or laptop bag: max size 25cm H (9.8") x 40cm W (15.5") x 20cm D(7.8")
Clothing & Packing Tips
Due to the temperate climate, light, loose-fitting clothing that provides comfort when exploring the sights is essential for your tour. A sun hat, sunglasses and a sturdy pair of walking shoes are recommended for sightseeing. It's always a good idea to be prepared for any eventuality—a lightweight sports jacket and emergency rainwear are advised. If you plan to visit an especially elegant restaurant or attend the opera or theater, you will probably feel more comfortable in something more formal. Also, remember that it is preferable not to visit churches or other religious sites with bare legs and shoulders (entrance may be denied on this basis).
Currency
The Euro is the currency you will be using on your trip. We strongly advise that you take a combination of bank/debit cards and credit cards. We suggest informing your bank and credit card company of your travel plans, so they don't confuse your international purchases for fraudulent charges.
Cuisine
One of the pleasures of traveling is the variety of local cuisine. Greece's climate ensures a constant supply of high-quality fresh fruits and vegetables. Salads are excellent here, served with olive oil and topped with feta cheese and oregano. Grilled fish and meat are also a staple. Barbecued lamb, squid, octopus, spinach and cheese pies, baked eggplant and zucchini are other delicious dishes.
Travel Insurance
We recommend you get travel insurance to reimburse you for unforeseen trip cancellation. Please follow this link to get a quote through our partner SevenCorners.
Here you can see what our travelers say about this trip!
Have you been on a trip with us? We appreciate each of you and would love to have your comments and experiences posted for the consideration of future and prospective travelers.
We recommend you get travel insurance to reimburse you for unforeseen trip cancellation. Please follow this link to get a quote through our partner SevenCorners.