Experience a Scandinavian Christmas and uncover a new side of Europe at its most festive! This one-of-a-kind Christmas trip brings you to renowned cities that were once important centers of trade and emigration. Take in sparkling lights and local festivities as you explore historic Copenhagen. Then, cross the Baltic Sea over the famous Oresund Bridge and join in seasonal traditions of Sweden and Norway. One bus available only, so book early to avoid missing out!
Let us handle the details
Private Transportation

Experienced Trip Leader

Handpicked Hotel

Breakfast Buffet

Local Tour Guides
Your trip includes
Round-trip direct bus transportation
Own parking lot in Graf for your exclusive use
4 nights in 4-star hotel accommodations in Denmark, Sweden and Norway
Breakfast buffet
Ferry crossing between either Rostock and Gedser
Guided sightseeing tours in each city
Explore Europe Trip Leader
Hotel city taxes
Guaranteed departure
Your trip highlights
Christmas markets from Sweden, Denmark & Norway
Experience the true Christmas spirit
Spectacular lighting display of Tivoli Gardens in Copenhagen
The Rosenborg Castle, a royal residence built in the Dutch Renaissance style
Gothenburg's Old Town
Oslo

–

Norway's capital city and commercial centre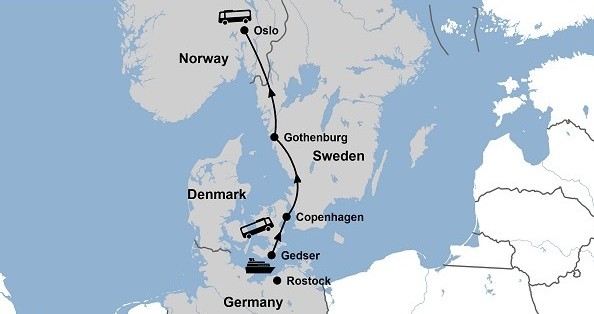 Day 1: Travel day (Friday, December 21)
Depart at 9:00 pm from Grafenwoehr and travel along the highway by bus to Copenhagen in Denmark.
Day 2: Copenhagen, Denmark (Saturday, December 22)
In the early morning, board a ferry to cross the Baltic Sea in 2 hours and arrive in Copenhagen around mid-morning. On your arrival, meet your local tour guide and see the most famous sights of the Danish Capital on a guided tour from the comfort of your bus. You'll be enchanted by the Danish capital as you admire the Little Mermaid, stroll the pretty Nyhavn waterfront, and view the Amalienborg Palace and Christiansborg Palace, seat of the Danish Parliament. Enjoy a lunch (not included) in Copenhagen before check-in at the hotel and spending the afternoon as you wish. Be sure to visit the Christmas market in Tivoli Gardens – a magical world full of decorated wooden houses, snow-covered trees, Santa's reindeer, Christmas lights, and the true Nordic Christmas atmosphere!
Day 3: Gothenburg, Sweden (Sunday, December 23)
Enjoy a free morning to explore Copenhagen, before setting off to Gothenburg – Sweden's food capital and second largest city. On your way to Gothenburg, make sure you prepare your cameras, as you'll be witnessing some absolutely stunning Danish and Swedish countryside! On arrival, enjoy an orientation tour and get settled in your hotel. In your free time, why not visit Sweden's largest Christmas market at Liseberg Amusement park?
Day 4: Oslo, Norway (Monday, December 24)
Around noon, journey from Sweden to Oslo in Norway, today. On arrival in the Norwegian capital this afternoon we'll enjoy a walking tour with an expert local guide, who will show you sights including Akershus Castle, Oslo Opera House, the Parliament building and the Royal Palace. Later, check into your hotel, before spending the evening as you please or add an optional excursion.
Guided Optional Excursion – Norwegian Christmas Eve Dinner €49
Day 5: Oslo, Norway (Tuesday, December 25)
After an included breakfast buffet, spend the day at your leisure in Oslo or add optional excursions.
Guided Optional Excursion – Island hopping in the Oslo Fjord €29
Guided Optional Excursion – Norwegian Christmas Dinner €59
Day 6: Oslo, Norway (Wednesday, December 26)
After an included breakfast buffet, relax and spend the day at your leisure in Oslo. Wander through the beautiful Christmas stalls in search of handcrafted decorations and last minute souvenirs. Continue on to Grafenwoehr in the evening after dinner (not included) at 7:00 p.m.
Day 7: Return day (Thursday, December 27)
Arrive in Grafenwoehr around 5:00 p.m.
**You will be accompanied for the duration by our experienced and passionate trip leader Monika. Our buses are modern, comfortable and air-conditioned, and at each hotel we include breakfast buffet and free wi-fi in your trip package so you can stay connected and share all your incredible photos and memories with your friends and family.
**You can also reserve your seat for only €199.50 per adult and pay the other half by December 7!
IMPORTANT NOTE REGARDING PASSPORTS: A valid tourist passport is required for this trip. Please make sure that you are traveling with the appropriate passport.
How´s the weather?
Meeting point for the start of the trip
Your trip starts and finishes in Grafenwoehr, Germany.
Address: Dießfurter Str, 92655 Grafenwoehr (parking lot)
Instructions: if you are exiting McDonald's parking lot in Grafenwoehr you will turn right on to B299 as if you are going towards Netzaberg. You will then take your very first right (as if you are going towards MegaPlay) and as soon as you cross the small bridge there is a driveway on the right side which you can enter into a parking lot. You should see several cars and the bus there. The parking lot is available during the duration of the trip for our passengers.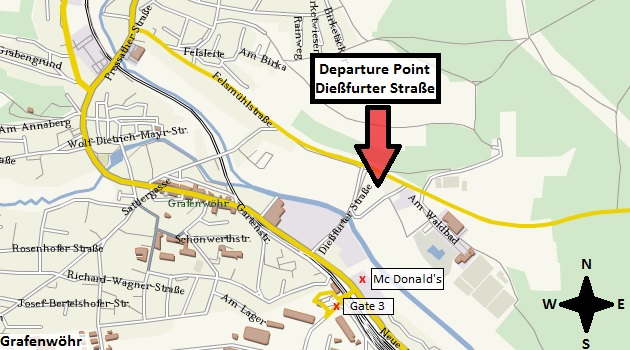 Passport and Visa Requirements
A valid tourist passport is required for this trip. Please make sure that you are traveling with the appropriate passport!
Important passport rules are as follows:
If you have a passport with a SOFA stamp on any page (a "No-Fee" passport), you are provided permission to reside in Germany, NOT to travel outside of Germany. You have to have a tourist passport in addition to the SOFA/"No-Fee" passport to travel outside of Germany. You cannot travel with a RED Official passport as that is used only for the purpose of a mission or deployment. If you have a passport with a detachable SOFA card clipped inside, it is acceptable to travel with as that was issued originally as a tourist passport. If you are not sure: a tourist passport will be BLUE and will be valid for 10 years for adults. It cannot contain a SOFA stamp on any page or it is not acceptable. A child's tourist passport (under 15 years of age) is valid for 5 years, but will not have a SOFA stamp in it anywhere. All of this information has been verified to be correct with the Grafenwoehr Passport Office.
Baggage Allowance
Each adult is entitled to one luggage and one personal item. Luggage should be able to be stored below the bus and the personal item should contain whatever you might need on the bus. Pillows and blankets do not count for the personal item. If you have additional items such as strollers, carseats, etc. please send us a message to make those arrangements.
Health
There are no major health risks when traveling to Scandinavia. It is always advisable to check with your doctor or health-care provider for the latest updates.
Currency
You will use the the Danish krone in Denmark, the Swedish krona in Sweden, Norwegian krone in Norway. Better rates of exchange are usually available in your destination countries, although it's worth ordering some currency from your local bank to use when you first arrive. We advise that you take a combination of bank/ATM cards and credit cards, as needed. We suggest that you inform your bank and credit card company of your travel plans, so that they won't confuse your international purchases for fraudulent charges.
Cuisine
When in Denmark, try the beloved open-faced sandwich called smørrebrød: a slice of rye bread topped with local favorites that could include smoked fish, prawns, mayonnaise, horseradish, or caviar. The country is also known for the popular Carlsberg and Tuborg beers. Sweden's famous meatballs are typically served with a brown sauce and tart lingonberry jam. Smoked salmon and pickled herring are popular eats, especially atop a crisp bread. Snack on the country's many kinds of pastry and breads during fika, a social coffee hour that occurs mid-morning and mid-afternoon. Norwegian cuisine is varied, offering something for every traveler. Lamb is the most traditional meat, but you'll also find everything from goose to deer being served in Norway. Seafood lovers will enjoy the country's array of smoked salmon, shellfish, pickled herring, and scrod. Typical meals often incorporate grains, locally-produced cheeses, fresh produce, and wild berries.
Travel Insurance
We recommend you get travel insurance to reimburse you for unforeseen trip cancellation. Please follow this link to get a quote through our partner SevenCorners.
Here you can see what our travelers say about this trip!
Have you been on a trip with us? We appreciate each of you and would love to have your comments and experiences posted for the consideration of future and prospective travelers.
We recommend you get travel insurance to reimburse you for unforeseen trip cancellation. Please follow this link to get a quote through our partner SevenCorners.
Comments
Comments