Croatia & the Istrian Riviera
Croatia is currently one of the hottest tourist destinations in Europe – crystal clear water and historic beautiful towns make it for an excellent holiday destination. Istria, the heart-shaped peninsula in Northern Croatia, has everything you need for a perfect summer vacation – beautiful towns, great seafood and relaxed atmosphere. Our beautiful 4* hotel (Park Plaza Belvedere Medulin) is located near the city center of Medulin and within walking distance (100m) of the beach so you can enjoy the atmosphere of the harbors and sunsets over the sea.
Let us handle the details
Private Transportation

Experienced Trip Leader

Handpicked Hotel

Daily Breakfast and Dinner

Local Tour Guide
Your trip includes
Round-trip bus transportation
2 nights' hand-picked 4-star hotel accommodation in Medulin, Croatia
2 x buffet breakfast and dinner
City tour of Porec with local tour guide
Audio Headsets for flexible sightseeing
Explore Europe Trip Leader
Hotel, sojourn taxes
Your trip highlights
The sparkling waters of the Adriatic
Croatia's fresh, sea-to-table cuisine and local wines
Warm, Mediterranean breezes in Medulin
Old town walls, still-standing monasteries and churches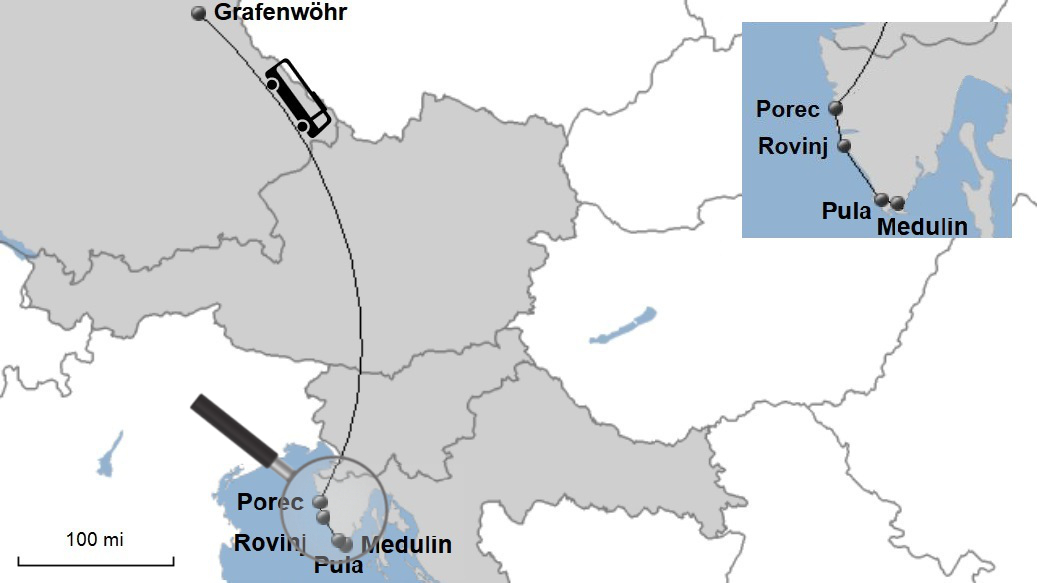 Day 1: Travel Day (Thursday, June 21)
Depart at 10:30pm from Grafenwoehr and travel by bus to Croatia.
Day 2: Porec and Medulin, Croatia (Friday, June 22)
Morning arrival in Porec. This beautiful resort is often regarded as one of the most picturesque on the Croatian coast. Discover the sights of Porec on our guided tour taking in the 6th century Basilica and the old Roman ruins. Then you will be transferred to your hotel (4* Park Plaza Belvedere in Medulin) for a two-night stay, where you will have time to relax and enjoy the sea.
Included meals: Dinner buffet

Day 3: Free day in Medulin or add an optional excursion (Saturday, June 23)
Enjoy a free day to explore at your own pace. Or you could consider joining our optional, guided excursion as we explore the best of Istria. We start with a stop in the beautiful town of Rovinj, regarded as one of the most photographed on the Croatian coast. Later, we head to Pula, where a 1st-century Roman amphitheater – think of it as Croatia's answer to the Coliseum – dominates the city. See the stunning Roman amphitheater, the Temple of Augustus and the Forum, as well as the Franciscan monastery.
Included meals: Breakfast and Dinner buffet
Price for optional excursion: €49 per adult, €25 per child 3-11, free for children under 3
Day 4:  Free Day in Medulin (Sunday, June 24)
A day to relax at the hotel, chill on the beach or take a stroll into town and the choice of shops and restaurants. Or you could consider joining our optional Boat Trip from 12:00 to 17:00 including lunch and drinks on board. We will set sail from the hotel at 12:00 and sail to Cape Kamenjak on the Premantura Peninsula. Istria's southernmost point, this gorgeous, entirely uninhabited cape has lovely rolling hills, wild flowers, fruit trees, and around 30km of virgin beaches and coves. You will stop for a swim in a natural bay following by lunch on board, which will be freshly prepared. Lunch will be accompanied by local wines, water and soft drinks of your choice. After lunch, we will sail to see another beautiful island and stop for more swimming and relaxing. We will return to harbor concluding our day on the beautiful Adriatic at 17:00.
Price for optional excursion: €32 per adult (including lunch and drinks), €18 per child 3-11, free for infants under 3
Later, in the evening at 21:00, we'll be setting off for Grafenwoehr.
Included meals: Breakfast buffet

Day 5: Grafenwoehr (Monday, June 25)
Arrive in Grafenwoehr around 09:00am.
IMPORTANT NOTE REGARDING PASSPORTS: A valid tourist passport is required for this trip. Please make sure that you are traveling with the appropriate passport.
Prices are per person, based on two adults sharing. Single room €80 extra. 
NOTES: Optional excursion cannot be booked online; it can be purchased during your trip through your Trip Leader.
Sources for the used pictures: Tourist Board of Poreč
How's the weather?
Medulin, Croatia
Meeting point for the start of the trip
Your trip starts and finishes in Grafenwoehr, Germany.
Address: Dießfurter Str, 92655 Grafenwoehr (parking lot)
Instructions: if you are exiting McDonald's parking lot in Grafenwoehr you will turn right on to B299 as if you are going towards Netzaberg. You will then take your very first right (as if you are going towards MegaPlay) and as soon as you cross the small bridge there is a driveway on the right side which you can enter into a parking lot. You should see several cars and the bus there. The parking lot is available during the duration of the trip for our passengers.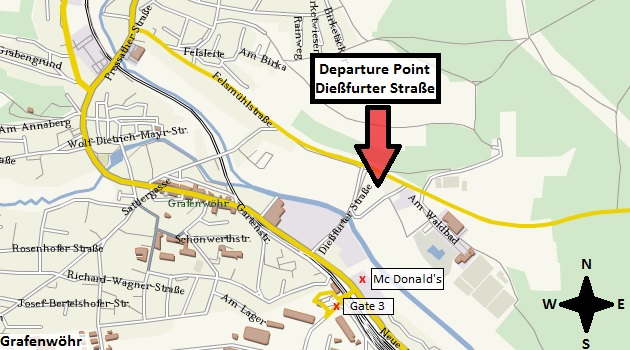 Passport & Visa
A tourist passport is required for all trips outside of Germany.
Important passport rules are as follows:
If you have a passport with a SOFA stamp on any page (a "No-Fee" passport), you are provided permission to reside in Germany, NOT to travel outside of Germany. You have to have a tourist passport in addition to the SOFA/"No-Fee" passport to travel outside of Germany. You cannot travel with a RED Official passport as that is used only for the purpose of a mission or deployment. If you have a passport with a detachable SOFA card clipped inside, it is acceptable to travel with as that was issued originally as a tourist passport. If you are not sure: a tourist passport will be BLUE and will be valid for 10 years for adults. It cannot contain a SOFA stamp on any page or it is not acceptable. A child's tourist passport (under 15 years of age) is valid for 5 years, but will not have a SOFA stamp in it anywhere. All of this information has been verified to be correct with the Grafenwoehr Passport Office.
Health
There are no major health risks at your destinations. It is always advisable to check with your doctor or health-care provider for the latest updates and overseas travel requirements. More information on vaccinations and other health precautions can be found via the CDC website (www.cdc.gov)
Transportation
Included transportation on this trip is by bus. Most of the destinations on tour are best explored on foot, although frequent local buses are also available. Purchase tickets at tobacconists or at vending machines, if needed.
Baggage Allowance
Each adult is entitled to one luggage and one personal item. Luggage should be able to be stored below the bus and the personal item should contain whatever you might need on the bus. Pillows and blankets do not count for the personal item. If you have additional items such as strollers, carseats, etc. please send us a message to make those arrangements.
Clothing & Packing Tips
Your itinerary focuses on the outdoors, so your clothing should be casual and appropriate for outdoor use. Loose-fitting, layered clothing that can accommodate varying temperatures will probably be most comfortable. A sun hat, sunglasses, and a bathing suit are recommended. Sturdy walking shoes or hiking boots are crucial. Occasional rain showers are common in the areas you will be visiting, so pack light rainwear.
Currency
The Croatian kuna is the currency you will be using on your tour. We strongly advise that you take debit/bank cards and credit cards, which can be used to withdraw cash at local banks, as needed. You can use most debit/credit cards at ATMs, but make sure to check with your home bank about withdrawal fees. We suggest that you inform your bank and credit card company of your travel plans, so that they won't confuse your international purchases for fraudulent charges.
Cuisine
In coastal Croatia, the food is very typical of the Mediterranean region. Italian flavors are popular, such as risotto cooked with squid ink, seafood stew and polenta. You may also like to try traditional Balkan dishes, such as duvec (vegetables and meat), moussaka (eggplant and minced meat), sarma (minced meat and rice) and raznjici (grilled veal or pork). Along the Adriatic coast, you'll find excellent seafood, especially scampi (prawns) and prstaci (date mussels).
Tipping
At the conclusion of your trip, it's customary to offer your Trip Leader a gratuity. We recommend tipping €1-2 per person per day for your Trip Leader. Tips can only be paid in cash.
Travel Insurance
We recommend you get travel insurance to reimburse you for unforeseen trip cancellation. Please follow this link to get a quote through our partner SevenCorners.
Here you can see what our travelers say about this trip!
Have you been on a trip with us? We appreciate each of you and would love to have your comments and experiences posted for the consideration of future and prospective travelers.
We recommend you get travel insurance to reimburse you for unforeseen trip cancellation. Please follow this link to get a quote through our partner SevenCorners.
Comments
Comments