Departure K-Town: Highlights of Alpine Switzerland & Liechtenstein
All aboard for one of the world's most beautiful train journeys! On this exciting Switzerland and Liechtenstein trip, you'll travel through the stunning Swiss countryside with crystal-clear alpine lakes and sweeping mountain vistas. It's a gem of a trip featuring life in tiny villages and sophisticated cities, not to mention Vaduz – Liechtenstein's tiny capital.
Let us handle the details
Private Transportation

Experienced Trip Leader

Entrance Fee

Local Tour Guide
Your trip includes
• Round-trip direct bus transportation
• Parking lot in Kaiserslautern
• One night in 4-star hotel in Switzerland
• 2 breakfast buffet (incl on arrival day)
• Bernina Express train ride
• Free time in Tirano, Italy
• Sightseeing tour in Chur, Switzerland
• See Vaduz in Liechtenstein
• Explore Europe Trip Leader
Your trip highlights
• Relax with comfortable, air-conditioned transportation
• Bernina Express: scenic train ride through the stunning, UNESCO-recognized landscapes of the Alps
• Spectacular Swiss mountain scenery, including glacial lakes
• Enjoy free time to explore Tirano and St Moritz
• Valleys and lofty peaks of Liechtenstein
• Swiss chocolate and cheese fondue
Itinerary
Day 1 (Friday, February 10, 2023)
Depart at 9:00 pm from Kaiserslautern and travel along the highway by bus to Tirano in Northern Italy.

Day 2 (Saturday, February 11, 2023)
After an included breakfast buffet and some free time in the town, our love affair with the snow-capped peaks of Italy and Switzerland begins on a scenic UNESCO-recognized train journey to the stylish St. Moritz — a prestigious Swiss resort town set against the beautiful backdrop of Lake St. Moritz. Hop off the train to enjoy free time in the town. Stroll the lake, enjoy lunch and browse the local chocolatiers to sample Swiss chocolate. Later, we'll check into our 4-star hotel in Chur, before spending the evening at leisure.
Day 3 (Sunday, February 12, 2023)
After an included breakfast, get to know Chur, the biggest city in Switzerland's biggest canton with a local guide. The city itself is like a vibrant gallery, with museums, arty boutiques, authentic restaurants and relaxed bars. Later, we'll cross into Liechtenstein, a tiny Alpine principality dating back to the Holy Roman Empire:
We'll visit the capital of Vaduz

Pass the royal family's hilltop castle, still in use as a royal residence.
Enjoy some free time in Liechtenstein, before traveling back to Kaiserslautern. Our estimated time of return is 10:00 pm.
BOOK IN ADVANCE AND SAVE
Early Bird: Book this trip by December 1 for only €279 and save €20!
Regular price after December 1 is €299 per adult
Covid-19 On-Trip Requirements & Safety Measures: Explore Europe requires our guests to be fully vaccinated, recovered or receive a negative PCR or antigen test within 48 hours of trip start*. Your Trip Leaders will check for proof on the first day of your trip.
*We would keep you informed of any changes that would apply to your trip, as we follow the COVID-19 requirements from each country/region.
Meeting point for the start of the trip
Your trip starts and finishes in Kaiserslautern, Germany.
Address: Daennerplatz, 67657 Kaiserslautern (free to park for our passengers)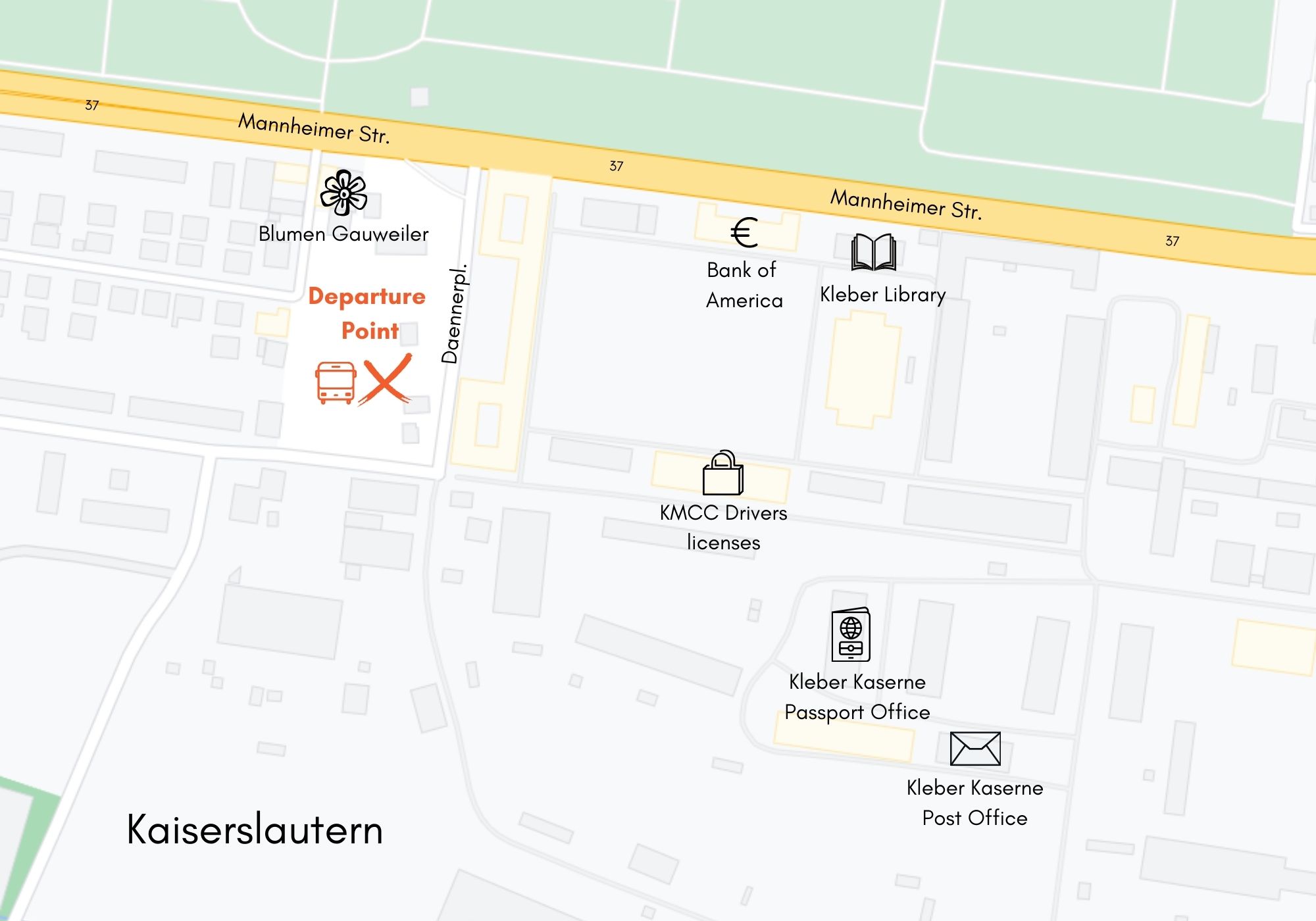 Here you can see what our travelers say about us: https://www.facebook.com/exploreeuropetravel/reviews
IMPORTANT NOTE REGARDING PASSPORTS: A valid tourist passport is required for this trip. Please make sure that you are traveling with the appropriate passport.
How's the weather?
Switzerland
Transportation
Included transportation on this trip is by bus and train.
Passport and Visa Requirements
A tourist passport is required for all trips outside of Germany.
Important passport rules are as follows:
If you have a passport with a SOFA stamp on any page (a "No-Fee" passport), you are provided permission to reside in Germany, NOT to travel outside of Germany. You have to have a tourist passport in addition to the SOFA/"No-Fee" passport to travel outside of Germany. You cannot travel with a RED Official passport as that is used only for the purpose of a mission or deployment. If you have a passport with a detachable SOFA card clipped inside, it is acceptable to travel with as that was issued originally as a tourist passport. If you are not sure: a tourist passport will be BLUE and will be valid for 10 years for adults. It cannot contain a SOFA stamp on any page or it is not acceptable. A child's tourist passport (under 15 years of age) is valid for 5 years, but will not have a SOFA stamp in it anywhere. All of this information has been verified to be correct with the Grafenwoehr Passport Office.
Baggage Allowance
Each adult is entitled to one luggage and one personal item. Luggage should be able to be stored below the bus and the personal item should contain whatever you might need on the bus. Pillows and blankets do not count for the personal item. If you have additional items such as strollers, carseats, etc. please send us a message to make those arrangements.
Currency
The Euro and Swiss franc are the currency you will be using on your trip. We strongly advise that you take debit/bank cards and credit cards, which can be used to withdraw cash at local banks, as needed. You can use most debit/credit cards at ATMs, but make sure to check with your home bank about withdrawal fees. We suggest that you inform your bank and credit card company of your travel plans, so that they won't confuse your international purchases for fraudulent charges.
Time Zones
Italy, Switzerland and Liechtenstein have the same time zone as Germany, Central European Time (CET).
Cuisine
Swiss food is varied and sophisticated, and some popular dishes include sausages, breaded veal fillets, freshwater fish and cheese dishes such as fondue and raclette. Be sure to try Swiss chocolate, which is among the world's finest.
Health
There are no major health risks when traveling to Switzerland. It is always advisable to check with your doctor or health-care provider for the latest updates.
Tipping
At the conclusion of your trip, it's customary to offer your Trip Leader a gratuity. We recommend tipping €1-2 per person per day for your Trip Leader. Tips can only be paid in cash.
Travel Insurance
We recommend you get travel insurance to reimburse you for unforeseen trip cancellation. Please follow this link to get a quote through Travel Insured.
Here you can see what our travelers say about this trip!
Have you been on a trip with us? We appreciate each of you and would love to have your comments and experiences posted for the consideration of future and prospective travelers.
We recommend you get travel insurance to reimburse you for unforeseen trip cancellation. Please follow this link to get a quote through Travel Insured.