Departure K-Town: Highlights of Poland Express (Auschwitz and Krakow)
This August, Explore Europe will be venturing to the historic Polish city of Krakow, home to winding cobblestone streets, gorgeous traditional architecture and the vast Rynek Główny, Europe's largest medieval town square. We will also be paying our respects at Auschwitz, the former concentration and death camp; one of the most notorious sites of the unspeakable horrors committed by Nazi Germany's during the Second World War.
Let us handle the details
Private Transportation

Breakfast Buffet

Local Tour Guide

Entrance Fee

Experienced Trip Leader
Your trip includes
• Round-trip direct bus transportation
• Breakfast buffet
• Guided sightseeing tour of historic Krakow with local tour guide
• Guided tour of both camps at Auschwitz
• Explore Europe Trip Leader
Your trip highlights
• Soak up the history and culture of beautiful Krakow
• See Wawel Royal Castle, with its stunning, colonnaded inner courtyard, which was the seat of Poland's rulers for centuries
• Informative guided tour of Auschwitz, one of the world's most historically important sites
• Wawel Hill with panoramic views over the city
• The chance to see a traditional Polish play including three-course dinner in Krakow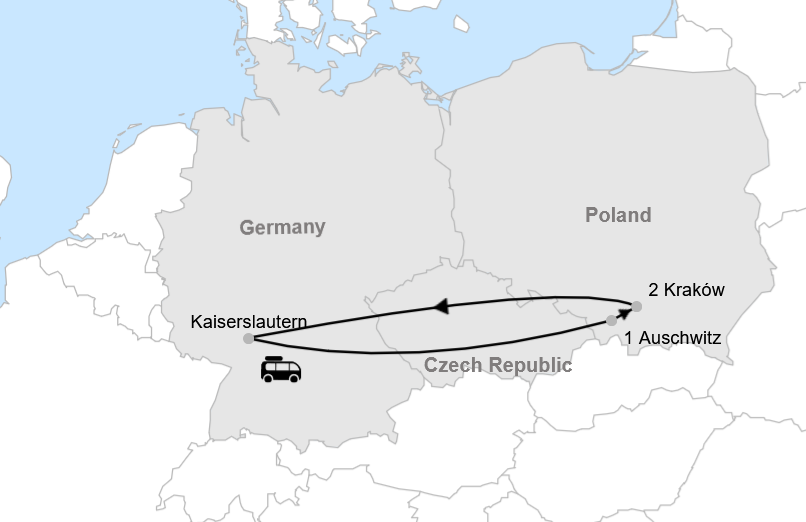 Day 1 (Friday, August 5)
We depart from Kaiserslautern to Auschwitz at 7.00 pm.
Day 2 (Saturday, August 6)
Welcome to Poland! After an included breakfast buffet and free time to freshen up, we travel to the former concentration camp at Auschwitz. Here, we will meet our guide, who will take us around both former camps. You will get the chance to learn about and see with your own eyes the site of one of the most unbelievable crimes humanity has ever committed, where it's estimated that a staggering 1.1 million men, women and children lost their lives. The site, as grim as it is, is vital for instilling all with the determination that such events must never be repeated. Then, we will take the roughly 1.5 hour drive to the historic city of Krakow, Poland's second largest and most beautiful city. You will have around two hours for lunch and free time, before we meet in the afternoon for our guided city tour, where our local guide will walk us through the highlights of the city:
• Discover Wawel Hill, perched high above the Vistula River
• See Wawel Cathedral, where Polish kings were crowned
• Stroll past beautiful Sukiennice Cloth Hall and the Jagiellonian University, arriving in Glowny Square
After the tour enjoy free time to relax and soak up the atmosphere in Krakow or add an excursion.
Guided Optional Excursion – Polish Folklore Show and three-course dinner in Old Town Krakow €49
Immerse yourself in Polish folklore by having a lively evening of singing, dancing, and incredible cuisine. It's the perfect way to make the most of limited time in the city. Take the stress out of menu dilemmas by having a delicious 3-course dinner included. Expect to try a variety Polish delicacies as you watch performers dressed in colorful regional costumes telling stories through folk music and dance.
In the evening, we'll depart back to Kaiserslautern.
Day 3 (Sunday, August 7)
We arrive back in Kaiserslautern around 11:00am.
BOOK IN ADVANCE AND SAVE
Early Bird: Book this trip by June 1 for only €179 and save €20!
Regular price after June 1 is €199 per adult
Please note: It is not recommended for children under 14 to visit the camps at Auschwitz.
IMPORTANT NOTE REGARDING PASSPORTS: A valid tourist passport is required for this trip. Please make sure that you are traveling with the appropriate passport.
Covid-19 On-Trip Requirements & Safety Measures: Explore Europe requires our guests to be fully vaccinated, recovered or receive a negative PCR or antigen test within 48 hours of trip start*. Your Trip Leaders will check for proof on the first day of your trip.
*We would keep you informed of any changes that would apply to your trip, as we follow the COVID-19 requirements from each country/region.
Meeting point for the start of the trip
Your trip starts and finishes in Kaiserslautern, Germany.
Address: Daennerplatz, 67657 Kaiserslautern (free to park for our passengers)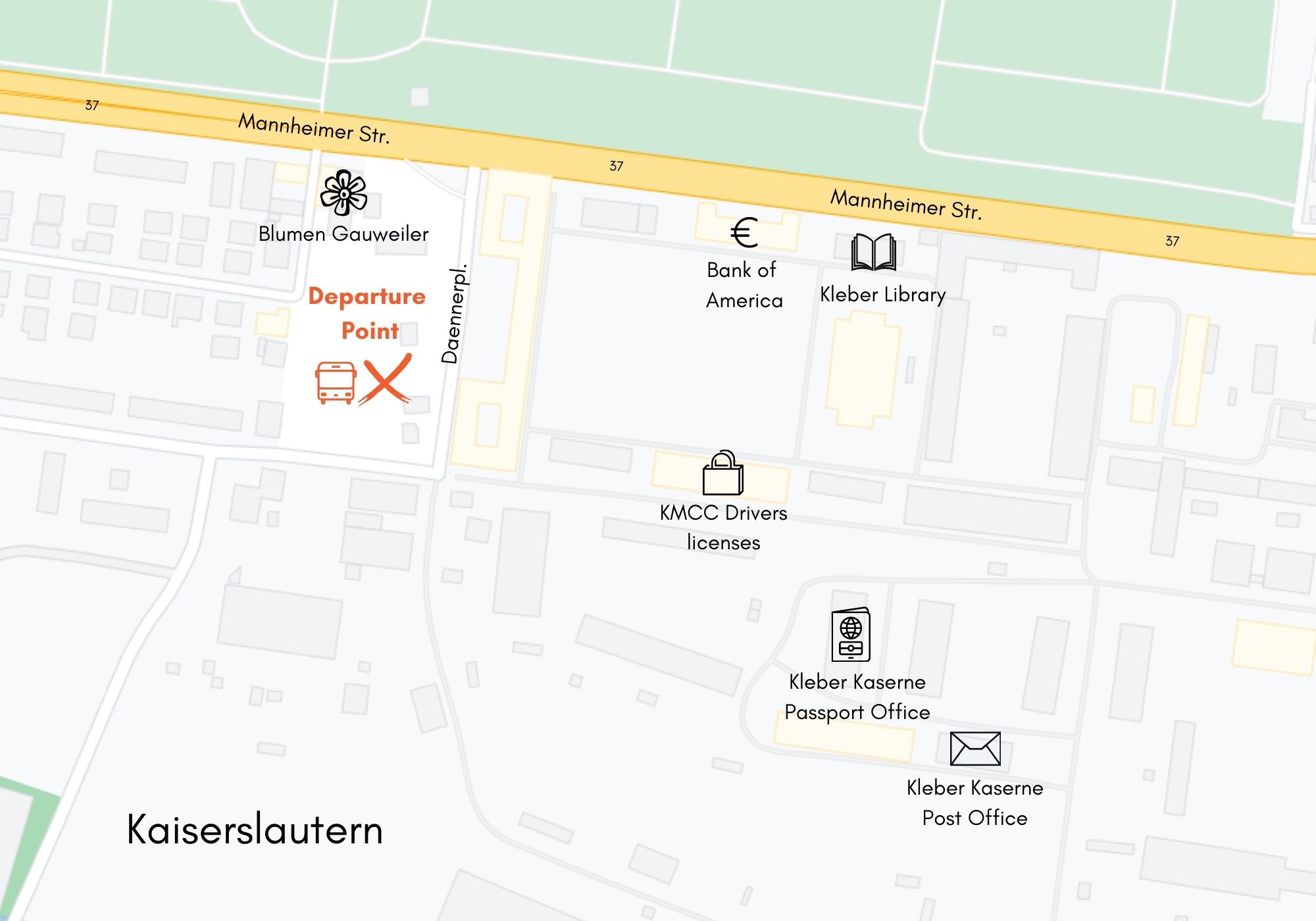 Here you can see what our travelers say about us!



See more reviews on our Facebook page: https://www.facebook.com/exploreeuropetravel/reviews
How´s the weather?
Meeting point for the start of the trip
Your trip starts and finishes in Kaiserslautern, Germany.
Address: Daennerplatz, 67657 Kaiserslautern (free to park for our passengers)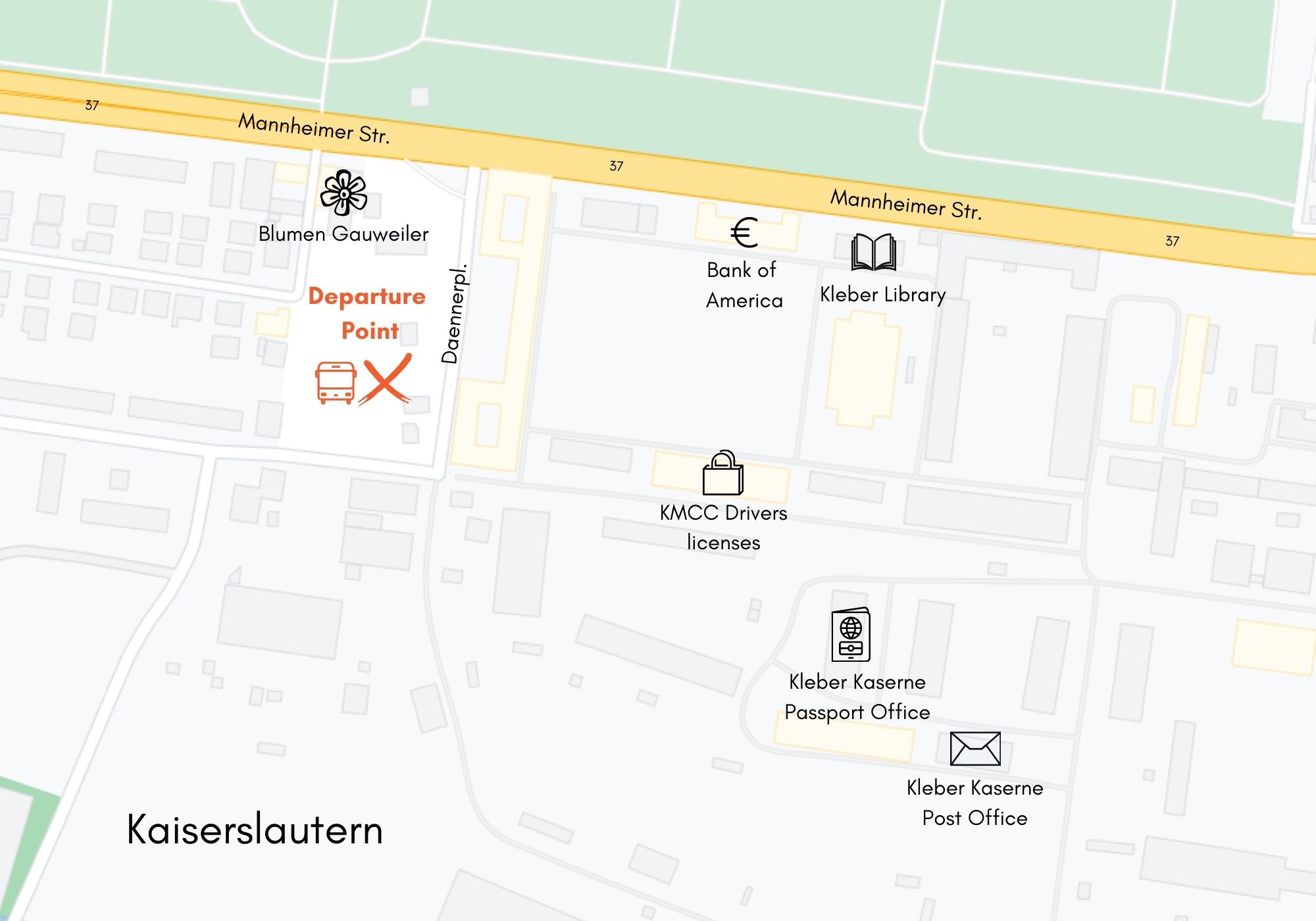 Passport and Visa Requirements
Explore Europe enforces the requirement to possess a tourist passport for all trips outside of Germany. Should you come to the departure point and present the incorrect passport, you will be turned away with no refund, per our cancellation policy.
Important passport rules are as follows:
If you have a passport with a SOFA stamp on any page (a "No-Fee" passport), you are provided permission to reside in Germany, NOT to travel outside of Germany. You have to have a tourist passport in addition to the SOFA/"No-Fee" passport to travel outside of Germany. You cannot travel with a RED Official passport as that is used only for the purpose of a mission or deployment. If you have a passport with a detachable SOFA card clipped inside, it is acceptable to travel with as that was issued originally as a tourist passport. If you are not sure: a tourist passport will be BLUE and will be valid for 10 years for adults. It cannot contain a SOFA stamp on any page or it is not acceptable. A child's tourist passport (under 15 years of age) is valid for 5 years, but will not have a SOFA stamp in it anywhere.
Baggage Allowance
Each adult is entitled to one luggage and one personal item. Luggage should be able to be stored below the bus and the personal item should contain whatever you might need on the bus. Pillows and blankets do not count for the personal item. If you have additional items such as strollers, carseats, etc. please send us a message to make those arrangements.
Clothing & Packing Tips
To ensure you're comfortable while out exploring, we recommend packing lightweight, loose-fitting clothing that can be easily layered. For sightseeing, we suggest bringing a sturdy pair of walking shoes or sneakers, as well as a lightweight sports jacket. If you're planning a visit to a high-end restaurant or performance, you may also want to bring dressier attire. Also, please remember that it's preferable to avoid showing bare legs or shoulders during visits to churches or other religious sites (entrance may be denied on this basis).
Health
There are no major health risks associated with traveling to Poland. Be sure to check with your doctor or healthcare provider for the latest updates and travel requirements.
Cuisine
The cuisine of Poland is rich in meat, cabbage and potato, a lot like in Germany. The Polish enjoy hearty, seasonal food that goes great with beer! Arguably the most famous Polish dish is perogis, a kind of dumpling usually filled with any combination of mushrooms, cabbage, potato, cream cheese and even sweet berries.
Transportation
Included transportation is by private bus. In your free time, you may wish to explore the three cities on foot or by public transportation. Krakow is walkable, although frequent local buses are also available.
Electricity
Poland operates on the European standard of 220 volts.
Currency
The Polish złoty is the currency you'll use on tour. Better rates of exchange are usually available in your destination country, although it's worth ordering some currency from your local bank to use when you first arrive. We advise that you take a combination of bank/ATM cards and credit cards, as needed. We suggest that you inform your bank and credit card company of your travel plans, so that they won't confuse your international purchases for fraudulent charges.
Here you can see what our travelers say about this trip!
Have you been on a trip with us? We appreciate each of you and would love to have your comments and experiences posted for the consideration of future and prospective travelers.
We recommend you get travel insurance to reimburse you for unforeseen trip cancellation. Please follow this link to get a quote through Travel Insured.