Departure K-Town: Highlights of Northern Italy & Cinque Terre
Get caught up in the laid-back Italian lifestyle on this Italy trip during the 4-Day weekend in August. See Lake Como's glittering lakefront and mountain scenery. Visit stylish Milan, the global capital of design and fashion. Then escape to the picturesque villages of Cinque Terre to soak up the sun on the Italian Riviera. With its rich colorful and picturesque towns, this part of Italy will fill your memories with breathtaking views and amazing sunny experiences.
Let us handle the details
Private Transportation

Experienced Trip Leader

Handpicked Hotels

Breakfast Buffet

Local Tour Guides
Trip Includes
• Round-trip bus transportation
• 2 nights in a handpicked hotel in Milan
• 3 x breakfast buffet
• Guided tours in Milan and Cinque Terre with local tour guides
• Full day Cinque Terre card
• Explore Europe Trip Leader
• Hotel taxes
Your trip highlights
• You'll see Lake Como's tranquil, scenic beauty
• You'll explore Milan, the global capital of fashion and design
• Cinque Terre's breathtaking scenery
• Sun, sea and sand on the Italian Riviera
• Fresh mortadella, tortellini, pizza, wine – need we say more?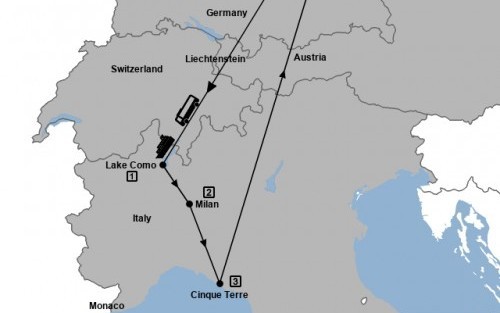 Day 1: Travel day (Thursday, August 12)
Depart at 11:00 p.m. from K-Town and travel along the highway by bus to Lake Como in Italy.

Day 2: Lake Como (Friday, August 13)
Welcome to Italy! In the morning arrive in colorful seaside town of Como, the heart of the region. After an included breakfast buffet at a restaurant with panoramic views, you'll have free time to take in Como's classic beauty, while admiring the lakeside vistas. Enjoy free time in Como or add an excursion.

Optional Excursion: Lake Como Cruise & Bellagio €29
Hop aboard a scenic boat trip of Lake Como to soak in some of Italy's most beautiful estates and gardens. Float past charming lakeside towns to Bellagio, a village whose scenery has inspired poets and young lovers for centuries. You'll have time to take in Bellagio's classic beauty before heading back to Como by boat. 
Later, set off to Milan and get settled in your hotel.

Day 3: Milan (Saturday, August 14)
After breakfast, a local guide introduces you to the highlights of the chic northern capital of Milan in around 2 hours:

• Step inside the famous Gothic-style Milan Cathedral, Italy's largest cathedral
• Walk through the Brera District and see the statue of Leonardo da Vinci, the Galleria Vittorio Emanuele, and Piazza della Scala
• Pay a visit to the 15th-century Sforza Castle, which currently houses an impressive collection of art
Enjoy a free afternoon and evening to explore Milan.

Day 4: Cinque Terre (Sunday, August 15)
After breakfast, enjoy an included full day trip to see the Cinque Terre – a UNESCO World Heritage Site. Five beautifully colored towns stretched along the Italian Riviera, you'll be making your way between 3 villages by scenic train trip. Continue on to K-town in the evening after dinner (not included) at 9:00 p.m.

Day 5: Return day (Monday, August 16)
Arrive in K-Town around 8:00 a.m.
BOOK IN ADVANCE AND SAVE
Early Bird: Book this trip by June 15 for only €299 and save €40 per adult!
Regular Price after June 15 is €339 per adult
Meeting point for the start of the trip
Your trip starts and finishes in K-town, Germany.
Address: Daennerplatz, 67657 Kaiserslautern (free to park for our passengers)
Here you can see what our travelers say about us!
See more reviews on our Facebook page: https://www.facebook.com/exploreeuropetravel/reviews
IMPORTANT NOTE REGARDING PASSPORTS: A valid tourist passport is required for this trip. Please make sure that you are traveling with the appropriate passport.
How's the weather?
Meeting point for the start of the trip
Your trip starts and finishes in K-town, Germany.
Address: Daennerplatz, 67657 Kaiserslautern (free to park for our passengers)
Passport and Visa Requirements
A tourist passport is required for all trips outside of Germany.
Important passport rules are as follows:
If you have a passport with a SOFA stamp on any page (a "No-Fee" passport), you are provided permission to reside in Germany, NOT to travel outside of Germany. You have to have a tourist passport in addition to the SOFA/"No-Fee" passport to travel outside of Germany. You cannot travel with a RED Official passport as that is used only for the purpose of a mission or deployment. If you have a passport with a detachable SOFA card clipped inside, it is acceptable to travel with as that was issued originally as a tourist passport. If you are not sure: a tourist passport will be BLUE and will be valid for 10 years for adults. It cannot contain a SOFA stamp on any page or it is not acceptable. A child's tourist passport (under 15 years of age) is valid for 5 years, but will not have a SOFA stamp in it anywhere. All of this information has been verified to be correct with the Grafenwoehr Passport Office.
Baggage Allowance
Each adult is entitled to one luggage and one personal item. Luggage should be able to be stored below the bus and the personal item should contain whatever you might need on the bus. Pillows and blankets do not count for the personal item. If you have additional items such as strollers, carseats, etc. please send us a message to make those arrangements.
Clothing and Packing Tips
Light, loose-fitting clothing that provides comfort when exploring the sights is essential for your tour. A sun hat, sunglasses and a sturdy pair of walking shoes or sneakers are recommended for sightseeing. It's always a good idea to be prepared for any eventuality — a lightweight sports jacket and emergency rainwear are advised. If you plan to visit an especially elegant restaurant or attend the opera or theater, you will probably feel more comfortable in something more formal. Also, remember that it is preferable not to visit churches or other religious sites with bare legs and shoulders (entrance may be denied on this basis).
Health
There are no major health risks when traveling to Italy. It is always advisable to check with your doctor or health-care provider for the latest updates.
Cuisine
Northern Italy is known for flavorful meats and pastries. On the Italian Riviera, a taste of the region's famous basil pesto is a must. Luscious seafood dishes are popular along the shore, but true Ligurians favor simple, traditional recipes like minestrone soup and farinata, an unleavened chickpea pancake. For more authentic meals, try trattorias, small restaurants set away from the main piazzas.
Transportation
Included transportation on this tour is by bus. Most of the destinations on tour are best explored on foot.
Electricity
Italy operates on the European standard 220 volts.
Currency
The Euro is the currency you will be using on your tour. We advise that you take a combination of bank/ATM cards, credit cards and traveler's checks, which can be exchanged for cash at local banks, as needed. We suggest informing your bank and credit card company of your travel plans, so they don't confuse your international purchases for fraudulent charges.
Travel Insurance
We recommend you get travel insurance to reimburse you for unforeseen trip cancellation. Please follow this link to get a quote through Travel Insured.
Here you can see what our travelers say about this trip!
Have you been on a trip with us? We appreciate each of you and would love to have your comments and experiences posted for the consideration of future and prospective travelers.
We recommend you get travel insurance to reimburse you for unforeseen trip cancellation. Please follow this link to get a quote through Travel Insured.
Comments
Comments