Departure Nuremberg Airport: Naples, Pompeii & the Amalfi Coast by air
Smell the fresh scents of lemons and the seaside when you spend quality time on the Amalfi Coast! First get caught up in the energetic pace of Naples and uncover the incredible history of Pompeii, the legendary town frozen in time. Then, slow down while making your way along the Amalfi Coast. Kick back in charming Sorrento and board a ferry bound for Positano and Amalfi, two of the most picturesque towns in the Mediterranean. Whether it's for Neapolitan pizza, stunning seascapes, or ancient ruins, come hungry for all that this scenic region has to offer!
Let us handle the details
Round-trip flights

Private Transportation

Experienced Trip Leader

Daily Breakfast

Handpicked Hotels

Local Tour Guide

Entrance Fee
Your trip includes
• Round-trip airfare & all bus transportations in Italy
• 1 overnight in a 4-star hotel in Naples, Italy
• 2 overnights in a 3-star hotel in Sorrento, Italy
• 3 breakfast buffet
• Guided sightseeing tour of Naples with local tour guide
• Mount Vesuvius and Pompeii tour including entrance tickets
• Amalfi coast tour
• Experienced local tour guides
• Explore Europe Trip Leader
• Hotel city taxes

Your trip highlights
• Naples, the city of volcanic views and delicious pizza
• Fascinating ruins of Pompeii and the legendary Mount Vesuvius
• The hilltop town of Sorrento with breathtaking views over the Mediterranean
• The picturesque Amalfi Coast
• Smell the fresh scents of lemons as you stroll along cliffside terraces 
• Eating in Italy is truly a Mediterranean experience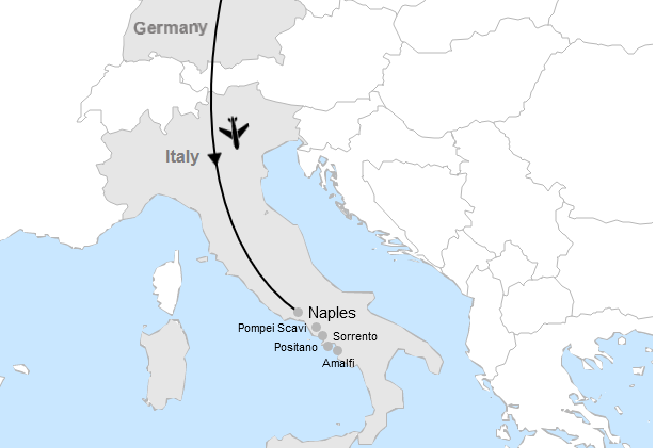 Day 1: Naples (Friday, January 13, 2023)
Your trip begins with a regularly scheduled direct flight from Nuremberg to Naples in Italy with an internationally recognized airline.
Flight times: Nuremberg – Naples 12:20 pm – 14:10 pm
Welcome to Naples! Transfer to your hotel by private bus and get settled in. This afternoon's guided sightseeing tour introduces you to the highlights of Naples, a beautiful bayside city. Overnight in Naples.
Day 2: Mount Vesuvius & Pompeii (Saturday, January 14, 2023)
After an included breakfast buffet, travel back to the days of the Roman Empire on today's expedition to Mount Vesuvius and Pompeii:
Take a walking tour to the top of legendary Mount Vesuvius, where you can explore the volcanic crater
Witness how wealthy Romans lived on a guided tour of Pompeii's ruins
View the excavated Roman ruins of theaters, villas, temples, and baths

Continue on to the Sorrento peninsula, check into the 4-star hotel and enjoy a free evening in Sorrento.
Day 3: The Amalfi Coast (Sunday, January 15, 2023)
After an included breakfast buffet, enjoy a full-day excursion to the scenic Amalfi Coast, which offers magnificent views of the sea:
Drive along the coast stopping in Positano and Amalfi
See the Amalfi Cathedral and the Madonnina viewpoint overlooking the town of Positano for a stunning view of the sea
Enjoy free time for lunch and shopping in Amalfi
Day 4: Sorrento (Monday, January 16, 2023)
After an included breakfast buffet, continue living the good life in Sorrento before transfering to the airport for your flight home.
Flight times: Naples – Nuremberg 21:30 – 23:20

BOOK IN ADVANCE AND SAVE
Early Bird: Book this trip by November 15 for only €599 and save €50!
Regular price after November 15 is €649 per adult
*Prices are per person, based on two adults sharing one room. Single room €135 extra (€45 per night).
Here you can see what our travelers say about us!

See more reviews on our Facebook page: https://www.facebook.com/exploreeuropetravel/reviews
IMPORTANT NOTE REGARDING PASSPORTS: A valid tourist passport is required for this trip. Please make sure that you are traveling with the appropriate passport.
How's the weather?
Naples, Italy
Passport and Visa Requirements
A tourist passport is required for all trips outside of Germany.
Important passport rules are as follows:
If you have a passport with a SOFA stamp on any page (a "No-Fee" passport), you are provided permission to reside in Germany, NOT to travel outside of Germany. You have to have a tourist passport in addition to the SOFA/"No-Fee" passport to travel outside of Germany. You cannot travel with a RED Official passport as that is used only for the purpose of a mission or deployment. If you have a passport with a detachable SOFA card clipped inside, it is acceptable to travel with as that was issued originally as a tourist passport. If you are not sure: a tourist passport will be BLUE and will be valid for 10 years for adults. It cannot contain a SOFA stamp on any page or it is not acceptable. A child's tourist passport (under 15 years of age) is valid for 5 years, but will not have a SOFA stamp in it anywhere. All of this information has been verified to be correct with the Grafenwoehr Passport Office.
Baggage Allowance
· One larger cabin bag (liquids allowed): max weight up to 8kg (22.00 lb). Max size 55cm H (21.5″) x 40cm W (15.5″) x 23cm D (9.05")
Clothing & Packing
We recommend packing lightweight, loose-fitting clothing that can be easily layered. For sightseeing, we suggest bringing a sturdy pair of walking shoes or sneakers, as well as a lightweight jacket or rainwear. If you're planning a visit to a high-end restaurant or performance, you may also want to bring dressier attire. Also, please be respectful and avoid showing bare legs or shoulders when visiting churches or other religious sites (entrance may be denied on this basis).
Health
There are no major health risks associated with traveling to Italy. However, it's always advisable to check with your doctor or healthcare provider for the latest updates.
Cuisine
The cuisine of Southern Italy is often what diners think of when imagining Italian flavors—pasta with tomato sauces, olives and olive oil, zucchini, veal, and fish are all featured prominently on menus throughout the region. Roman food is typically freshly prepared and varies depending on the season. Must-try bites include cacio e pepe (a simple dish of pasta, cheese, and pepper) and supplí (a fried rice ball similar to Sicily's arancini). For more authentic meals, try local trattorias, small restaurants set away from the main piazzas. A typical Italian meal includes wines and the occasional beer, followed by a few sips of after-dinner drinks like grappa or limoncello.
Transportation
Round-trip flights arrive in and depart from Naples are included in price. Included transportation is by private bus. Most of the destinations are easily walkable.
Electricity
Italy operates on the European standard 220-240 volts and use Types C, F, or L plugs with two or three small, round pins. We recommend packing a universal adapter, as well as a voltage converter.
Currency
The euro is the currency you'll be using on your tour. You can use most debit/credit cards at ATMs on the international networks Cirrus and Plus, but make sure to check with your home bank about withdrawal fees. We suggest that you inform your bank and credit card company of your travel plans, so that they won't confuse your international purchases for fraudulent charges.
Travel Insurance
We recommend you get travel insurance to reimburse you for unforeseen trip cancellation. Please follow this link to get a quote through Travel Insured.
Here you can see what our travelers say about this trip!
Have you been on a trip with us? We appreciate each of you and would love to have your comments and experiences posted for the consideration of future and prospective travelers.
We recommend you get travel insurance to reimburse you for unforeseen trip cancellation. Please follow this link to get a quote through Travel Insured.