Disneyland® Paris Halloween Festival
Treat yourself and your family to a magical time! During Disney's Halloween Festival astonishing pumpkins will take over the flowerbeds in Central Plaza. Frontierland will be transformed into an autumn garden, where sunflowers and pumpkins will take centre stage. Finally, Mickey and friends will offer guests a special Harvest festival-themed cavalcade, not far from Minnie's Halloween Costume Corner or the incredible candy-making machine invented by greedy Goofy – all designed to ensure Disney's Halloween Festivals a laugh a minute!
Let us handle the details
Private Transportation

Breakfast

Entrance Fee

Experienced Trip Leader
Your trip includes
• Round-trip bus transportation
• Breakfast buffet
• Admission to Disney Park
• Explore Europe Trip Leader
Your trip highlights
• Halloween at Disneyland® Paris is a magical time
• See the famous Disney characters
• Delicious foods you can find throughout the Disney parks
• Disney® Dreams! is one of the best fireworks you will ever see
Day 1 (Friday, October 13)
Depart at 09:30 pm from Grafenwoehr and travel by bus to Disneyland Paris in France.
Day 2 (Saturday, October 14)
Welcome to France! After an included breakfast buffet, you are free to enjoy Disney with a full day at your leisure. Of course, no trip to Disneyland® Paris is complete without seeing Disney Magic on Parade or live show featuring music, songs, dancing, Disney® characters, and Disney® Dreams. In the evening (after Disney's Magical Fireworks around 11:00 pm), travel back overnight Saturday to arrive Sunday morning in Grafenwoehr.
Day 3 (Sunday, October 15)
Arrive in Grafenwoehr around 10:00 am.
IMPORTANT NOTE REGARDING PASSPORTS: A valid tourist passport is required for this trip. Please make sure that you are traveling with the appropriate passport.
How's the weather?
Paris, France
Meeting point for the start of the trip
Your trip starts and finishes in Grafenwoehr, Germany.
Address: Dießfurter Str, 92655 Grafenwoehr (parking lot)
Instructions: if you are exiting McDonald's parking lot in Grafenwoehr you will turn right on to B299 as if you are going towards Netzaberg. You will then take your very first right (as if you are going towards MegaPlay) and as soon as you cross the small bridge there is a driveway on the right side which you can enter into a parking lot. You should see several cars and the bus there. The parking lot is available during the duration of the trip for our passengers.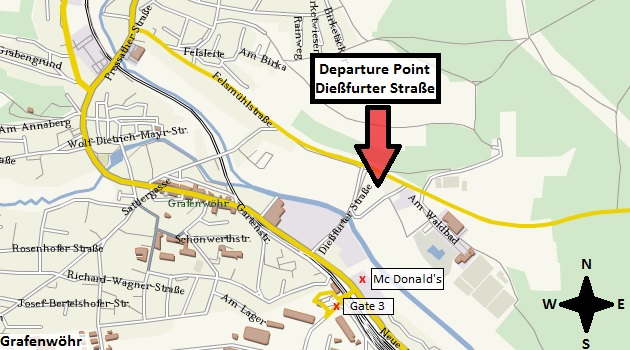 Passport & Visa
A tourist passport is required for all trips outside of Germany.
Important passport rules are as follows:
If you have a passport with a SOFA stamp on any page (a "No-Fee" passport), you are provided permission to reside in Germany, NOT to travel outside of Germany. You have to have a tourist passport in addition to the SOFA/"No-Fee" passport to travel outside of Germany. You cannot travel with a RED Official passport as that is used only for the purpose of a mission or deployment. If you have a passport with a detachable SOFA card clipped inside, it is acceptable to travel with as that was issued originally as a tourist passport. If you are not sure: a tourist passport will be BLUE and will be valid for 10 years for adults. It cannot contain a SOFA stamp on any page or it is not acceptable. A child's tourist passport (under 15 years of age) is valid for 5 years, but will not have a SOFA stamp in it anywhere. All of this information has been verified to be correct with the Grafenwoehr Passport Office.
Health
There are no major health risks when traveling to France. However, it is always advisable to check with your doctor or health-care provider for the latest updates.
Transportation
Included transportation on your tour is by motor coach.
Clothing & Packing Tips
To ensure you're comfortable while out exploring, we recommend packing lightweight, loose-fitting clothing that can be easily layered. For sightseeing, we suggest bringing a sturdy pair of walking shoes or sneakers, as well as a lightweight sports jacket or rainwear.
Baggage Allowance
Each adult is entitled to one luggage and one personal item. Luggage should be able to be stored below the bus and the personal item should contain whatever you might need on the bus. Pillows and blankets do not count for the personal item. If you have additional items such as strollers, carseats, etc. please send us a message to make those arrangements.
Currency
The euro is the currency you will be using on your trip.
Travel Insurance
We recommend you get travel insurance to reimburse you for unforeseen trip cancellation. Please follow this link to get a quote through our partner SevenCorners.
Here you can see what our travelers say about this trip!
Have you been on a trip with us? We appreciate each of you and would love to have your comments and experiences posted for the consideration of future and prospective travelers.
We recommend you get travel insurance to reimburse you for unforeseen trip cancellation. Please follow this link to get a quote through our partner SevenCorners.
Comments
Comments