Join us as we visit Dresden's Christmas Market – one of the most beautiful Christmas markets in the world! It is also Germany's oldest Christmas Market with a very long history dating back to 1434. If you're tired of commercialism taking over this holiday period and would like to get right away for a real traditional and romantic Christmas Market you might want to consider heading with us to Dresden where Christmas gifts are not mass-produced but craftwork of real quality.
Every visitor here will find a "little something": Christmas pyramids, smoking figures and candleholders from Erzgebirge Mountains, indigo-dyed printed textile products and pottery from Lusatia, gingerbread from Pulsnitz, filigree lace products from Plauen, Herrenhut Advent stars, blown glass tree decorations from Lauscha, and of course specialities from Dresden itself, such as the traditional 'Pflaumentoffel', a chimney-sweep figure made of dried prunes. Visitors can also watch the carvers, glass-blowers and bakers in action at the crafts market.
Let us handle the details
Experienced Trip Leader

Private Transportation

Local Tour Guide
Your trip includes
• Round-trip bus transportation
• Guided tour with local guide
• Explore Europe Trip Leader
• Service charges
Your trip highlights
• Striezelmarkt — Germany's oldest Christmas market
• Gingerbread, fruit loaves and other holiday treats
• Unique, handmade clothes, crafts and toys
• Dresden's magnificent Zwinger Palace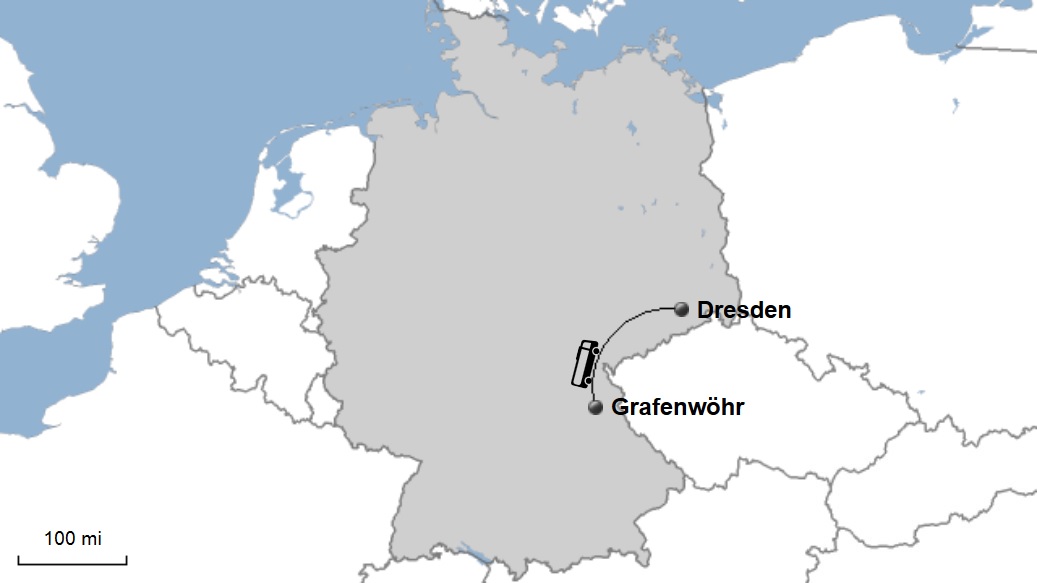 In the morning the 2-hour walking tour with a local guide takes you through the historic part of town, to show you the domed Frauenkirche, the original Semperoper, which is Germany's most famous opera house and many more famous sights. In the afternoon, you'll have ample time to enjoy lunch and do Christmas shopping at the traditional Dresden Christmas Market!
Return: Around 9:00 pm
Dress for the weather!  Warm shoes are a definite must have, as the market takes place outside (unless you sneak into an open restaurant for a bite) and you will be standing or walking around for most of your visit.
Bring cash. There will be ATM's around the city center, but most of the stalls are cash only.
Most hot drinks are poured into ceramic mugs, which you will pay a reimbursable fee for (Pfand), similar to the glasses at wine and beer festivals.  If you want to keep the mugs to remember your visit to the market (they change each year and have the year and city name on them), just take it home with you!  If not, drink up and then return your mug to the vendor you purchased it from to get your fee returned (normally from .50 euro to 2E)
Photos by © Landeshauptstadt Dresden, Amt für Wirtschaftsförderung / Fotos: Sylvio Dittrich; Joerg Schoener; Shutterstock 532257913 by Mariia Golovianko
How's the weather?
Dresden, Germany
Meeting point for the start of the trip
Your trip starts and finishes in Grafenwoehr, Germany.
Address: Diessfurter Str, 92655 Grafenwoehr (parking lot)
Instructions: if you are exiting McDonald's parking lot in Grafenwoehr you will turn right on to B299 as if you are going towards Netzaberg. You will then take your very first right (as if you are going towards MegaPlay) and as soon as you cross the small bridge there is a driveway on the right side which you can enter into a parking lot. You should see several cars and the bus there. The parking lot is available during the duration of the trip for our passengers.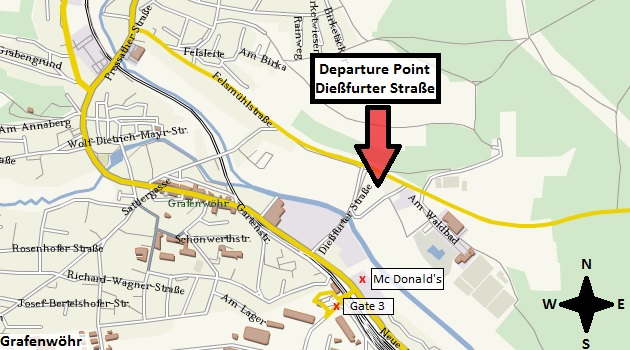 Transportation
Included transportation on this tour is by motor coach. Dresden is best explored on foot.
Baggage Allowance
Each adult is entitled to one luggage and one personal item. Luggage should be able to be stored below the bus and the personal item should contain whatever you might need on the bus. Pillows and blankets do not count for the personal item. If you have additional items such as strollers, carseats, etc. please send us a message to make those arrangements.
Currency
Euro is the currency you will be using on your tour. We strongly advise that you take debit/bank cards and credit cards, which can be used to withdraw cash at local banks, as needed. You can use most debit/credit cards at ATMs, but make sure to check with your home bank about withdrawal fees. We suggest that you inform your bank and credit card company of your travel plans, so that they won't confuse your international purchases for fraudulent charges.
Health
There are no major health risks when traveling to Dresden. It is always advisable to check with your doctor or health-care provider for the latest updates.
Travel Insurance
We recommend you get travel insurance to reimburse you for unforeseen trip cancellation. Please follow this link to get a quote through our partner SevenCorners.
Here you can see what our travelers say about this trip!
Have you been on a trip with us? We appreciate each of you and would love to have your comments and experiences posted for the consideration of future and prospective travelers.
We recommend you get travel insurance to reimburse you for unforeseen trip cancellation. Please follow this link to get a quote through our partner SevenCorners.
Comments
Comments