Why come all the way to Europe and not spend some quality time in the English capital? London was once considered the capital of the world – and it shows. Britain's most dynamic city has a history that stretches back 2,000 years, and a culture as rooted in the local pub as it is in world-class museums. Get acquainted with this city, whether strolling through Kensington Gardens, climbing the Tower of London or experiencing Big Ben up close and personal.
Let us handle the details
Private Transportation

Experienced Trip Leader

Breakfast Buffet

Handpicked Hotel

Local Tour Guides

Entrance Fee
Your trip includes
• Round-trip bus transportation
• 2 nights of hotel accommodation in London
• 2 x breakfast buffet
• Ferry crossing between either Dunkirk and Dover
• Stonehenge entrance fee
• 4 hours panoramic tour of London
• Explore Europe Trip Leader
• Service charges and hotel taxes
Your trip highlights
• Iconic Big Ben and Buckingham Palace
• Charming pubs and eclectic eateries
• The high culture at the British Museum
• London's world-class (and free) museums
• Lots of time to delve into cultural subtleties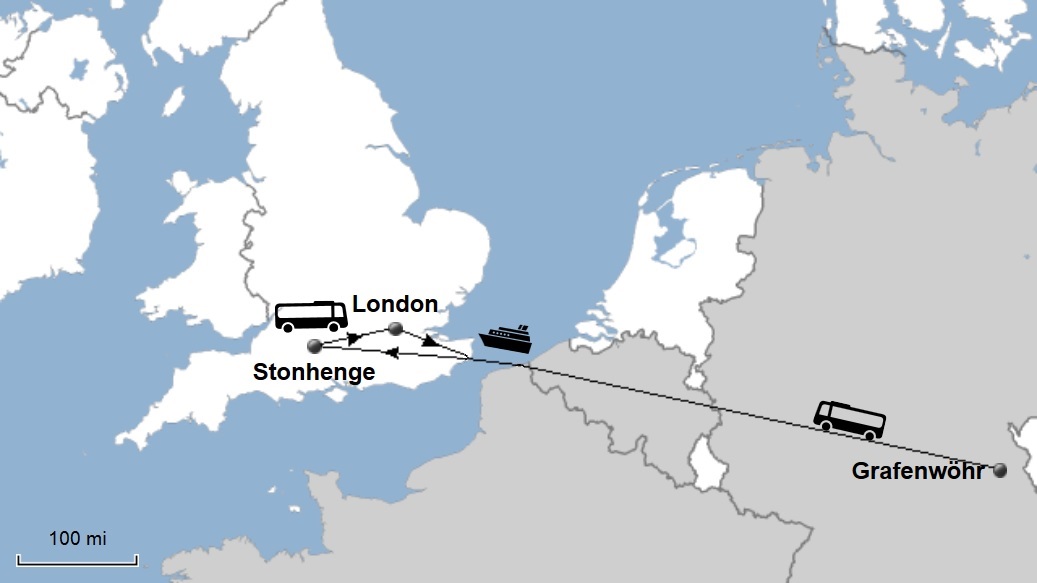 Day 1 (Thursday, August 2)
Depart at 6:00 pm from Grafenwoehr and travel along the highway by bus to London in England.
Day 2 (Friday, August 3)
In the early morning, take the 2-hours journey across the English Channel on a modern ferry to the Port of Dover in England. Continue the coach journey to Stonehenge, one of England's most mysterious landmarks. We will have around 2 hours to explore this prehistoric monument before heading to our hotel in London. The evening is free to spend as you please.
Day 3 (Saturday, August 4)
After an included breakfast, we'll set out to discover London's most iconic sites with an expert local tour guide. On today's guided sightseeing tour, we'll make our way past the Piccadilly Circus, St. Paul's Cathedral, the Tower of London, Buckingham Palace, Big Ben and much more. The afternoon is free for exploring on your own.
Day 4 (Sunday, August 5)
Enjoy a leisurely day in London. If the city's literary side interests you, plan a stop at the Charles Dickens Museum or Shakespeare's Globe, a replica of the famous Globe Theatre. For shoppers, a visit to Harrods – 15 acres of tempting merchandise, ranging from silk scarves and soap to the world's most meticulously decorated cakes – is a must. In the evening, we'll be setting off for Dover, taking the ferry once again back to France.

Day 5 (Monday, August 6)
Arrive in Grafenwoehr around 5:00 p.m.
IMPORTANT NOTE REGARDING PASSPORTS: A valid tourist passport is required for this trip. Please make sure that you are traveling with the appropriate passport.
How´s the weather?
London, England
Meeting point for the start of the trip
Your trip starts and finishes in Grafenwoehr, Germany.
Address: Dießfurter Str, 92655 Grafenwoehr (parking lot)
Instructions: if you are exiting McDonald's parking lot in Grafenwoehr you will turn right on to B299 as if you are going towards Netzaberg. You will then take your very first right (as if you are going towards MegaPlay) and as soon as you cross the small bridge there is a driveway on the right side which you can enter into a parking lot. You should see several cars and the bus there. The parking lot is available during the duration of the trip for our passengers.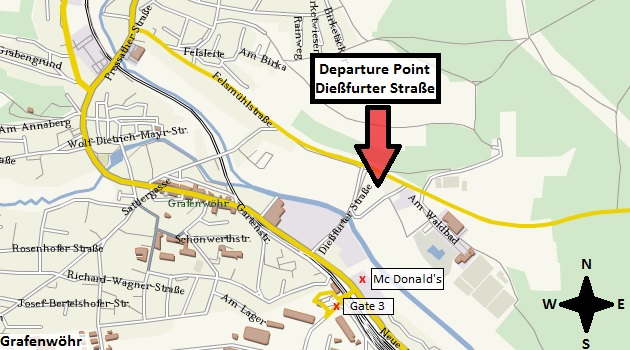 Passport and Visa Requirements
A valid tourist passport is required for this trip. Please make sure that you are traveling with the appropriate passport!
Important passport rules are as follows:
If you have a passport with a SOFA stamp on any page (a "No-Fee" passport), you are provided permission to reside in Germany, NOT to travel outside of Germany. You have to have a tourist passport in addition to the SOFA/"No-Fee" passport to travel outside of Germany. You cannot travel with a RED Official passport as that is used only for the purpose of a mission or deployment. If you have a passport with a detachable SOFA card clipped inside, it is acceptable to travel with as that was issued originally as a tourist passport. If you are not sure: a tourist passport will be BLUE and will be valid for 10 years for adults. It cannot contain a SOFA stamp on any page or it is not acceptable. A child's tourist passport (under 15 years of age) is valid for 5 years, but will not have a SOFA stamp in it anywhere. All of this information has been verified to be correct with the Grafenwoehr Passport Office.
Baggage Allowance
Each adult is entitled to one luggage and one personal item. Luggage should be able to be stored below the bus and the personal item should contain whatever you might need on the bus. Pillows and blankets do not count for the personal item. If you have additional items such as strollers, carseats, etc. please send us a message to make those arrangements.
Clothing & Packing Tips
To ensure you're comfortable while out exploring, we recommend packing lightweight, loose-fitting clothing that can be easily layered. For sightseeing, we suggest bringing a sturdy pair of walking shoes or sneakers, as well as a lightweight sports jacket or rain wear. If you're planning a visit to a high-end restaurant or performance, you may also want to bring dressier attire. Also, please remember that it's preferable to avoid showing bare legs or shoulders during visits to churches or other religious sites (entrance may be denied on this basis).
Health
There are no major health risks when traveling to Italy. It is always advisable to check with your doctor or health-care provider for the latest updates.
Currency
The British pound is the currency you'll be using on your tour. Better rates of exchange are usually available in your destination countries, although it's worth ordering some currency from your local bank to use when you first arrive. We advise that you take a combination of bank/ATM cards and credit cards, as needed. We suggest that you inform your bank and credit card company of your travel plans, so that they won't confuse your international purchases for fraudulent charges.
Cuisine
For traditional British fare at a reasonable price, try a pub meal. Stilton cheese, steak and kidney pie, and Cumberland sausages are specialties. Sip afternoon tea with delicious finger sandwiches and scones at Harrods for the ultimate in English tradition. Modern-day London also boasts an array of ethnic restaurants unmatched by almost any other city in the world.
Travel Insurance
We recommend you get travel insurance to reimburse you for unforeseen trip cancellation. Please follow this link to get a quote through our partner SevenCorners.
Here you can see what our travelers say about this trip!
Have you been on a trip with us? We appreciate each of you and would love to have your comments and experiences posted for the consideration of future and prospective travelers.
We recommend you get travel insurance to reimburse you for unforeseen trip cancellation. Please follow this link to get a quote through our partner SevenCorners.
Comments
Comments