Paris & Versailles Palace
Whether for romance, history, indulgence or artistic inspiration, Paris is the destination for experiences you'll never forget. The majestic Palace of Versailles, the Eiffel Tower, Notre Dame Cathedral and the Louvre are some of the highlights on this truly unforgettable trip!
Let us handle the details
Private Transportation

Experienced Trip Leader

Handpicked Hotel

Breakfast Buffet

Guided Tour

Entrance Fee
Your trip includes
• Round-trip bus transportation
• 2 nights' hotel accommodation in Paris
• Daily French style breakfast
• Half day guided tour of Paris
• Versailles Palace Entrance Ticket
• Explore Europe Trip Leader
• Hotel city tax
Your trip highlights
• The Eiffel Tower, the city's legendary landmark
• The magnificent Palace and Gardens of Versailles
• Notre Dame's posing gargoyles
• Endless galleries of the Louvre
• Flaky croissants and café au lait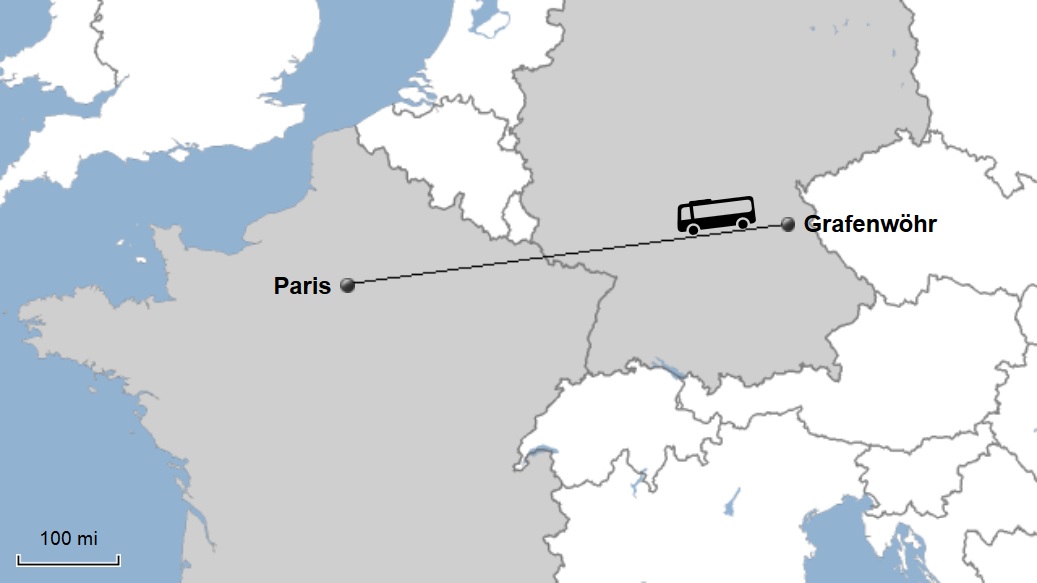 Day 1 (Thursday, Feb 14)
Depart at 9:00 p.m. from Grafenwoehr and travel along the highway by bus to Paris in France.
Day 2 (Friday, Feb 15)
Welcome to France! This morning enjoy an included visit to the Palace of Versailles. The reign of Louis XIV, known as the "Sun King," set new standards for decadence among the crowned heads of Europe. It took 50 years and 35,000 workers to turn Versailles, once a small hunting lodge, into the most magnificent château in all of France and the envy of royalty worldwide. Tour the State Apartments and the glittering Hall of Mirrors. Then stroll through the lavish gardens with their fine statuary, splendid fountains and colorful flowerbeds… Continue the bus journey to Paris. Check in at your hotel, before spending the rest of the day at your leisure or add optional excursion.
Day 3 (Saturday, Feb 16)
After an included breakfast buffet, a tour guide introduces you to the historical and cultural landmarks of the City of Light:
• See the Eiffel Tower, the Palais Garnier opera house and Place de la Concorde
• Drive down Champs-Élysées and view of the Arc de Triomphe
• See the legendary Notre-Dame Cathedral, located on an island in the Seine River
• Marvel at the eclectic and iconic architecture of the Louvre
Enjoy a free afternoon in Paris or add an excursion.
Guided Optional Excursion – Tour Montparnasse and Fragonard Perfume Museum 25€ pp
Start off your afternoon with a walk through La Chapelle and Conciergerie along the Seine, passing by Louvre on the way. See the Palais des Tuileries, Place de la Concorde and the Palais Garnier opera house. Then, enjoy a visit to the Perfume Museum – an aromatic place for education and information on the wonderful world of traditional French perfumery. Afterward, take in panoramic Paris views from the 56th floor observation deck of the Montparnasse Tower (ticket included). Europe's fastest elevator will whisk you up to the open-air rooftop of this modern skyscraper for unparalleled views of the Eiffel Tower, Champs- Élysées, and other famous landmarks. Please note: Optional excursion cannot be booked online; it can be purchased during your trip through your Trip Leader.
Guided Optional Excursion – Moulin Rouge Show Paris incl. 1/2 Bottle of Champagne 130€ pp
Feast your senses on the vibrant color and charisma of the 'Féerie' show at Paris' iconic Moulin Rouge during an extravagant evening in the City of Light (show starts at 11pm). Take a seat in the atmospheric theater and prepare for a dazzling spectacle of drama, dance and music. See elaborately dressed show girls dominate the stage; marvel at dancers as they perform compelling choreography. Please note: Optional excursion cannot be booked online; it can be purchased during your trip through your Trip Leader.

Day 4 (Sunday, Feb 17)
Today you are free to do as you please. There is time to sample delicious French breads or cakes in a patisserie, shop in the chic French boutiques or enjoy a visit to one of the many museums this city has to offer. In the evening, continue on to Grafenwoehr at 8:00 p.m.
Day 5 (Monday, Feb 18)
Arrive in Grafenwoehr around 7:00 a.m.
IMPORTANT NOTE REGARDING PASSPORTS: A valid tourist passport is required for this trip. Please make sure that you are traveling with the appropriate passport.
How´s the weather?
Paris, France
Meeting point for the start of the trip
Your trip starts and finishes in Grafenwoehr, Germany.
Address: Dießfurter Str, 92655 Grafenwoehr (parking lot)
Instructions: if you are exiting McDonald's parking lot in Grafenwoehr you will turn right on to B299 as if you are going towards Netzaberg. You will then take your very first right (as if you are going towards MegaPlay) and as soon as you cross the small bridge there is a driveway on the right side which you can enter into a parking lot. You should see several cars and the bus there. The parking lot is available during the duration of the trip for our passengers.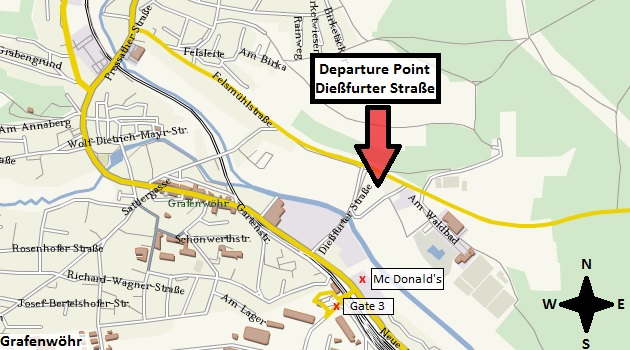 Passport and Visa Requirements
A tourist passport is required for all trips outside of Germany.
Important passport rules are as follows:
If you have a passport with a SOFA stamp on any page (a "No-Fee" passport), you are provided permission to reside in Germany, NOT to travel outside of Germany. You have to have a tourist passport in addition to the SOFA/"No-Fee" passport to travel outside of Germany. You cannot travel with a RED Official passport as that is used only for the purpose of a mission or deployment. If you have a passport with a detachable SOFA card clipped inside, it is acceptable to travel with as that was issued originally as a tourist passport. If you are not sure: a tourist passport will be BLUE and will be valid for 10 years for adults. It cannot contain a SOFA stamp on any page or it is not acceptable. A child's tourist passport (under 15 years of age) is valid for 5 years, but will not have a SOFA stamp in it anywhere. All of this information has been verified to be correct with the Grafenwoehr Passport Office.
Baggage Allowance
Each adult is entitled to one luggage and one personal item. Luggage should be able to be stored below the bus and the personal item should contain whatever you might need on the bus. Pillows and blankets do not count for the personal item. If you have additional items such as strollers, carseats, etc. please send us a message to make those arrangements.
Clothing and Packing Tips
Light clothing that provides comfort when exploring the sights is essential for your trip. If you plan to visit an especially elegant restaurant or attend the opera or theater, you will probably feel more comfortable in something more formal. Also, remember that it is preferable not to visit churches or other religious sites with bare legs and shoulders (entrance may be denied on this basis).
Health
There are no major health risks when traveling to France. It is always advisable to check with your doctor or health-care provider for the latest updates.
Cuisine
For the most casual snack or picnic, stop at a small grocery store for cheeses, patés, cured meats, freshbaked bread and fruit. Sidewalk vendors are known for their steaming crepes, filled with cheese, ham, fruit or chocolate. Mouthwatering pastries and hot café au lait beckon from the cafés. On the restaurant scene, the prix fixe option is popular, offering a three- or four-course set menu for a good price.
Electricity
France operates on the European standard 220 volts.
Currency
The Euro is the currency you will be using on your tour. We advise that you take a combination of bank/ATM cards, credit cards and traveler's checks, which can be exchanged for cash at local banks, as needed. We suggest informing your bank and credit card company of your travel plans, so they don't confuse your international purchases for fraudulent charges. Please note: With the conversion to the Euro, it has been increasingly difficult to exchange traveler's checks outside Europe's major cities—both at banks and shops—and they often attract higher fees.
Tipping
At the conclusion of your trip, it's customary to offer your Trip Leader a gratuity. We recommend tipping €1-2 per person per day for your Trip Leader. Tips can only be paid in cash.
Travel Insurance
We recommend you get travel insurance to reimburse you for unforeseen trip cancellation. Please follow this link to get a quote through our partner SevenCorners.
Here you can see what our travelers say about this trip!
Have you been on a trip with us? We appreciate each of you and would love to have your comments and experiences posted for the consideration of future and prospective travelers.
We recommend you get travel insurance to reimburse you for unforeseen trip cancellation. Please follow this link to get a quote through our partner SevenCorners.
Comments
Comments