Departure Cologne Airport: Best of Scotland by air (Labor Day Weekend)
Get to know the land of lochs, glens, and legends on our trip over the Labor Day weekend in September! From its ancient castles to its rolling landscapes and blaring bagpipes, Scotland is undeniably intriguing. With plenty of time to explore, you'll get your dose of well-known Scottish icons!
Let us handle the details
Round-trip flights

Private Transportation

Experienced Trip Leader

Daily Breakfast

Handpicked Hotel

Local Tour Guide

Entrance Fee
Your trip includes
• Round-trip airfare & airport transportations in Scotland
• 3 overnights in a 3-star hotel
• 3 Scottish breakfast daily
• Guided sightseeing tour of Edinburgh with local tour guide
• Loch Ness, Glencoe & the Highlands of Scotland private day tour with local tour guide
• Experienced local tour guide
• Explore Europe Trip Leader
• Hotel city taxes
Your trip highlights
• The friendly, welcoming Scottish people
• Beautiful Old Town Edinburgh and Edinburgh Castle 
• The Royal Mile lined with charming townhouses, churches, and historic landmarks
• View the world's largest collection of whisky
• The Highlands: dramatic landscapes, moors and sheer endless heaths
• Local pubs, fresh pints and traditional bagpipe music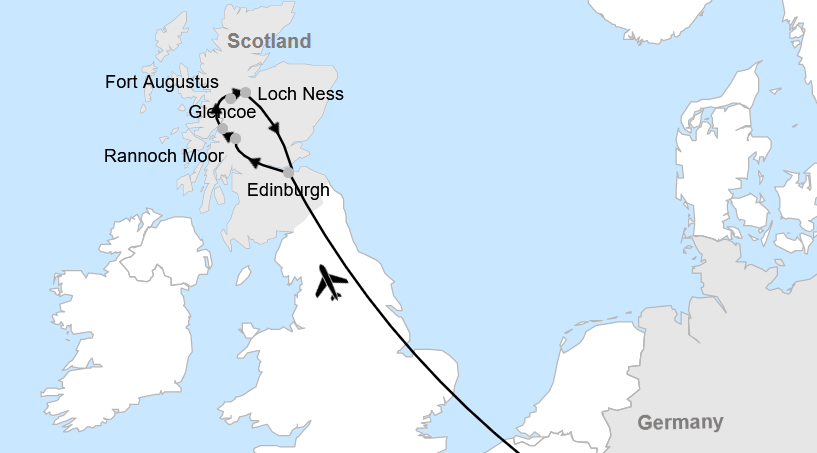 Day 1 (Friday, September 2)
Your trip begins with a regularly scheduled direct flight from Cologna to Edinburgh with an internationally recognized airline.
Flight times: Cologne – Edinburgh 15:00 – 15:50

Welcome to Scotland! Meet your local guide at the airport and transfer to Edinburgh by private bus to settle in to your hotel.

Day 2 (Saturday, September 3)
After an included breakfast, get to know Edinburgh in all its medieval beauty on a tour led by a local expert.
View the elegant Georgian New Town and the Royal Mile, two UNESCO World Heritage sites

Pass the King George statue, Bute House, and Sir Walter Scott monument

See the Edinburgh Castle, home of the Scottish crown jewels and Stone of Scone
Spend a free afternoon in Edinburgh or add an excursion.
Guided Optional Excursion –  Guided Whiskey Tour €30 pp
Designed to provide a comprehensive introduction to the world of whisky, this guided tour of the Scotch Whisky Experience in Edinburgh is the ideal choice for anyone wanting to learn more about Scotland's national drink. Take a whisky barrel ride through a replica distillery, view the world's largest collection of Scotch whisky, enjoy a guided tasting session, and take home a souvenir of a crystal whisky glass. This tour is also a fun and suitable expereince for travelers aged under 18.
Day 3 (Sunday, September 4)
Today we will leave Edinburgh behind for one day and journey deep into the Highlands of Scotland with an expert guide leading the way. We'll hear the legendary stories of the Jacobites, gaze into gorgeous Glencoe, and get a chance to spot the mythical Loch Ness Monster. Places we'll explore:
Rannoch Moor: Admire unforgettable views at this epic expanse of untouched wilderness.

Glencoe: Be moved by the sheer beauty and tragic tales of one of Scotland's most famous landscapes.

Great Glen: A humongous fault line through the Scottish Highlands; it's a location that's as historically important as it is beautiful.

Fort Augustus: This wee town of 650 inhabitants is a great spot to watch boats traversing the Caledonian Canal.

Loch Ness – Take a chance to go on an optional boat cruise or wander around this alluring and eerie loch.

Grampian Mountains – Enjoy classic views of one of Scotland's most mesmerising mountain ranges.

Highland Perthshire – Travel through pine-clad slopes and take in views of fast-flowing rivers.

 Overnight in Edinburgh.

Day 4 (Monday, September 5)
This morning continue to discover Edinburgh at your own pace before checking out from hotel and transfer to the airport for your return flight home.
Flight times: Edinburgh – Cologne 12:40 – 15:30
IMPORTANT NOTE REGARDING PASSPORTS: A valid tourist passport is required for this trip. Please make sure that you are traveling with the appropriate passport.
BOOK IN ADVANCE AND SAVE
Early Bird: Book this trip by April 1 for only €559 and save €140!
Regular price after April 1 is €699 per adult
Price per infant under 2 years old is €199.

Covid-19 On-Trip Requirements & Safety Measures: Explore Europe requires our guests to be fully vaccinated, recovered or receive a negative PCR or antigen test within 48 hours of trip start*. Your Trip Leaders will check for proof on the first day of your trip.
*We would keep you informed of any changes that would apply to your trip, as we follow the COVID-19 requirements from each country/region.
Here you can see what our travelers say about us!


See more reviews on our Facebook page: https://www.facebook.com/exploreeuropetravel/reviews
How's the weather?
Edinburgh, Scotland
Passport and Visa Requirements
A tourist passport is required for all trips outside of Germany.
Important passport rules are as follows:
If you have a passport with a SOFA stamp on any page (a "No-Fee" passport), you are provided permission to reside in Germany, NOT to travel outside of Germany. You have to have a tourist passport in addition to the SOFA/"No-Fee" passport to travel outside of Germany. You cannot travel with a RED Official passport as that is used only for the purpose of a mission or deployment. If you have a passport with a detachable SOFA card clipped inside, it is acceptable to travel with as that was issued originally as a tourist passport. If you are not sure: a tourist passport will be BLUE and will be valid for 10 years for adults. It cannot contain a SOFA stamp on any page or it is not acceptable. A child's tourist passport (under 15 years of age) is valid for 5 years, but will not have a SOFA stamp in it anywhere. All of this information has been verified to be correct with the Grafenwoehr Passport Office.
Baggage Allowance
· One carry-on bag: max weight up to 10kg (22lb). Max size 55cm H (21.5″) x 40cm W (15.5″) x 24cm D (9.5")
· One personal item such as a purse or laptop bag: max size 25cm H (10") x 33cm W (13") x 20cm D(8")
Clothing & Packing
We recommend packing lightweight, loose-fitting clothing that can be easily layered. For sightseeing, we suggest bringing a sturdy pair of walking shoes or sneakers, as well as a lightweight jacket or rainwear. If you're planning a visit to a high-end restaurant or performance, you may also want to bring dressier attire. Also, please be respectful and avoid showing bare legs or shoulders when visiting churches or other religious sites (entrance may be denied on this basis).
Health
There are no major health risks associated with traveling to Scotland. However, it's always advisable to check with your doctor or healthcare provider for the latest updates.
Cuisine
Scottish cuisine relies on readily available ingredients like game, dairy, and fish, with little use of exotic spices. Pickled kippers and smoked salmon are popular as well as hearty dishes like Scotch broth (stew of meat and root vegetables) and haggis (a savory pudding of sheep innards). Scotch whisky is a legendary local spirit, and Scottish ales are world-famous.
Transportation
Round-trip flights arrive in and depart from Edinburgh. Included transportation is by private bus  in Scotland. Most of the destinations are easily walkable, but you may want to spend your free time exploring Dublin by a combination of walking and public transportation. The city is serviced by numerous buses, and if you wish to take excursions on your own outside of Dublin, use the very efficient Dublin Area Rapid Transport (DART) trains, which hit most locations on the coast.
Electricity
The United Kingdom operates within 230-240 volts and uses a Type G plug with three large, flat pins. We recommend packing a universal adapter, as well as a voltage converter if you plan on using your own hairdryer or other electrical device without a built-in converter. The strength of the air conditioning in European hotels is often not as strong or as cool as what you might be used to in the U.S. When air conditioning is available, it is usually regulated seasonally and controlled centrally by the hotel. Hotels may provide hairdryers, irons, and other small appliances, but these amenities cannot be guaranteed.
Time Zones
The United Kingdom is on Greenwich Mean Time (GMT).
Currency
You will use the Pound sterling on tour.
Better rates of exchange are usually available in Scotland, although it's worth ordering some currency from your local bank to use when you first arrive.
We strongly advise that you take debit/bank cards and credit cards, which can be used to withdraw cash at local banks as needed.
You can use most debit/credit cards at ATMs on the international networks Cirrus and Plus, but make sure to check with your home bank about withdrawal fees.
Inform your bank and credit card company of your travel plans so that they won't confuse your international purchases for fraudulent charges.
International banks and businesses primarily accept debit and credit cards that work with the EMV chip system. If you do not already have at least one debit or credit card with a chip in it, we strongly recommend requesting one from your bank prior to your tour.
Travel Insurance
We recommend you get travel insurance to reimburse you for unforeseen trip cancellation. Please follow this link to get a quote through Travel Insured.
Here you can see what our travelers say about this trip!
Have you been on a trip with us? We appreciate each of you and would love to have your comments and experiences posted for the consideration of future and prospective travelers.
We recommend you get travel insurance to reimburse you for unforeseen trip cancellation. Please follow this link to get a quote through Travel Insured.