Departure Nuremberg Airport: Best of Sicily by air (Labor Day Weekend)
In the midst of the Mediterranean, discover an Italian island with personality all its own—full of flavor and teeming with one-of-a-kind food, art and architecture. From multicultural Palermo to breathtaking Agrigento, each stop on this tour of Sicily reveals unexpected treasures. Limited seats available, so book early to avoid missing out!
Let us handle the details
Round-trip flights

Private Transportation

Experienced Trip Leader

Daily Breakfast

Handpicked Hotel

Local Tour Guide

Entrance Fee
Your trip includes
• Round-trip airfare & airport transportation in Sicily
• 4 overnights in a 4-star hotel in downtown Palermo, Sicily
• 4 breakfast buffet
• Guided sightseeing tour of Palermo with local tour guide
• Agrigento day tour in a private bus with local tour guide
• Agrigento entrance fee
• Experienced local tour guide
• Explore Europe Trip Leader
• Hotel city taxes
Your trip highlights
• The capital of Sicily, Palermo with island's best art and busiest markets
• Italy's biggest opera house and the fascinating Cathedral
• The hilltop town of Monreale with breathtaking views over the city
• Mondello, with its beautiful beach
• Eating in Sicily is truly a Mediterranean experience
• Agrigento's fascinating Greek ruins
• UNESCO-listed sites of Valley of the Temples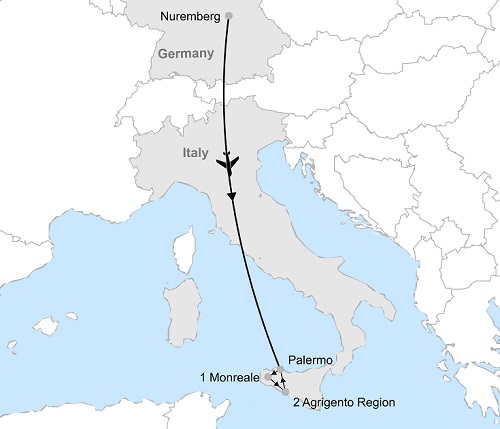 Day 1: Travel day (Thursday, September 1)
Your trip begins with a regularly scheduled direct flight from Nuremberg to Palermo in Sicily with an internationally recognized airline.
Flight times: Nuremberg – Palermo 12:25 – 14:30
Welcome to Sicily! Transfer to your hotel by private bus and get settled in. The evening is free to explore on your own.

Day 2: Sightseeing tour of Palermo & Monreale (Friday, September 2)
After an included breakfast buffet, take a comprehensive included tour of Sicily's capital city Palermo and the hilltop town of Monreale with a local expert leading the way. Visit the architecturally diverse Palermo Cathedral, see the stunning artwork of the Cappella Palatina and much more. Then, continue on to nearby Monreale where you'll see one of the town's magnificent cathedrals and enjoy breathtaking views over the city. After some free time to walk around and sample Gelato or Sicilian pastries, transfer back to Palermo.

Day 3: Free day in Palermo (Saturday, September 3)
After an included breakfast buffet, enjoy a free day in Palermo or add optional activities:
Guided Optional Excursion – Palermo Street Food morning tour (39€ per adult, 19€ per child 3-11)
Indulge all your senses on a walking tour of Palermo's rich street food traditions. A local guide will walk you through the historic part of the city and its vibrant outdoor markets. Sample some unique street foods, such as 'panelle', 'crocchè', 'sfincione', 'arancina' and more. Please note: only 20 spots are available on a first come first served for this excursion. Book this tour by sending an email to info@explore-europe.de
Guided Optional Excursion – Cefalù afternoon tour – 49€ per adult, 25€ per child 3-11 years
Travel to Cefalù, a seaside jewel on the northern coast of Sicily. Stroll around the charming town before enjoying free time to visit its cathedral. Built for Roger II in 1311, the cathedral features stunning examples of Arab-Norman architecture. Book this tour by sending an email to info@explore-europe.de
Day 4: Full day tour Agrigento Valley of Temples  (Sunday, September 4)
After an included breakfast buffet, today we will leave Palermo behind for one day and experience the extreme beauty and culture of Southern Sicily! We will travel south through the Sicilian countryside to Agrigento for a guided walking tour of the city's fascinating Greek Valley of Temples a UNESCO World Heritage Site dating back to 6th-century BC. Admire archeological wonders including the Temple of Hercules and the Temple of Zeus. Then, we will enjoy some free time for lunch wandering Agrigento's cobbled streets with beautiful shops, restaurants and cafes.

Day 5: (Monday, September 5)
Today continue to discover Palermo at your own pace before checking out from hotel and transfer to the airport for your return flight home.
Flight times: Palermo – Nuremberg 15:05 – 17:10
BOOK IN ADVANCE AND SAVE
Early Bird: Book this trip by July 1 for only €599 and save €60!
Regular price after July 1 is €659 per adult
Covid-19 On-Trip Requirements & Safety Measures: Explore Europe requires our guests to be fully vaccinated, recovered or receive a negative PCR or antigen test within 48 hours of trip start*. Your Trip Leaders will check for proof on the first day of your trip.
*We will keep you informed of any changes that would apply to your trip, as we follow the COVID-19 requirements from each country/region.
Here you can see what our travelers say about us!

See more reviews on our Facebook page: https://www.facebook.com/exploreeuropetravel/reviews
IMPORTANT NOTE REGARDING PASSPORTS: A valid tourist passport is required for this trip. Please make sure that you are traveling with the appropriate passport.
How's the weather?
Sicily, Italy
Passport and Visa Requirements
A tourist passport is required for all trips outside of Germany.
Important passport rules are as follows:
If you have a passport with a SOFA stamp on any page (a "No-Fee" passport), you are provided permission to reside in Germany, NOT to travel outside of Germany. You have to have a tourist passport in addition to the SOFA/"No-Fee" passport to travel outside of Germany. You cannot travel with a RED Official passport as that is used only for the purpose of a mission or deployment. If you have a passport with a detachable SOFA card clipped inside, it is acceptable to travel with as that was issued originally as a tourist passport. If you are not sure: a tourist passport will be BLUE and will be valid for 10 years for adults. It cannot contain a SOFA stamp on any page or it is not acceptable. A child's tourist passport (under 15 years of age) is valid for 5 years, but will not have a SOFA stamp in it anywhere. All of this information has been verified to be correct with the Grafenwoehr Passport Office.
Baggage Allowance
· One check-in bag (liquids allowed): max weight up to 10kg (22.00 lb). Max size 55cm H (21.5″) x 40cm W (15.5″) x 23cm D (9.05")
· One personal bag such as a purse, laptop bag or small backpack: max size 40cm H (15") x 25cm W (11") x 20cm D (5.9")
Clothing & Packing
We recommend packing lightweight, loose-fitting clothing that can be easily layered. For sightseeing, we suggest bringing a sturdy pair of walking shoes or sneakers, as well as a lightweight jacket or rainwear. If you're planning a visit to a high-end restaurant or performance, you may also want to bring dressier attire. Also, please be respectful and avoid showing bare legs or shoulders when visiting churches or other religious sites (entrance may be denied on this basis).
Health
There are no major health risks associated with traveling to Italy. However, it's always advisable to check with your doctor or healthcare provider for the latest updates.
Cuisine
The cuisine of Southern Italy is often what diners think of when imagining Italian flavors—pasta with tomato sauces, olives and olive oil, zucchini, veal, and fish are all featured prominently on menus throughout the region. Sicilian cuisine in particular is heavily influenced by Spanish, Greek, and Arab traditions. The Spanish brought New World influences to the region in the form of tomatoes, chocolate, and maize, while the Arab influence can be tasted in recipes that include rice, spinach, saffron, and citrus fruits. Regional specialties include arancini, cannoli, and granita.
For more authentic meals, try local trattorias, small restaurants set away from the main piazzas. A typical Italian meal includes wines and the occasional beer, followed by a few sips of after-dinner drinks like grappa or limoncello.
Transportation
Round-trip flights arrive in and depart from Palermo. Included transportation is by private bus in Sicily. Most of the destinations are easily walk-able.
Electricity
Italy operates on the European standard 220-240 volts and use Types C, F, or L plugs with two or three small, round pins. We recommend packing a universal adapter, as well as a voltage converter.
Currency
The euro is the currency you'll be using on your tour. You can use most debit/credit cards at ATMs on the international networks Cirrus and Plus, but make sure to check with your home bank about withdrawal fees. We suggest that you inform your bank and credit card company of your travel plans, so that they won't confuse your international purchases for fraudulent charges.
Travel Insurance
We recommend you get travel insurance to reimburse you for unforeseen trip cancellation. Please follow this link to get a quote through Travel Insured.
Here you can see what our travelers say about this trip!
Have you been on a trip with us? We appreciate each of you and would love to have your comments and experiences posted for the consideration of future and prospective travelers.
We recommend you get travel insurance to reimburse you for unforeseen trip cancellation. Please follow this link to get a quote through Travel Insured.