Best of Southern Spain by air
Ornate architectural wonders, whitewashed Andalusian hill towns and warm Mediterranean sun are yours to explore. From Flamenco in Seville to the magnificent pink-hued Alhambra Palace in Granada and the famous cliffside town Ronda, experience a tour of Southern Spain like no other. Group size: 29 passengers only so book early to avoid missing out!
Let us handle the details
Personalized flight options

Private Transportation

Experienced Trip Leader

Daily Breakfast

Handpicked Hotel

Local Tour Guide
Trip Includes
Round-trip flights & airport transportations in Germany and Spain
Own parking lot in Graf for your exclusive use
3 overnights in a 4-star hotel
Breakfast
Guided sightseeing tour of Seville, Spain
Gibraltar & Ronda day tour
Experienced local tour guide
Explore Europe Trip Leader
Hotel taxes
Guaranteed departure
Your trip highlights
Baroque churches and winding medieval lanes in Seville
Explore the Roman and Moorish influences
Stroll through ornamented courtyards
Spanish sunshine and taste la buena vida
See a slice of Britishness at the tip of Spain
Fish-and-chip shops in Gibraltar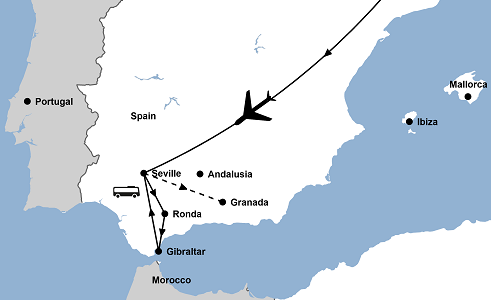 Day 1: Seville (Friday, 18 January 2019)
Your trip begins with a transportation from Grafenwoehr to Memmingen airport and a regularly scheduled direct flight to Seville in Southern Spain.
Flight times:
Departure from MEMMINGEN AIRPORT 10:10 AM
Arrival in SEVILLE AIRPORT 12:55 PM
Welcome to Spain! Transfer to Seville by private bus to settle in to your hotel. In the afternoon, uncover the beauty of Seville on a guided sightseeing tour. View the symbolic Bell Tower of the Giralda, see the Moorish-inspired Maria Luisa Park with its tiled fountains, pavilions and ponds, and walk through the imposing Plaza de España. Marvel at Seville Cathedral, the third-largest church in the world where Christopher Columbus is buried. Then take a walk through the former Jewish Quarter. Later, enjoy a free evening or add an excursion.
Guided Optional Excursion – Traditional Seville Flamenco Show 49€
Tonight, get a taste of old Seville during a live flamenco show. Flamenco is a unique and colorful Andalusian art form that combines guitar playing, singing, clapping, and dancing, and this excursion is sure to be one of the highlights of your Spanish journey. Sip an included drink as you watch the authentic performance, which allows expressive lyrics, moving instrumentals, and passionate dancing.
Day 2: Free day in Seville (Saturday, 19 January 2019)
Enjoy a full free day in Seville or add an excursion.
Guided Optional Excursion – Full day tour to Granada 79€
Today, admire the rugged Andalucian countryside as you journey to Granada. On arrival, enjoy a guided walking tour of the Alhambra, the Moorish sultans' last stronghold in Spain, a UNESCO-listed gem. Next, drive to the center of Granada to enjoy lunch (not included) and some free time. In the afternoon, see Albaicin, the city's whitewashed Moorish quarter, with its narrow streets, flower-filled squares and spectacular Alhambra views.
Day 3: Gibraltar via Ronda (Sunday, 20 January 2019)
After breakfast, make your way to Gibraltar, a pocket of British culture in the Mediterranean. On your way, stop for a guided tour of Ronda, a famous cliffside town in Andalusia. View the staggering Puente Nuevo, an 18th-century bridge that spans a deep gorge and admire the town's picturesque white buildings. After, arrive in Gibraltar. This overseas territory of Great Britain is most famously home to the iconic Rock of Gibraltar. Today, you'll get a close-up look during a visit to the Gibraltar Nature Reserve, established in 1993 to protect native wildlife. Then, take in sweeping views of the ocean (and Africa on a clear day) as you journey to sites such as St. Michael's Cave, Spur Battery, and Europa Point Lighthouse. End with a pint at a local pub (not included) and some free time in town before transferring back to Seville. Please note: As Gibraltar is a territory of the UK, you must show your passport to enter. Make sure you have yours with you before this excursion departs.
Day 4: Return day (Monday, 21 January 2019)
After breakfast, transfer to the airport to board your flight home.
Flight times:
Departure from SEVILLE AIRPORT 07:00 AM
Arrival in MEMMINGEN AIRPORT 09:45 AM
On arrival in Germany, transfer back to Grafenwoehr by bus. Estimated time of return: 3:00 PM
***Price per infant under 2 years old: 179€. Please contact us at info@explore-europe.de for more information.***
How's the weather?
Meeting point for the start of the trip
Your trip starts and finishes in Grafenwoehr, Germany.
Address: Dießfurter Str, 92655 Grafenwoehr (parking lot)
Instructions: if you are exiting McDonald's parking lot in Grafenwoehr you will turn right on to B299 as if you are going towards Netzaberg. You will then take your very first right (as if you are going towards MegaPlay) and as soon as you cross the small bridge there is a driveway on the right side which you can enter into a parking lot. You should see several cars and the bus there. The parking lot is free for our passengers.
Passport and Visa Requirements
A tourist passport is required for all trips outside of Germany.
Important passport rules are as follows:
If you have a passport with a SOFA stamp on any page (a "No-Fee" passport), you are provided permission to reside in Germany, NOT to travel outside of Germany. You have to have a tourist passport in addition to the SOFA/"No-Fee" passport to travel outside of Germany. You cannot travel with a RED Official passport as that is used only for the purpose of a mission or deployment. If you have a passport with a detachable SOFA card clipped inside, it is acceptable to travel with as that was issued originally as a tourist passport. If you are not sure: a tourist passport will be BLUE and will be valid for 10 years for adults. It cannot contain a SOFA stamp on any page or it is not acceptable. A child's tourist passport (under 15 years of age) is valid for 5 years, but will not have a SOFA stamp in it anywhere. All of this information has been verified to be correct with the Grafenwoehr Passport Office.
There is no visa required for U.S. citizens. If you are not a U.S., you must contact your destination country's consulate for your specific entry requirements.
Baggage Allowance
2 Cabin Bags:
· One large bag: max weight up to 10kg (22lb). Max size 55cm H (21.5″) x 40cm W (15.5″) x 20cm D (9.5")
· One small bag: max size 35cm H (14") x 20cm W (8") x 20cm D(8")
Clothing and Packing Tips
Light, loose-fitting clothing that provides comfort when exploring the sights is essential for your tour. If you plan to visit an especially elegant restaurant or attend the opera or theater, you will probably feel more comfortable in something more formal. Also, remember that it is preferable not to visit churches or other religious sites with bare legs and shoulders (entrance may be denied on this basis).
Health
There are no major health risks when traveling to Spain. It is always advisable to check with your doctor or health-care provider for the latest updates.
Cuisine
In Spain, breakfast like a local with just a pastry and coffee. Then, tuck into a three-course lunch featuring a Spanish staple like savory seafood paella or grilled meat and fried potatoes. Dinner is less hearty than lunch and is served late, between 9pm and midnight. Snack on small plates called tapas any time of day. Cuisine in Spain's southern Andalusia region is heavily influenced by surrounding countries, and has many Arabic elements. Kebabs are popular, and desserts are often prepared with almonds, honey and cinnamon. Be sure to try Serrano ham, which is considered a regional delicacy, as well as the famous chilled soup known as gazpacho.
Electricity
Spain operates on the European standard 220-240 volts and uses Types C, E, or F plugs with two small, round pins. We recommend packing a universal adapter, as well as a voltage converter if you plan on using your own hairdryer or other device without a built-in converter.
Currency
The Euro is the currency you will be using in Spain and the Gibraltar pound is the currency of Gibraltar. We advise that you take a combination of bank/ATM cards, credit cards and traveler's checks, which can be exchanged for cash at local banks, as needed. We suggest informing your bank and credit card company of your travel plans, so they don't confuse your international purchases for fraudulent charges.
Travel Insurance
We recommend you get travel insurance to reimburse you for unforeseen trip cancellation. Please follow this link to get a quote through our partner SevenCorners.
Here you can see what our travelers say about this trip!
Have you been on a trip with us? We appreciate each of you and would love to have your comments and experiences posted for the consideration of future and prospective travelers.
We recommend you get travel insurance to reimburse you for unforeseen trip cancellation. Please follow this link to get a quote through our partner SevenCorners.
Comments
Comments