Departure Frankfurt Main Airport: St. Patrick's Day in Ireland
Can you think of a better time to visit Ireland than during St. Patrick's Day weekend? Nope, neither can we! Drop in on the Emerald Isle during one of the most festive times of year, exploring its most vibrant cities and namesake emerald countryside. Raise a pint, don some green and join the locals for the city's legendary St. Patrick's Day parade!
Let us handle the details
Personalized flight options

Private Transportation

Experienced Trip Leader

Daily Breakfast

Handpicked Hotels

Local Tour Guide

Entrance Fee
Your trip includes
• Round-trip airfare & airport transportations in Ireland
• 3 overnights in a hotel
• Full Irish breakfast daily
• Guided sightseeing tour of Dublin
• Cliffs of Moher Day Trip in a private deluxe motor coach
• Entrance fee Cliffs of Moher
• Experienced local tour guide
• Explore Europe Trip Leader
• Hotel taxes
• Guaranteed departure
Your trip highlights
The traditions and performers at the St. Patrick's Day Parade
Seeing 40 shades of green in Ireland
The incredible Cliffs of Moher
Local pubs, fresh pints and traditional music
Irish pubs are cultural experiences unto themselves
The locals are beyond friendly (and chatty)
Dublin's literary history and welcoming vibe
You'll see how the Emerald Isle earned its nickname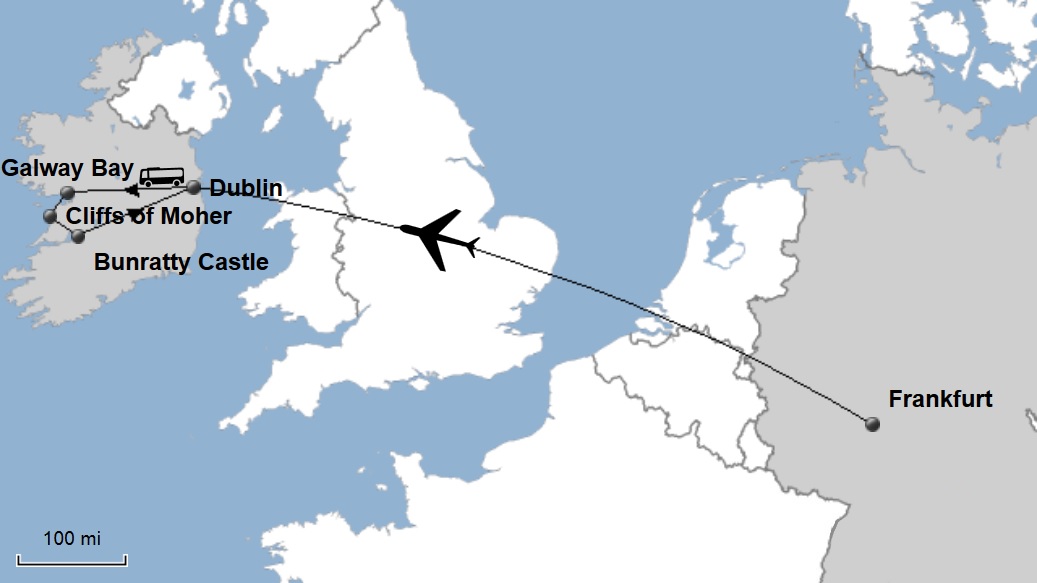 Day 1 (Friday, March 15, 2019)
Your trip begins with a regularly scheduled direct flight from Frankfurt (FRA) to Dublin (DUB) with an internationally recognized airline.
Flight times:
FRANKFURT MAIN AIRPORT – DUBLIN 10:50 AM – 12:05 PM (noon)
Welcome to the Emerald Isle! After checking into your hotel, this afternoon, your stay in Dublin will begin with a guided sightseeing tour of the city, covering the most important sights and attractions.
Day 2 (Saturday, March 16, 2019)
Today we will leave Dublin behind for one day and experience the extreme beauty and culture of Ireland! Our Cliffs of Moher tour from Dublin will give you a great balance of the majestic 700ft Cliffs and the wild limestone Burren National Park on Galway Bay. En-route we'll take in Dunguire Castle, Corcomroe Abbey, Bunratty Castle, Kinvara, Celtic ruins and have lunch (own expense) in a traditional Doolin village Pub! Overnight in Dublin.
Day 3 (Sunday, March 17, 2019)
Today is yours to explore on this festive occasion. Join locals to watch the annual St. Patrick's Day parade, or take advantage of the many musical, art, and sporting events held throughout the day.
Or add optional excursion:
Day 4 (Monday, March 18, 2019)
This morning continue to discover Dublin at your own pace before checking out from hotel at noon and transfer to the airport (at 14:00) for your return flight home.
Flight times:
DUBLIN – FRANKFURT MAIN 4:00 PM – 7:10 PM
BOOK IN ADVANCE AND SAVE
Early Bird: Book this trip by November 15 for only €599 and save €60!
Regular price after November 15 is €659 per adult
Prices are per person, based on two adults sharing. Single room €120 extra.

IMPORTANT NOTE REGARDING PASSPORTS: A valid tourist passport is required for this trip. Please make sure that you are traveling with the appropriate passport.
Here you can see what our travelers say about us!

See more reviews on our Facebook page: https://www.facebook.com/exploreeuropetravel/reviews
Dublin, Ireland
Passport and Visa Requirements
A tourist passport is required for all trips outside of Germany.
Important passport rules are as follows:
If you have a passport with a SOFA stamp on any page (a "No-Fee" passport), you are provided permission to reside in Germany, NOT to travel outside of Germany. You have to have a tourist passport in addition to the SOFA/"No-Fee" passport to travel outside of Germany. You cannot travel with a RED Official passport as that is used only for the purpose of a mission or deployment. If you have a passport with a detachable SOFA card clipped inside, it is acceptable to travel with as that was issued originally as a tourist passport. If you are not sure: a tourist passport will be BLUE and will be valid for 10 years for adults. It cannot contain a SOFA stamp on any page or it is not acceptable. A child's tourist passport (under 15 years of age) is valid for 5 years, but will not have a SOFA stamp in it anywhere. All of this information has been verified to be correct with the Grafenwoehr Passport Office.
Baggage Allowance
· One carry-on bag: max weight up to 10kg (22lb). Max size 55cm H (21.5″) x 40cm W (15.5″) x 24cm D (9.5")
· One personal item such as a purse or laptop bag: max size 25cm H (10") x 33cm W (13") x 20cm D(8")
Clothing & Packing
We recommend packing lightweight, loose-fitting clothing that can be easily layered. For sightseeing, we suggest bringing a sturdy pair of walking shoes or sneakers, as well as a lightweight jacket or rainwear. If you're planning a visit to a high-end restaurant or performance, you may also want to bring dressier attire. Also, please be respectful and avoid showing bare legs or shoulders when visiting churches or other religious sites (entrance may be denied on this basis).
Health
There are no major health risks associated with traveling to Ireland. However, it's always advisable to check with your doctor or healthcare provider for the latest updates.
Cuisine
Traditional Irish cooking is simple, relying heavily on meat-based dishes. Traditional Irish stew and bacon and boiled cabbage are always popular choices. Soda bread is delicious and very filling, as are Irish cakes, such as scones and Barm Brack. The thick black stout known as Guinness is a national institution. In recent years, Dublin has seen something of a culinary revolution, and the city now boasts an impressive array of new restaurants offering exciting and sometimes unexpected cuisine.
Transportation
Round-trip flights arrive in and depart from Dublin. Included transportation is by private motor coach in Ireland. Most of the destinations are easily walkable, but you may want to spend your free time exploring Dublin by a combination of walking and public transportation. The city is serviced by numerous buses, and if you wish to take excursions on your own outside of Dublin, use the very efficient Dublin Area Rapid Transport (DART) trains, which hit most locations on the coast.
Electricity
Ireland operates on the European standard 220 volts.
Time Zones
Ireland falls on Greenwich Mean Time (GMT).
Currency
The euro is the currency you'll be using on your tour. Better rates of exchange are usually available overseas, although it's worth ordering some currency from your local bank to use when you first arrive. We strongly advise that you take debit/bank cards and credit cards, which can be used to withdraw cash at local banks as needed. You can use most debit/credit cards at ATMs on the international networks Cirrus and Plus, but make sure to check with your home bank about withdrawal fees. We suggest that you inform your bank and credit card company of your travel plans, so that they won't confuse your international purchases for fraudulent charges.
Tipping
At the conclusion of your trip, it's customary to offer your Trip Leader a gratuity. We recommend tipping €1-2 per person per day for your Trip Leader. Tips can only be paid in cash.
Travel Insurance
We recommend you get travel insurance to reimburse you for unforeseen trip cancellation. Please follow this link to get a quote through our partner SevenCorners.
Here you can see what our travelers say about this trip!
Have you been on a trip with us? We appreciate each of you and would love to have your comments and experiences posted for the consideration of future and prospective travelers.
We recommend you get travel insurance to reimburse you for unforeseen trip cancellation. Please follow this link to get a quote through our partner SevenCorners.