Celebrate Thanksgiving in one of the world's most historic and beautiful countries, Italy! Three legendary cities, one incredible trip. Try as you may, it's impossible to choose a favorite among Pisa, Rome and Florence. Each city is unique by its own right, with distinctive flavors, sights and sounds. Explore legendary landmarks and ancient ruins. Mingle with the locals who go about their lives in the shadow of ancient ruins. Walk in the footsteps of the ancients in Rome. And eat like a king (or queen) no matter where you are.
Let us handle the details
Experienced Trip Leader

Breakfast Buffet

Handpicked Hotel

Local Tour Guide

Private Transportation
Your trip includes
• Round-trip bus transportation
• 2 nights of 4* hotel accommodation in Rome, Italy
• Breakfast buffet
• Guided tour in Rome
• Guided tour in Florence
• Drop-off and pick-up in the main part of Pisa for free time
• Services of Trip Leader
• Hotel city tax and service charges
Your trip highlights
• You'll see the Leaning Tower in Pisa, one of the most famous monuments in the world
• Florence is home to not just art, but masterpieces as f.ex. the Michelangelo's famous statue of David
• You'll follow Caesar's footsteps in Rome
• Wine, pasta, pizza — dining is an art form here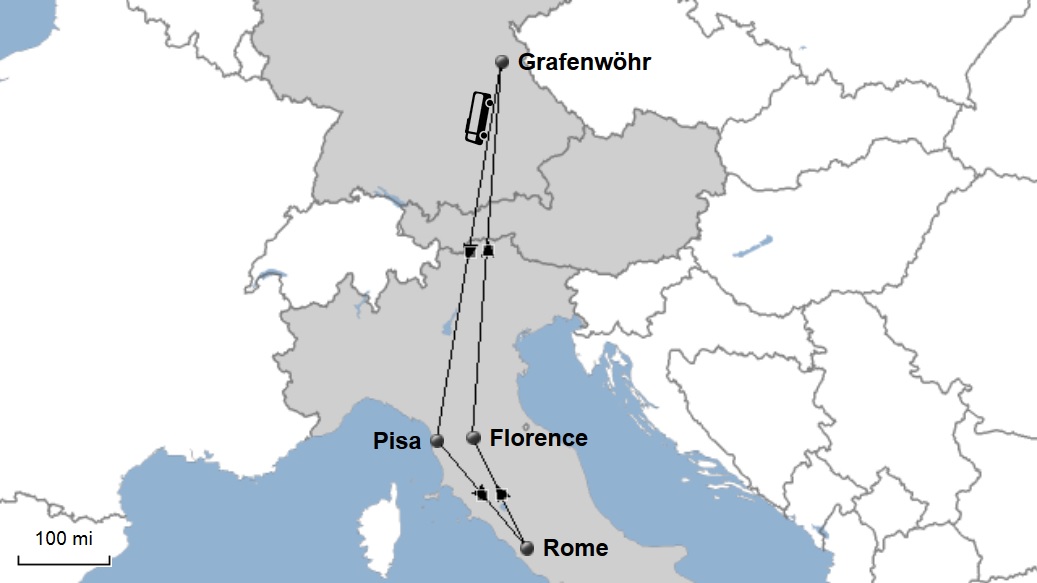 Day 1 ( Wed. Nov 21, 2018)
Depart at 8:00 pm from Grafenwoehr and travel along the highway by bus to Pisa in Italy.
Day 2 (Thu. Nov 22, 2018)
In the morning arrive in Pisa. On your arrival, view the famous Piazza dei Miracoli, the Dome, the Baptistery and the famous Leaning Tower in around 2 hours. Continue the bus journey to Rome. Check into our partner hotel in the early afternoon, before spending the afternoon & evening at your leisure.
Day 3 (Fri. Nov 23, 2018)
After an included breakfast, a local guide introduces you on a 4-hour panoramic city tour by bus to the highlights of the Eternal City, uncovering landmarks that were once at the epicenter of an empire. The afternoon and evening will remain for you to spend as you wish.
Day 4 (Sat. Nov 24, 2018)
Breakfast at the hotel before setting off for Florence – the historic capital of romantic Tuscany. On your arrival, enjoy a guided tour with a local guide:
• See the legendary Florence Cathedral, known as the Duomo
• Pass Giotto's Campanile, a masterpiece of Gothic architecture
• See the medieval Ponte Vecchio and Piazza della Signoria, center of Florentine life
• See the Basilica of Santa Croce, burial site of Michelangelo, Machiavelli, and Galileo
Later, enjoy a free afternoon and evening in Florence. Continue on to Grafenwoehr in the late evening.
Day 5 (Sun. Nov 25, 2018)
Arrive in Grafenwoehr around 9:00 am.
IMPORTANT NOTE REGARDING PASSPORTS: A valid tourist passport is required for this trip. Please make sure that you are traveling with the appropriate passport.
Sources for the used pictures:
Miki Beery Photography
Shutterstock / Copyright: Elnur
Shutterstock / Copyright: S. Borisov
How´s the weather?
Meeting point for the start of the trip
Your trip starts and finishes in Grafenwoehr, Germany.
Address: Dießfurter Str, 92655 Grafenwoehr (parking lot)
Instructions: if you are exiting McDonald's parking lot in Grafenwoehr you will turn right on to B299 as if you are going towards Netzaberg. You will then take your very first right (as if you are going towards MegaPlay) and as soon as you cross the small bridge there is a driveway on the right side which you can enter into a parking lot. You should see several cars and the bus there. The parking lot is available during the duration of the trip for our passengers.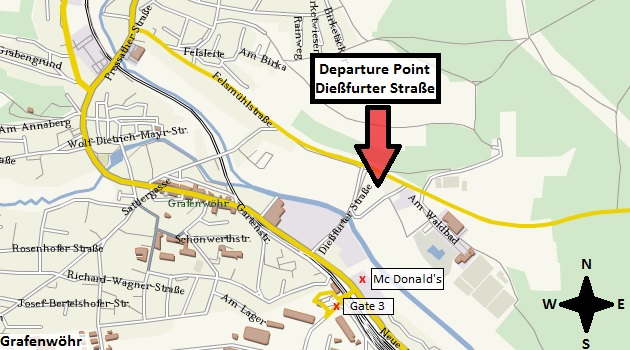 Passport and Visa Requirements
Explore Europe enforces the requirement to possess a tourist passport for all trips outside of Germany. Should you come to the departure point and present the incorrect passport, you will be turned away with no refund, per our cancellation policy.
Important passport rules are as follows:
If you have a passport with a SOFA stamp on any page (a "No-Fee" passport), you are provided permission to reside in Germany, NOT to travel outside of Germany. You have to have a tourist passport in addition to the SOFA/"No-Fee" passport to travel outside of Germany. You cannot travel with a RED Official passport as that is used only for the purpose of a mission or deployment. If you have a passport with a detachable SOFA card clipped inside, it is acceptable to travel with as that was issued originally as a tourist passport. If you are not sure: a tourist passport will be BLUE and will be valid for 10 years for adults. It cannot contain a SOFA stamp on any page or it is not acceptable. A child's tourist passport (under 15 years of age) is valid for 5 years, but will not have a SOFA stamp in it anywhere. All of this information has been verified to be correct with the Grafenwoehr Passport Office.
Baggage Allowance
Each adult is entitled to one luggage and one personal item. Luggage should be able to be stored below the bus and the personal item should contain whatever you might need on the bus. Pillows and blankets do not count for the personal item. If you have additional items such as strollers, carseats, etc. please send us a message to make those arrangements.
Clothing & Packing Tips
To ensure you're comfortable while out exploring, we recommend packing lightweight, loose-fitting clothing that can be easily layered. For sightseeing, we suggest bringing a sturdy pair of walking shoes or sneakers, as well as a lightweight sports jacket or rainwear. If you're planning a visit to a high-end restaurant or performance, you may also want to bring dressier attire. Also, please remember that it's preferable to avoid showing bare legs or shoulders during visits to churches or other religious sites (entrance may be denied on this basis).
Health
There are no major health risks associated with traveling to Italy. Be sure to check with your doctor or healthcare provider for the latest updates and travel requirements.
Cuisine
In Italy, the cuisine is often slightly varied by region, and many cities and towns have their own specialties. Tuscany is known for its wine, oil and sauces, Rome and southern Italy for its pizzas. For more authentic meals, try local trattorias, small, family-owned restaurants that tend to be set away from the main piazzas and squares. Italians tend to indulge in long meals featuring wines and the occasional beer, followed by the requisite after-dinner drinks grappa or limoncello. American or English-style bars and pubs are not as common, although they can be found in the major cities and are currently gaining in popularity, especially in Rome.
Transportation
Included transportation is by private motor coach. In your free time, you may wish to explore the three cities on foot or by public transportation. Pisa and Florence are walkable, although frequent local buses are also available. Purchase tickets at tobacconists or at vending machines. Rome offers both underground transportation and bus service to the city's major attractions. Subway and bus tickets may be purchased separately or in bulk. This tour does involve a moderate amount of walking.
Museums in Florence
If you are interested in visiting any of Florence's many museums during your free time, we recommend that you make reservations in advance. Additional information is available on the Polo Museale website.
Electricity
Italy operates on the European standard of 220 volts.
Currency
The euro is the currency you'll use on tour. Better rates of exchange are usually available in your destination countries, although it's worth ordering some currency from your local bank to use when you first arrive. We advise that you take a combination of bank/ATM cards and credit cards, as needed. We suggest that you inform your bank and credit card company of your travel plans, so that they won't confuse your international purchases for fraudulent charges.
Here you can see what our travelers say about this trip!
Have you been on a trip with us? We appreciate each of you and would love to have your comments and experiences posted for the consideration of future and prospective travelers.
We recommend you get travel insurance to reimburse you for unforeseen trip cancellation. Please follow this link to get a quote through our partner SevenCorners.
Comments
Comments