Krizia´s Travels: Dresden Christmas Markets

by Krizia NAU on December
If you are already in love with Christmas or are looking for something to spark some holiday cheer back in your life, Dresden is the place to go! I have been traveling with Explore Europe Travel, since I arrived in Germany last year, its been about 10 trips give or take, I have other 3 to 4 trips lined up… Yeah, their trips are THAT great.
I decided to go on the Dresden trip, even though I had already traveled to Dresden on my own, because my mother is visiting and even though we had already traveled to Greece, France and Italy with Explore Europe, I wanted her to experience more of what Germany has to offer, and what better way than taking her to the iconic town of Dresden and its marvelous streets filled with history and art? PLUS during the holidays, when it just comes to life with sparkling lights and joyful chimes, to delight the heart, EVERYWHERE you go and I mean everywhere!
We began the day in Dresden with an included walking tour in the Zwinger, a wonderful palace built in Baroque style, which has a grand central garden, exhibition gallery where you can find a porcelain collection and historic scientific instruments. Our tour guide was immensely knowledgeable not only of the history of Dresden but also of its contemporary achievements in the world today.  She walked us around the city giving us incredibly interesting insights and stories that are the bread and butter of Dresden history and folkloric culture.
It was a true pleasure to walk the streets of Dresden, with a mug of warm mulled wine and a piece of stollen. You can enjoy the view of artisans creating their handmade, one-of-a-kind arts right in front of you, from blown glass ornaments to jewelry pieces.
Striezelmarkt is the oldest, most traditional market in Germany, this year celebrating its 584th anniversary of bringing joy and magic to the cold winter months.
Other interesting markets are at the ones (notice how I say the ONESSSS) around Frauenkirche, a beautiful church dedicated to the Virgen Mary, with an amazing history and a beautiful story of reincarnation and cooperation within nations.
Another interesting activity is the Mittelalter-Weihnacht medieval market in the courtyard of Dresden's Royal Palace, where artisans showcase what life in medieval Germany was like.
I loved the variety of food, from the typical bratwurst and goulash, to Indian and langos. There where infinite types of mulled wine, of various flavors, strawberry, blueberry, merlot, chardonnay, eggnog with whip cream (yes whip cream), hot chocolate with whip cream (yes whip cream), plus wonderful alcohol-free teas for when you just want to keep warm, (and not tumble to the bus. What? Not everyone has German endurance) enjoy all the different mugs that are made yearly for this activity and hop around from market to market.
Looking back on this amazing trip, I can't choose any favorite parts, it was all so wonderful, even though the weather surprised us with crazy winds and rain, it just made the trip more magical!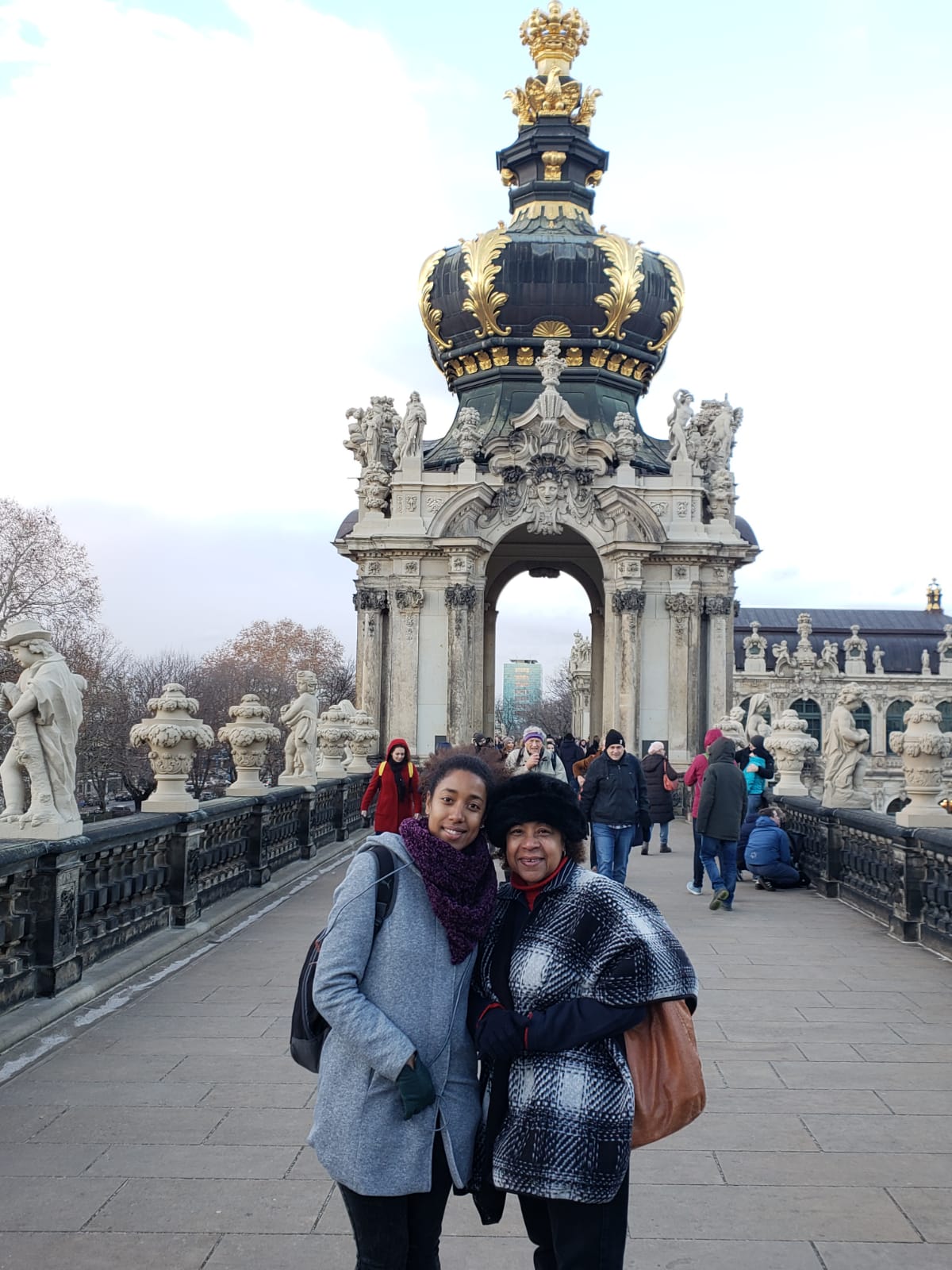 Take Away's:
1. Make sure to dress for the weather. I would suggest checking the weather forecast ahead of time and make sure to dress in layers, have gloves, hats, scarves, sometimes nature surprises us with wind out of nowhere.
2. Have cash with you for your Christmas shopping. Most vendors only take cash.
3. Wear comfortable shoes. Make sure that you will be good in any weather condition, and take into consideration that you will be walking and there will be a lot of people around you, doing the same.
4. Have a way of keeping your phone charged. When traveling I like to have a battery charger so I can take as many pictures as I want and still stay in communication with the group.
5. Take a reusable bag. Some vendors might have only small size bags to offer and when doing your shopping its best to keep all the treasures in one place to make it comfortable for you to carry, plus the environment will love you.
6. Have fun and get lost in the magic of Dresden during Christmas!
Comments
Comments