Meet your new Trip Leader Mike!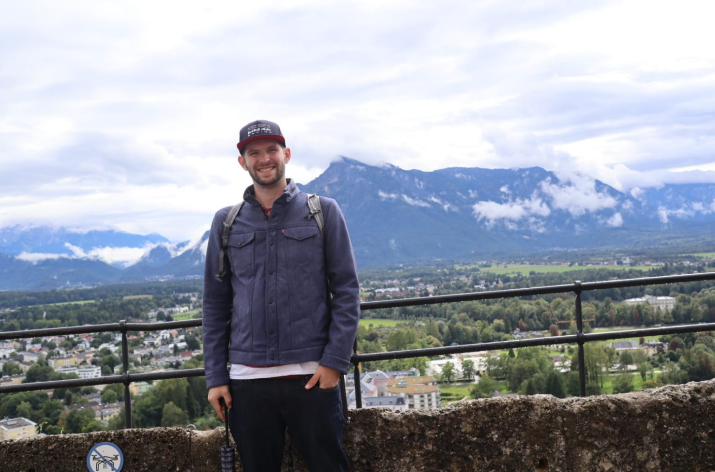 A new face has joined Explore Europe's team once again! A trip leader helps you navigate your destination safely. With their personal recommendations and knowledge, you will be able to discover the best of each place. Keep reading to get to know your new trip leader!
– Hi Michael, could you introduce yourself?
Hello! I am Michael Snyder, from a little town in the Black Hills of South Dakota called Sturgis (famous for our motorcycle rally).  I grew up on a cattle ranch, helping my dad and two older brothers herd cattle on horseback, fix fence and drive tractors for as long as I can remember. After graduating from college, I got into the Tour Director/Trip Leader industry and have been leading tours now for five years.  I have been blessed to have the opportunity to travel the USA and much of Europe leading trips, and I absolutely love what I do! Meeting new people and sharing stories about destinations is my favorite part of my job.  I enjoy reading histories and biographies, hiking, and spending time on the ranch during my free time.
– What first inspired you to lead group trips in Europe?
My last year of college I participated in a Study Abroad program for a semester in Florence, Italy.  Spending four months in a foreign country helped to broaden my horizons and gain different perspectives on people and cultures. I took several trips during my time there and leading tours of these places I had read about in books was something very appealing to me.
– And what makes you keep doing it?
It's a big world out there, and there is always a new place to see, castle or belltower to climb, and food to try. Watching people get excited about seeing a new location they have always wanted to go to is the best part of my job, and if I can help people experience it with cultural and historical context then I have done my job! There is a German word called fernweh; the longing for distant places, or wanderlust, and that keeps me always looking forward to the next trip and new scenery.
– What do you look forward to most once you reach your destination with a group?
The first thing I do when I reach a destination is look for a high point to get a panorama of the city from a hill or tower, and I always look forward to getting a great view of the area.  I try to give good recommendations of where to go to find that panorama, what to do, places to eat, and how to get around.
– What advice would you give first time travelers?
My advice is always to keep an open mind and realize that things will most likely be very different from your home area in terms of mannerisms and expectations.  I like to tell the story of the first time I ate at nice restaurant in Florence and my friends' and my surprise at the amount charged for water at the table! Be prepared and have a few things planned to do for when you get there.
– One place that took you by surprise the first time you visited it?
Assisi in Italy completely blew me away. The old town clings against a large mountain of the Apennines in the Umbria region, with steep stone staircases throughout the town and a massive medieval castle on top overlooking the valley providing incredible views for miles. Virtually unchanged for centuries, it feels like stepping back in time when you enter the gates, and the Basilica of Saint Francis is simply stunning.
– One place to recommend?
Florence will always have a special place in my heart after having the chance to spend four months there for Study Abroad. Coming from an area where a car was required to go anywhere to such a pedestrian friendly city where I rode in a vehicle less than five times the whole time I was there was a pleasant change of pace. Great food, beautiful Renaissance art and architecture, narrow streets, interesting people, and strong Italian espresso makes Florence a must visit for anyone wanting a great vacation destination.
– Have you had the opportunity to taste a food/dish/treat that is definitely worth trying?
I am not much of a "foodie," but I do try to take in the local cuisine of the area.  Goulash or Weiner schnitzel in Austria, pizza margherita in Italy, paella in Spain.  That done, whenever I need a quick bite I always look for a döner kebab. Each place seems to have a different variation, and it is always quick, cheap, and delicious! It is my go to "fast food" for sure.
– What is one attraction you have seen that is still memorable to you?
Cinque Terre provided several stories I will remember for a long time.  From stumbling upon a nude beach, walking a mile through a pitch black abandoned train tunnel, having a conversation with some local fisherman with my broken Italian and their broken English, to nearly getting locked out of our hotel after arriving back past the curfew time, the Five Lands provided many experiences I will cherish for life.  The fresh seafood and tasty pesto did their part as well to make it an unforgettable adventure.
– Which destination are you most excited about visiting next?
I love the mountains, and there are many towns in the Alps I am looking forward to visiting. Chamonix is on my list, as well as Lauterbrunnen and Zermatt. My next tour I am leading with Explore Europe will be over Christmas to Scandinavia, and I am eagerly anticipating visiting Christmas markets and taking in the wonderful scenery of the north in the winter snows.
– What is one valuable lesson you've learned while traveling?
Be flexible and go with the flow! Things may not always work out as planned, so be prepared to adapt and change. Sometimes the most memorable experiences can be found when things don't go as expected!
We can't wait for you to travel with him all around Europe. Check out our website to see where you could be heading next!
Comments
Comments